We've Been Comparing The Tesla Cybertruck All Wrong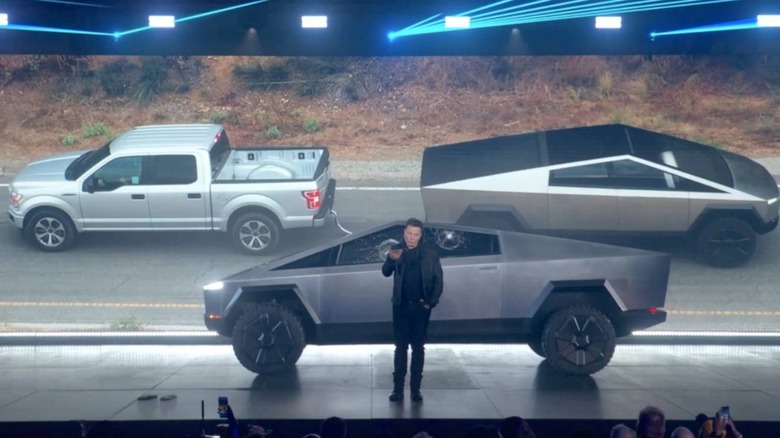 All images via Tesla
Elon Musk might enjoy comparing the Tesla Cybertruck to the best-selling Ford F-150, but a new filing from the automaker suggests that's not quite a like-for-like showdown for the electric pickup. Revealed at the end of November, the Cybertruck is Tesla's most divisive vehicle so far, with love-it-or-hate-it angular styling to go with its all-electric drivetrain.
Production isn't expected to kick off until late 2022 at the earliest, though that hasn't stopped Tesla from already taking reservation placeholders now. Would-be owners can put down a $100 refundable deposit to stake a place in line, with the Cybertruck expected to start from $39,900 in single-motor RWD configuration.
Tesla, unsurprisingly, has been upbeat about the Cybertruck's capabilities. The cheapest of the trucks is expected to be able to carry up to 3,500 pounds of payload and tow 7,500 pounds. In triple-motor AWD form, that towing figure is expected to rise to 14,000 pounds. On the face of it, that's highly competitive with the Ford F-150.
The Cybertruck isn't a Class 2a truck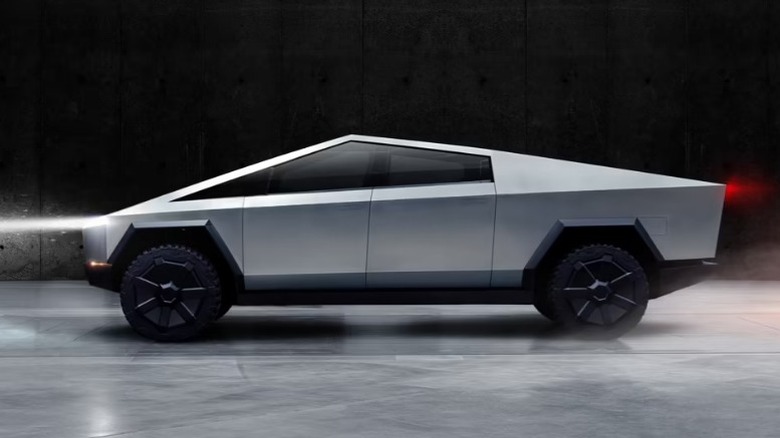 Problem is, the F-150 won't actually be the Cybertruck's natural competition, at least according to a recent filing by Tesla to the California Air Resources Board spotted by Automotive News. The letter, sent on December 9 by Sarah Van Cleve, Senior Managing Policy Advisor at the automaker, focuses on the proposed Advanced Clean Truck rule. That's the agency's plan to legislate for zero-emission medium- and heavy-duty vehicles.
Tucked into that letter, however, is the confirmation that – unlike the F-150 and other popular pickups such as the Ram 1500, Chevrolet Silverado, and Toyota Tundra, which are all Class 2a light duty trucks – Tesla expects the Cybertruck to be Class 2b-3. That's the next category up.
"While we have not yet begun production of the Cybertruck," Van Cleve writes, "we expect it to have a towing capacity of 7,500-14,000+ lbs., and it should very likely qualify as a "Class 2B-3" medium-duty vehicle."
In the US, truck classifications are based on the gross vehicle weight rating, or GVWR. The Ford, Ram, Chevrolet, and Toyota fall into the 6,001-8,500 pound bracket for Class 2a. To be considered a Class 2b, you're looking at 8,501-10,000 pounds. Towing capabilities aren't considered when making truck classifications, just payload.
Cybertruck versus the Medium Duty establishment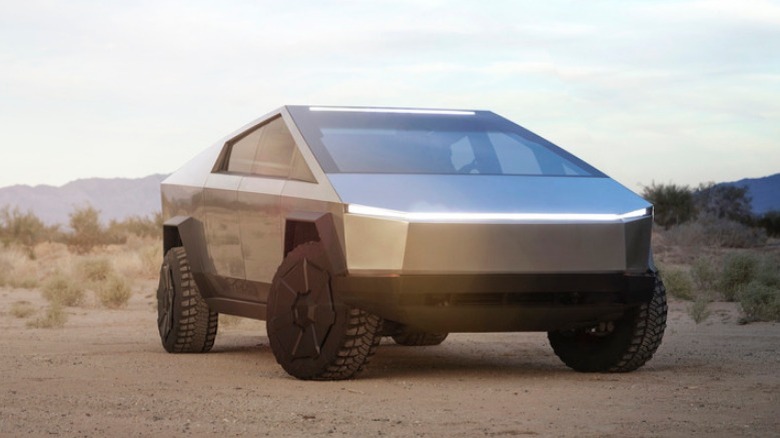 Tesla hasn't said exactly how much the Cybertruck will weigh at this stage, but it's clearly expecting it to have a GVWR of more than 8,501 pounds. It means its actual direct competition will be vehicles like the Ford F-250, the Ram 2500, Chevrolet's Silverado 2500, and the Nissan Titan XD.
As you might expect, then, the comparisons are a little different. Looking to the Ford F-250 SuperDuty, for example, depending on engine type it's rated to tow between 13,300 and 15,200 pounds, in Regular Cab 2WD form. Opt for a 4WD version with the SuperCab, and you could be looking at 20,000 pounds of towing capacity.
For payload, meanwhile, that depends on cab form, bed length, and drivetrain. With the SuperCab, and a 2WD drivetrain, you're looking at from 3,770 pounds.
Clearly, there's more to truck functionality than just how much it can carry and tow. We'll have to wait and see how the Cybertruck does in a tug-of-war with an F-250 4WD, for example, to see how Tesla's current favorite test holds up. Then there's how actual buyers decide to cross-shop, and what metrics are most important to them as they do so: will they see the Cybertruck as offering near-F-250 abilities for an F-150 price, or consider it underwhelming compared to the figures medium duty trucks from Ford, Chevrolet, and others can boast?
A smaller Cybertruck seems like an increasingly good idea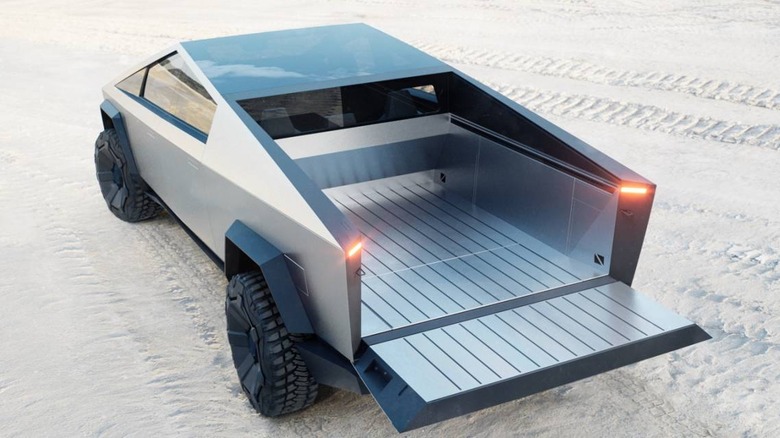 The Cybertruck isn't even close to production yet, and already Elon Musk is talking about a family of pickups rather than just one model. The outspoken chief executive has already hinted that the first truck could be followed by a smaller Cybertruck, for example.
That would be a more direct competitor with Ford's F-150 and the rest of the pickup market as it stands today. It would also be a more apt comparison when the all-electric trucks that Ford, Chevy, and others have promised finally reach the market.