Elon Musk Provides A Glimpse Of The Do Everything Future Of Twitter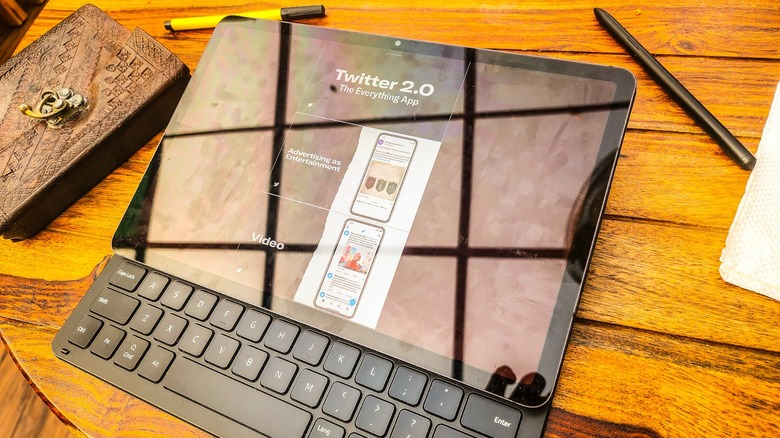 Nadeem Sarwar/SlashGear
Elon Musk wants to turn Twitter into an everything app, and over the weekend, he gave an official glimpse of his plans for turning the company into more than just a social media laggard. Some of the plans have already been implemented, while others have been greenlit internally. With the goal of teasing his grand Twitter makeover scheme, Musk tweeted screengrabs of his presentation at Twitter, highlighting his vision for "Twitter 2.0 – The Everything app."
Let's start with the privacy side of things. Musk's tweet mentions encrypted DMs, plans for which were reported just over a week ago. But it appears that the scheme extends beyond just direct person-to-person conversations that are protected behind a wall of encryption. Musk reportedly wants Twitter to also facilitate encrypted voice and video calling, offering the full suite of tools available with the likes of WhatsApp, Telegram, and Instagram.
Next in line are plans for the Twitter Blue subscription service that offers a blue verified badge, alongside a host of exclusive features for an $8/month fee. Following a disastrous launch that raised concerns around identity verification and a barrage of impersonator accounts raising hell, the rollout of Twitter Blue was halted. In the meanwhile, Musk revealed plans for color-coded verification badges divided across three categories: companies, government, and individuals.
Longer and more versatile type of content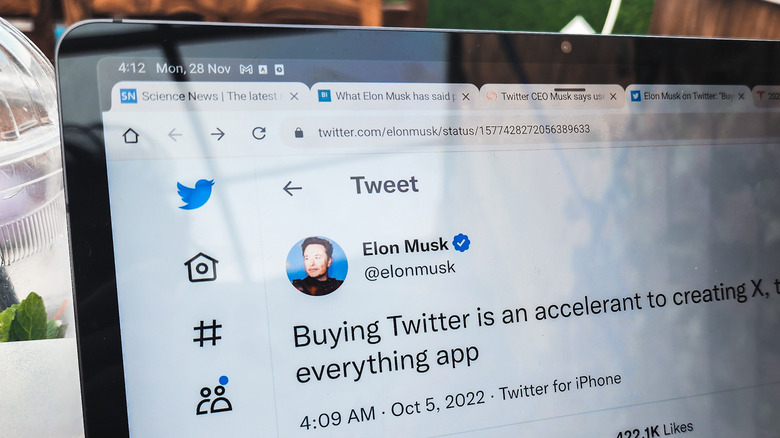 Nadeem Sarwar/SlashGear
Twitter can best be described as a microblogging platform, but Musk also aims to turn it into a hub for posting long-form content. He recently tweeted that the platform will soon introduce the "ability to attach long-form text to tweets." Twitter already had a Note feature in closed-circle testing, but it was shelved when Musk took over as the CEO. Those plans for posting blog-like articles are back on track, alongside the ability to automatically enter thread mode when a tweet exceeds the character limit.
The most ambitious Twitter 2.0 plan, as gleaned from Musk's tweet, is the ability to make payments. Twitter currently allows tipping, letting followers reward their favorite creator, even in the form of crypto tokens like Bitcoin. However, there is no peer-to-peer payment system. At a recent meeting, Musk reportedly asked employees to build a "one-click" payment feature that will eventually allow crypto transactions, too.
The likely inspiration for Musk's "everything app" vision for Twitter is WeChat, which is massively popular in China and is widely regarded as the best implementation of a one-app-does-all approach. From posting content and making payments to booking a cab and online shopping, WeChat does it all. It would be interesting to see how Twitter clears the regulatory hurdles in the international market, especially under Musk's not-exactly-popular mercurial style of leadership.
Tying the future of ads to videos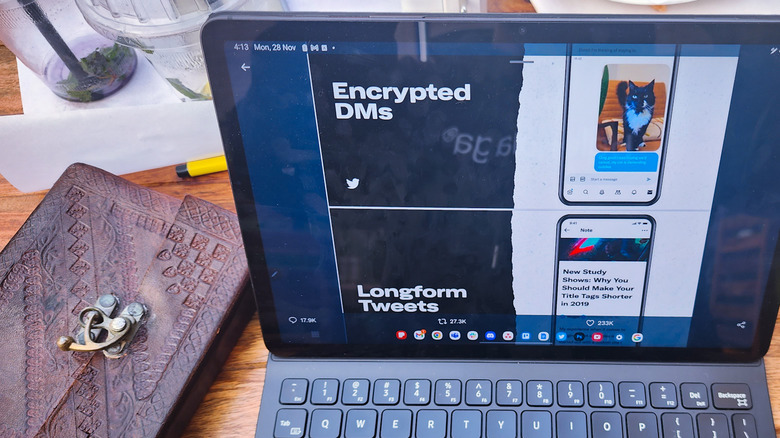 Nadeem Sarwar / SlashGear
Finally, Musk's tweet detailed something called "Advertising as Entertainment." It appears that Musk wants production houses to showcase their content in the form of ads. This ties in with Musk's goal of allowing longer videos on Twitter, as he ramps up efforts to go against TikTok, YouTube, and Instagram, with its own cash pool to sustain a creator economy.
Twitter's struggles against an advertiser exodus have been exposed lately, and turning towards the entertainment industry for ad money seems like a reasonable move. Twitter would give these production houses a platform to hype up their content in return for a fat pay, while users watching those videos will boost the engagement figures, both for the platform as well as the content itself.
The company is also planning a feature that will let creators post paywalled videos. The idea sounds a lot like OnlyFans, but according to Musk, he wants to build features that let creators earn a living on Twitter. Musk has reportedly discussed plans of paying up to 10 percent higher fees to creators for posting their content on Twitter compared to behemoths like YouTube and TikTok.