2023 Grand Wagoneer L Review: Three Rows And All The Trimmings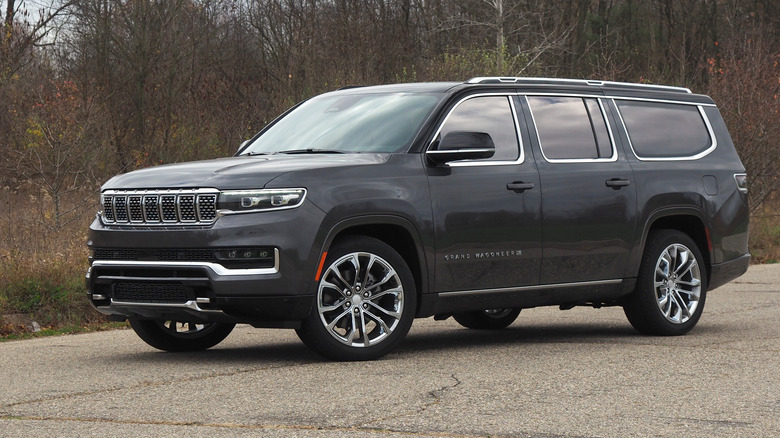 Chris Davies/SlashGear
You have to really, really need space in order for the 2023 Grand Wagoneer L to make sense. Jeep's decision to resurrect the nameplate for its most lavish SUVs felt like a sensible one, given the market for plush six-figure trucks has never been stronger. All the same, only a subset of that audience could look at the third row and cargo space of the regular Grand Wagoneer and think "huh, this just isn't enough."
According to Jeep, though, there are sufficient potential customers concluding just that to make building its stretched SUV worthwhile. At the same time it's an opportunity for the automaker to demonstrate that, while it may not be your first thought for high-end features, engaging gadgetry, or general design, that might be more a case of your own outdated experience than what Jeep is capable of.
Make no mistake, the Grand Wagoneer L is no spartan cavern inside: all that space comes with some sweet tech, too. How successful it all is, though, depends not only on your budget but just how realistic you are about your true needs.
Large SUV, large price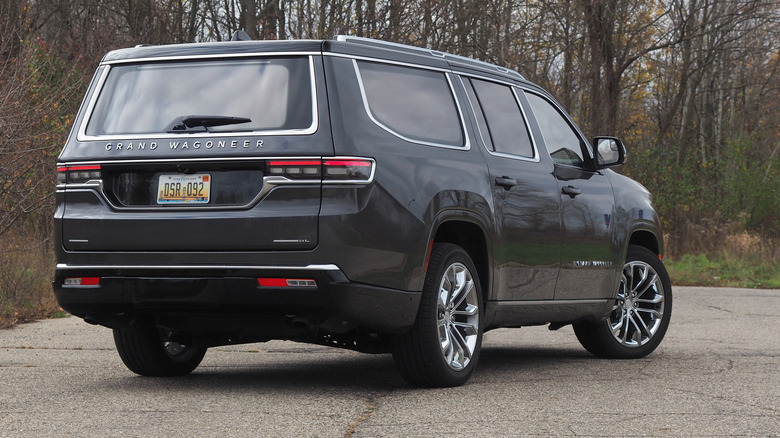 Chris Davies/SlashGear
A big SUV comes with a big price tag. The 2023 Grand Wagoneer L kicks off at $92,140 plus $2,000 destination, a $3,500 premium for the long wheelbase version over the standard (and still hardly small) version. This Series II trim — arguably the sweet spot of the lineup — starts at $98,735 (or $3k more than the non-L version). A top-spec Series III Obsidian starts at $112,635 plus destination.
That puts the big Jeep pretty much on par with Cadillac's Escalade ESV and Lincoln's Navigator L. The Germans will sell you a BMW X7 or a Mercedes-Benz GLS, but they don't have the lengthened wheelbase to truly take on the Grand Wagoneer L if third-row sizing is the big draw. The same goes for the new Range Rover, the long-wheelbase excesses of which are still better enjoyed in the second row.
Styled to loom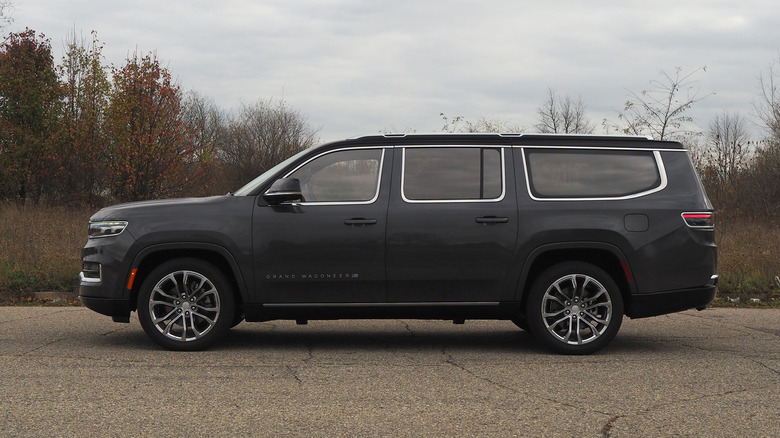 Chris Davies/SlashGear
Even here in America's spacious Midwest, where large vehicles are hardly in short supply, the Grand Wagoneer L feels outsized. The Baltic Grey paintwork of this particular example doesn't exactly dilute that monolithic impression. With the glinting chrome of the newly-stubby Jeep grille, I couldn't help but think of perennial villain Jaws from the classic James Bond movies: all menacing teeth and wide shoulders.
The front is, at least, a little more balanced than the side and the rear. I'm still not a big fan of the Grand Wagoneer's profile, and the extra foot of length dangling out at the rear doesn't do anything to lift its slab-like aesthetics. The back, meanwhile, throws on more chrome but the result still looks like an armored car.
All those inches do add up to a cavernous cabin, mind. That is, 44.2 cu-ft of cargo space with the third-row up, in fact, expanding to a maximum of almost 131 cu-ft with everything bar the first row folded flat. Buttons send the seats tumbling, too, and the big, wide tailgate leaves an accommodatingly large opening for loading and unloading.
Wait, no V8?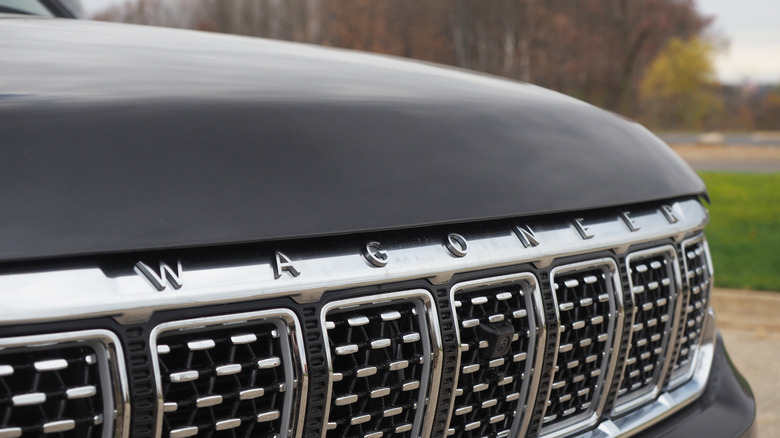 Chris Davies/SlashGear
Under the hood is a 3.0-liter inline-six gas engine, a surprise if you expected a behemoth like this would automatically get a V8 of some description. The 3.0L Hurricane Twin-Turbo isn't some hangover from Jeep's old line-up, though; it's actually a recent development, despite the automaker's parallel push for electrification.
With 510 horsepower and 500 lb-ft of torque, it's potent enough that you shouldn't miss those other two cylinders. An 8-speed TorqueFlite automatic transmission is standard, as is four-wheel drive. With Jeep's HD Trailer Tow Package — a $995 add-on that includes features like trailer-hitch line-up assistance and camera zoom — it leaves the Grand Wagoneer L rated to tow up to 9,750 pounds, trim depending.
All in all, it's a lot of power to play with. Then again, there's a lot of SUV to get up to speed. With a curb weight in the region of 6,700 pounds — and that's before you start filling the seats — this is a real monster.
Speed to use selectively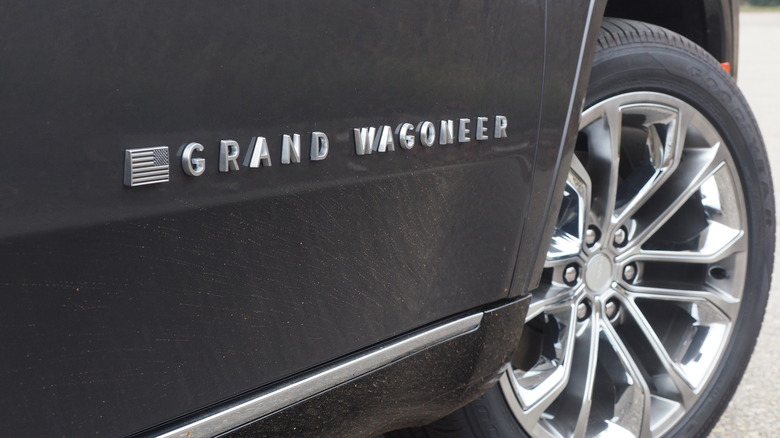 Chris Davies/SlashGear
Make no mistake, the Grand Wagoneer L can hustle. It's a surge of speed rather than a sharp stab of one, pretty much the polar opposite of an electric car's instant wallop of torque. Instead, there's the sense of gathering momentum that — I assume — people who've been trapped inside an avalanche might find familiar.
It's apparently a sensation that those outside of the SUV can share in, too. Little clears a space around you in traffic like the healthy bulk of the Grand Wagoneer L crowding the various mirrors of your commuting counterparts. I can't really blame them, either: every time I planted my foot on the gas, I was already wondering just how effectively the biggest Jeep would bring itself to a halt again.
The brakes are, thankfully, up to the task. You'll want to make ample use of them ahead of any corners, meanwhile, as despite a Sport mode this is far, far from a sporting SUV. Expect body roll in the curves and a little less feedback through the heavily-assisted steering than might leave you entirely confident in pushing things. Really, this feels dialed in to encourage a sensible degree of respect for the laws of physics.
Sure, you could go off-road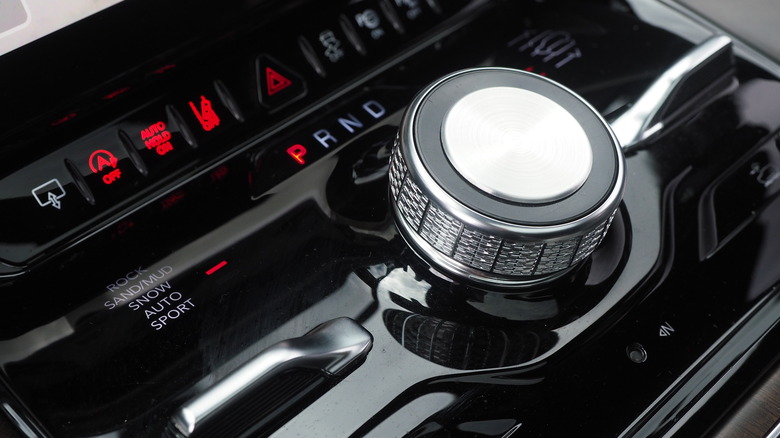 Chris Davies/SlashGear
Take that (wise) advice, though, and there's plenty here to enjoy. Air suspension is standard on the Grand Wagoneer L — it's an option on the regular Wagoneer L, which has steel suspension as standard — along with semi-active damped shocks. Standard ground clearance is 8.0 inches; it'll drop 0.6 inches in Sport mode, or rise to a 10-inch maximum for the most clearance.
I'm not entirely sure — even with Jeep thoughtfully providing Rock and Sand/Mud modes — that many Grand Wagoneer L owners will be taking their SUV off-road. Still, there's a lot to be said for the electronics doing much of the heavy lifting, and both hill-ascent and hill-descent speed control make short work of steeper terrain. There's a Snow mode, too, for extra sure-footedness in winter climates, and up to 24 inches of water-fording.
Really, though, what stands out here is how refined a cruiser the trick suspension leaves the Grand Wagoneer L. Combined with an admirable degree of hush in the cabin, despite those 22-inch wheels, it leaves the big SUV the perfect place to grab a drink from the built-in cooler and enjoy the McIntosh audio system.
Top of the tree gets the best toys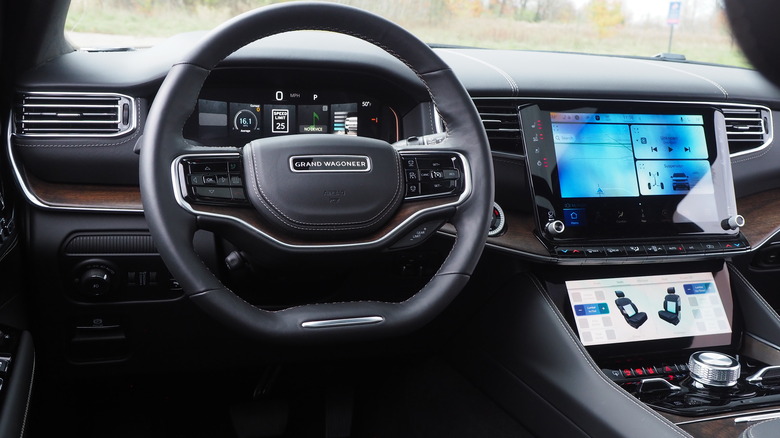 Chris Davies/SlashGear
They're part of a lengthy list of options to make sure the "L" in Grand Wagoneer L stands for "lavish" and nothing else. The Series II trim you see here gets leather, heated and ventilated massage seats for the first row, captain's chairs with heating in the second row, and a split bench for the third row. The McIntosh 19-speaker system is standard, as is Uconnect 5 on a 12-inch center touchscreen that supports wireless Apple CarPlay, Android Auto, and SiriusXM.
There's also a triple-pane panoramic glass roof, wireless phone charging, four-zone climate control, a digital rearview mirror, and a 12.3-inch digital driver cluster. Multiple USB ports — in both USB-A and USB-C flavors — and power outlets are spread around the cabin, too.
Jeep also throws in a whole bunch of touchscreens. As well as two in the dashboard center stack — the lower panel motoring out of the way to reveal the Qi charging pad and several USB ports — there's one between the second-row seats to control HVAC, multimedia, and chair adjustment. The $2,195 Rear-Seat Entertainment Group adds two 10.1-inch second-row screens with integrated Amazon Fire TV streaming; if you really want, Jeep will even add another touchscreen ahead of the front passenger.
Buttons, touchscreens, knobs, the lot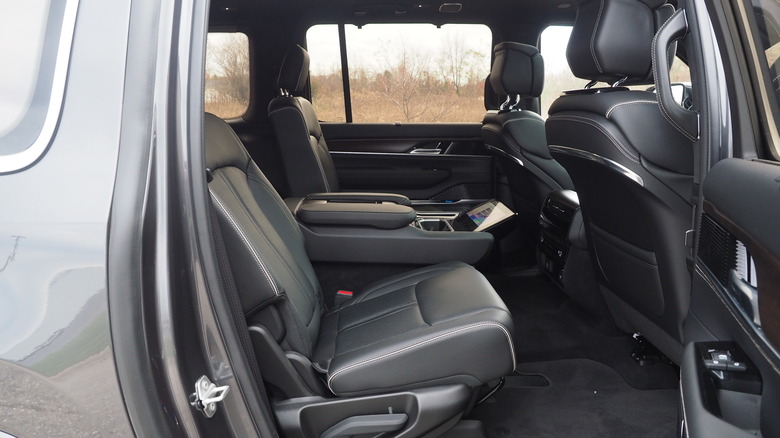 Chris Davies/SlashGear
I'd skip it, frankly. The Grand Wagoneer L — like, to be fair, a lot of other high-end modern cars — is skirting the edges of "just too much" when it comes to interactivity. There are, at least, dedicated physical controls for things like the HVAC system and drive modes, but Jeep takes that ethos and runs with it. The result is a whole lot of buttons just about wherever you look.
The steering wheel is chock-full of them, the door panels have multiple switches and toggles for seat adjustment, and the center console flanks its twin touchscreens with a plentiful selection of physical and touch-sensitive keys. Uconnect 5 is, actually, fairly straightforward; I like how you can choose shortcuts for things like the bird's eye camera to be shown persistently across the top.
Nonetheless, there's a lot going on here overall. Jeep's controls feel sturdy and high-quality, but it's easy to feel overwhelmed.
Eyes in the back (and sides) of your head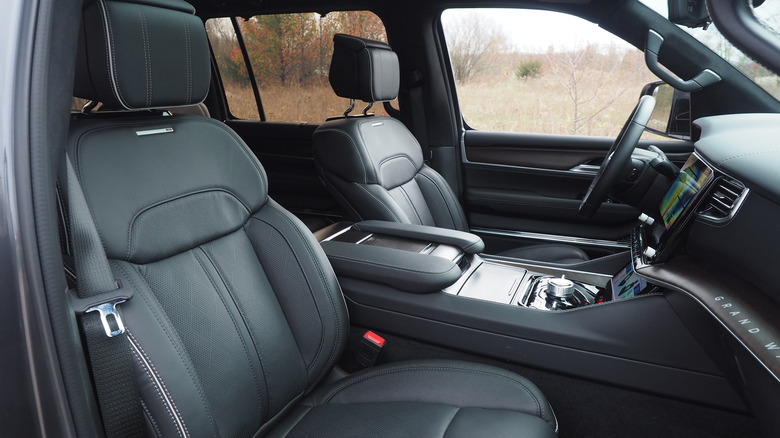 Chris Davies/SlashGear
That goes just as much for maneuvering when in parking lots and on tighter roads. Rear-wheel steering would've been a welcome addition here; though the turning circle isn't quite as vast as you might expect, there's still the sense of manhandling an apartment block.
Thankfully there's a bevy of active driver-assistance tech on hand to keep you from getting into too much trouble. Every Grand Wagoneer L gets a 360-degree camera, lane-keeping assistance, adaptive cruise control, blind-spot and rear cross-path detection, front and rear parking sensors with auto-stop, ParkSense Automated Parking, and side distance warnings.
The $3,795 Convenience Group throws in rear-seat monitoring cameras, intersection collision assistance, and night-vision with pedestrian and animal detection. It also includes Jeep's Active Driving Assist, a hands-on system blending lane centering and adaptive cruise. What we can't have, at least not yet, is the hands-off version of that system: it's in the pipeline, but Jeep hasn't released it yet.
2023 Grand Wagoneer L Verdict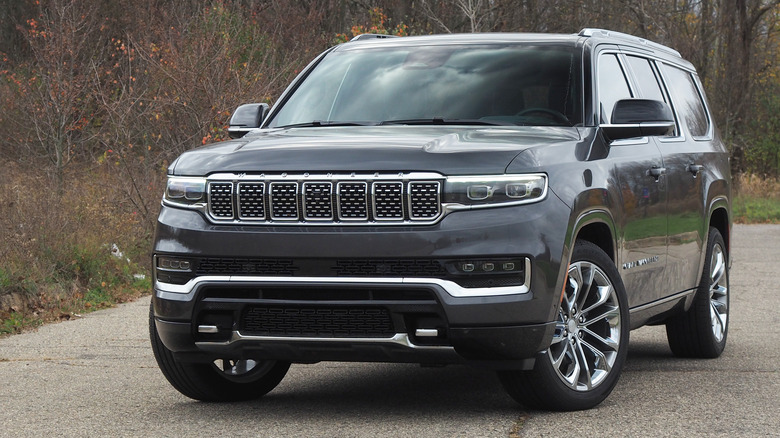 Chris Davies/SlashGear
Nor can we have an electrified Grand Wagoneer L, and that seems like a shame. The new twin-turbo engine is, at least, a little more frugal than the old eight-cylinder: it's rated for 14 mpg in the city, 19 mpg on the highway, and 16 mpg combined; each of those numbers 1 mpg higher, respectively, than for the 6.4-liter V8. Still, though I managed 16 mpg in my own, mixed driving, I doubt I'd be alone in looking wistfully at the 4xe plug-in hybrid tech which is helping lift the economy figures elsewhere in Jeep's range.
The reality is, you really, really need to actually need, not just seating for seven or eight and a decent amount of cargo, but capacious amounts of room for both. The Grand Wagoneer L's third row is legitimately adult-scaled, which is great if you're the adult sitting back there, but the idea of driving this beefy gentleman around when barely loaded fills me with a sense of profligate dread.
That doesn't make the 2023 Grand Wagoneer L a bad car, so much as one which requires solid justification. From the outside, the Escalade and the Navigator have both more presence and more charm, though once you're inside I suspect this fancy Jeep has them both beat. If space is your lodestar, and you have the budget and taste to insist that it's decorated accordingly, this super-sized SUV delivers that with admirable refinement.