2023 Jeep Wagoneer L And Grand Wagoneer L First Drive: Home On The Range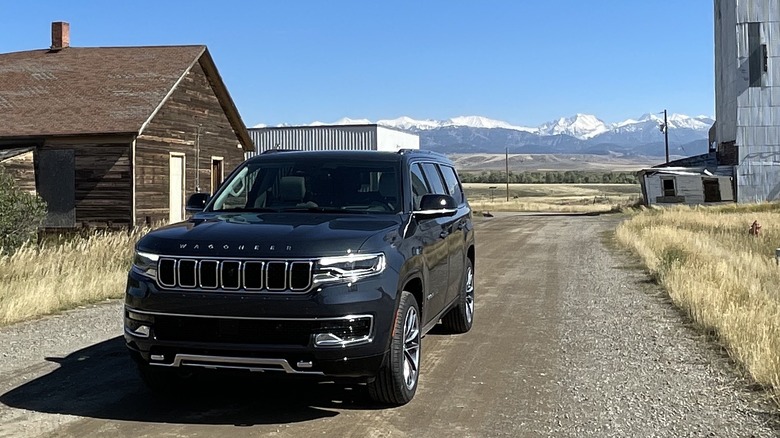 Cherise Threewitt/SlashGear
It doesn't matter, really, whether or not you think Jeep's biggest and most expensive vehicles needed to get even bigger and even more expensive. Jeep sees a huge opportunity in building living rooms on wheels to cruise America's outbacks.
I first saw the Wagoneer, in concept form, at a small event in the Chicago suburbs in the summer of 2020. Most of us fawned over the map of Detroit etched into the panoramic glass roof that the Jeep personnel on hand made clear would absolutely not become part of the production model. (Rock on, concept designers, being cheeky and having fun!) An especially observant colleague was allegedly–again, according to Jeep reps–among the first to notice the vehicle was almost entirely devoid of Jeep branding, therefore positioning the Wagoneer name as a brand unto itself.
In a rare instance of an automaker keeping its word, times two: the Detroit map was not on the Wagoneer L long-wheelbase model I drove through Montana in September — no surprise there — and furthermore, Jeep has not relented on insisting the Wagoneer name can stand on its own. The Grand Wagoneer, too. The Wagoneer L and Grand Wagoneer L extended-wheelbase models? Most of all.
Big ol' booties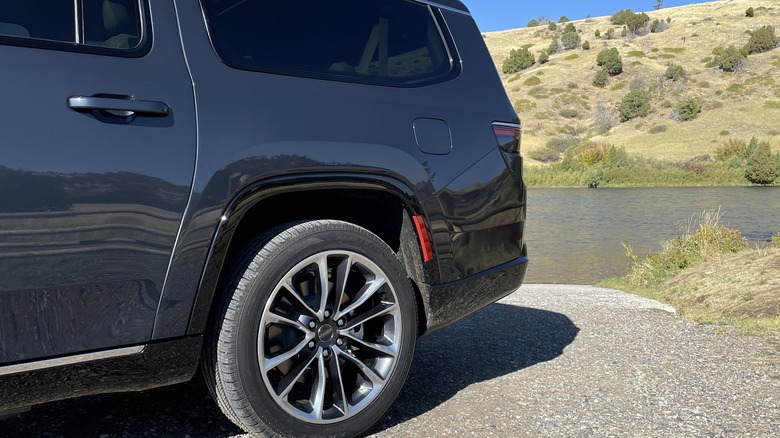 Cherise Threewitt/SlashGear
The Wagoneer L and Grand Wagoneer L are serious haulers. There's no messing around over stacking golf bags here; cargo capacity could be measured in cattle.
The L versions add a foot overall to each of their already-large models: 7 of those inches go to wheelbase, which roughly translates to extra passenger space, while the remaining 5 are tacked on to the cargo area. Jeep says this translates to 50% more cargo space behind the rear seat compared to regular-wheelbase Wagoneer and Grand Wagoneer models, as well as best-in-class overall passenger volume and second-row legroom. Features such as the "trail rail" for adjustable cargo tie-downs–honestly super cool and genuinely useful–help ensure your gear or the family pet don't get lost back there. The Grand Wagoneer L boasts best-in-class cargo space of 44.2 cubic feet behind the rear row, opening up to a total of 130.9 cubic feet with rows two and three folded flat.
Other changes specific to L models include an entirely new engine; a bigger fuel tank that holds an additional four gallons, which, when paired with the new engines, increases range over standard-wheelbase models; comfort upgrades that include extra insulation for the oil block, engine pan, and engine cover; and suspension tuning that accounts for the extra vehicle weight.
As to whether or not all this apparent excess is actual excess, according to Jeep, a good 15% of the large SUV segment consists of extended-wheelbase vehicles.
A hurricane under the hood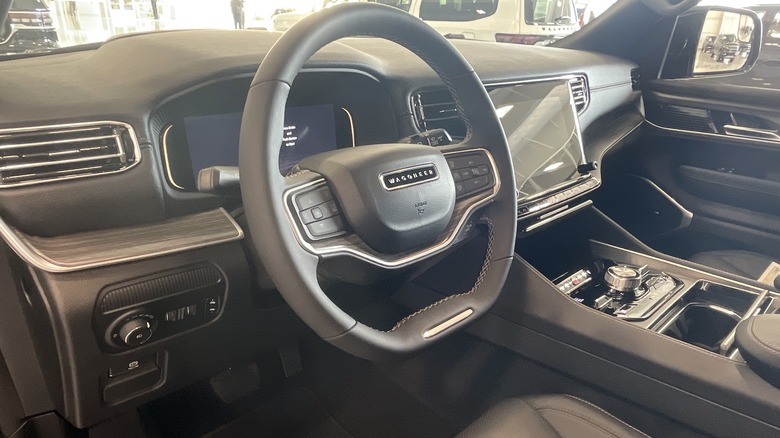 Cherise Threewitt/SlashGear
Jeep designed a new gas engine even as it's pushing electrification across its lineup. Kind of a weird choice, especially considering that the Wrangler 4xe and Grand Cherokee 4xe hybrid models sacrifice absolutely nothing in terms of capability.
That said, the new engines in the Hurricane family, which power the Wagoneer L and Grand Wagoneer L, are up to 3 mpg more efficient than their V8 counterparts. Jeep says this is still progress as it still contributes to carbon footprint reduction despite increases in power and torque, and no sacrifice to acceleration.
Both versions of the Hurricane are twin-turbocharged 3.0-liter inline-six units. In the Wagoneer L, it's rated for 420 horsepower and 468 pound-feet of torque; the Grand Wagoneer L's is upgraded to 510 horsepower and 500 pound-feet of torque. Both pair to a TorqueFlite eight-speed automatic transmission, which is every bit as smooth as Jeep said, delivering turbo pep with a V8-like low-end grunt. Need more convincing? The Grand Wagoneer L has best-in-class towing capability of up to 10,000 pounds.
Form and function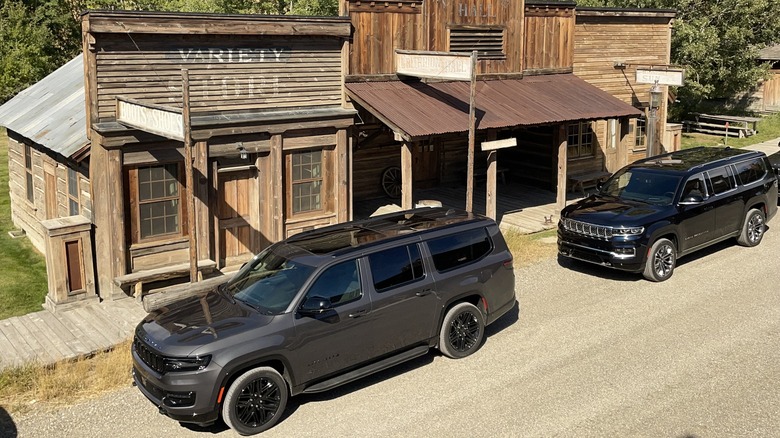 Cherise Threewitt/SlashGear
For design inspiration, Jeep looked back to the original Grand Wagoneer, which the company claims was the "first true premium SUV to really hit the market," and one that ran almost completely unchanged for almost 30 years.
"We lean heavily on pieces that are timeless," explained Taylor Langhals, the Senior Designer for the Wagoneer L and Grand Wagoneer L exteriors. The long-wheelbase models don't differ much from the regular-wheelbase models, and in fact, they're exactly the same from the grille to the B-pillar. From there, the L models get a longer rear door for better access, and of course, that massive overhang over the rear provides a visual clue, as well.
The exterior design is indeed classic, though there's plenty of room for modern touches, particularly up front. The Grand Wagoneer L, in particular, gets a two-piece grille badge, and the classic 7-ring grille features a subtle laser-etched texture. LED headlights and foglights are standard.
So long, Motown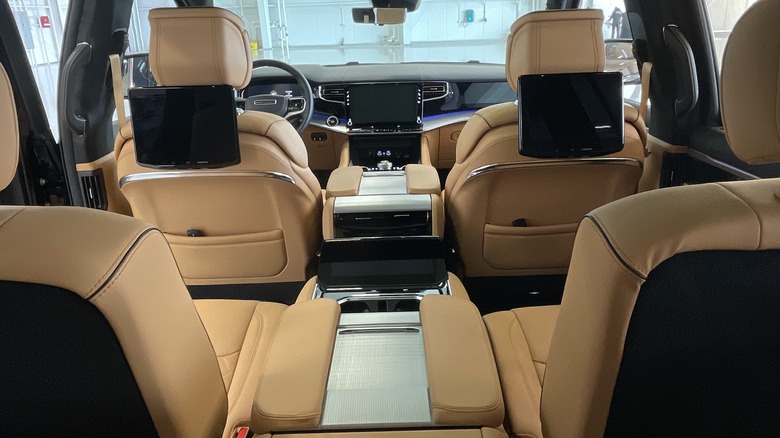 Cherise Threewitt/SlashGear
Having admired that slick Detroit map on the concept Wagoneer, it's hard to forget how cool that would have looked on the Wagoneer L and Grand Wagoneer L. Alas, this pair of Jeeps is not really designed for their hometown.
Inside, it's all about comfort, and Jeep understands the assignment — how do you get the whole family on the quintessential road trip to parts unknown, while keeping the kids as calm and quiet as possible?
The Big Sky of Montana was perfect to show off the tri-pane sunroof that extends to the third row, making this cavernous vehicle seem at once spacious and intimate, much like Montana itself.
The Wagoneer L offers standard seating for eight passengers across three rows, which can be configured for seven if the second-row bench is swapped out for captain's chairs. The more glam Grand Wagoneer L comes standard with captain's chairs and seats seven passengers in base configuration, though a bench can be swapped in to raise capacity to eight. There's enough space for the second row to tilt back without intruding on the third row, and the third row has available power recline. Leather comes standard across the lineup, and the Grand Wagoneer L boasts 24-way power front seats with massage function. There's no bad seat in the house.
Though there are several upholstery combinations available, the Tupelo leather is a standout, inspired by premium Tupelo honey. References to nature abound, with available wood trims enhanced by ambient lighting. Black interior combinations get cognac-colored contrast stitching to subtly prevent the cabin from turning into a black hole. All metal surfaces are faceted and truly feel great in the hand, sexy and high-quality, like an investment piece or a cherished family heirloom. Exaggeration? Not by much.
What's mine Is mine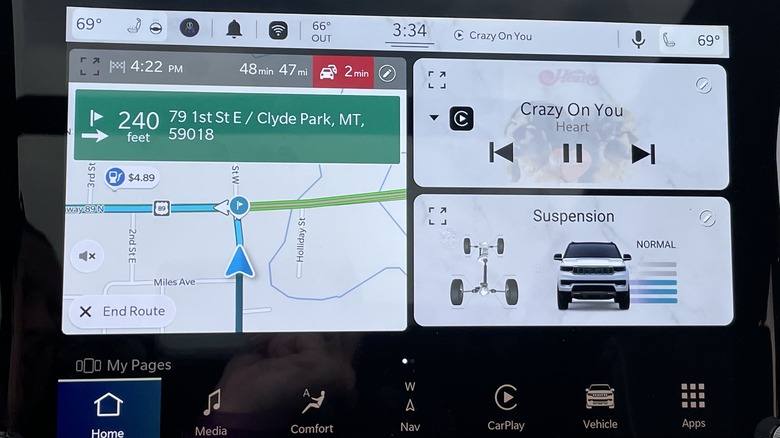 Cherise Threewitt/SlashGear
All the attention paid to interior materials presents a conflict: the numerous screens are a burden, style wise, but at least they're reasonably unobtrusive when they're off. It's hard to truly disguise up to 75 total inches of screens (up to 50 in the Wagoneer L), but with soft-touch materials, real wood, and gorgeous textures to divert attention, Jeep was more successful at this goal than one would reasonably assume.
And yeah, that's a lot of screen.
The idea here, Jeep says, is that no matter where you're seated in the vehicle, there's a sense of having your own space. It's one of the leading trends in the auto industry, according to Josh Rigg, the Lead Design Manager of User Experience for the Wagoneer L and Grand Wagoneer L.
The Wagoneer L and Grand Wagoneer L feature Uconnect5, the latest version of Stellantis' popular infotainment system, with a cool new customizable home screen that can be configured with favorite apps right up front and saved to one of five driver profiles. Wireless Apple CarPlay and Android Auto join Amazon Alexa. The passenger side display enables that user to control and review what's being played in the rear seat, project devices on all screens, check the vehicle's cameras, and check navigation and messages for the driver.
The independent rear displays have built-in Amazon Fire TV, and Bluetooth for headphones and game controllers. One really cool feature is that movies and TV being streamed at home can be paused and continued in the vehicle.
The strong, silent type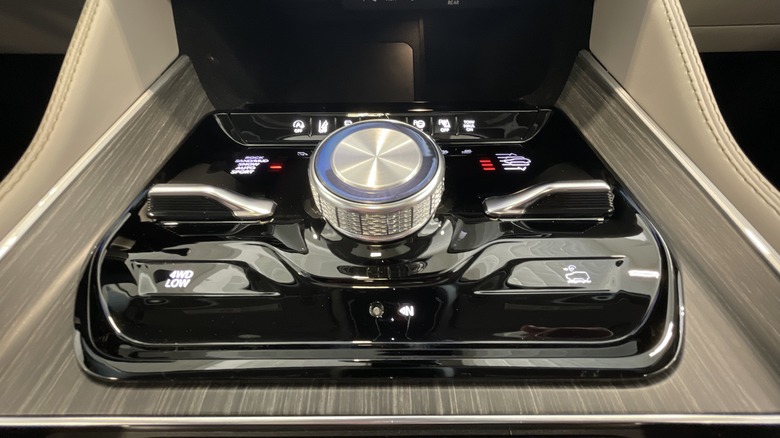 Cherise Threewitt/SlashGear
Both models are calm and serene to drive, with strong acceleration on all surfaces we tested. The only time the Grand Wagoneer L hesitated at all was during very strong crosswinds on the highway. Despite the hurricanes a'brewing, the Wagoneer L and Grand Wagoneer L glide down paved road: their insulation from road noise and other intrusions is impressive.
Off road, the Jeeps showed a bit more aggression, but in a mature and reserved kind of way; these are no Wranglers, despite their considerable capability. On gravel and dirt roads, uphill and down, the Wagoneer L and Grand Wagoneer L are sure-footed and confident.
Auto, Sport, Rock, Snow, and Sand/Mud driving modes provide extra grip when the surface demands it. Jeep being Jeep, upgraded 4x4 systems and features, such as a Quadra-Lift air suspension system, two Quadra-Trac II 4WD systems, and wheels fitted with all-terrain tires, are available.
We didn't get to test the 24-inch water fording capability, but it would almost certainly be less stressful than trying to back in or out of a spot in a tight, chaotic parking lot. (Again, we note, these are not ideal city vehicles, despite the generous assortment of cameras, sensors, and parking aids among the 120 standard safety features.)
Back to Detroit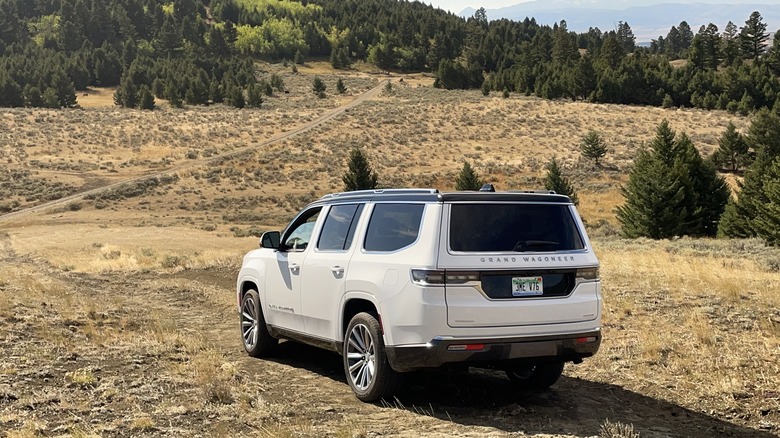 Cherise Threewitt/SlashGear
Jeep wants us to picture the Wagoneer L and Grand Wagoneer L freely wandering the foreground of a Bob Ross painting, and then wants us to want to go to there, and our drive in the wilderness paradise surrounding Bozeman accurately set the scene. When it comes to the competition, though, it's all about the Motor City: Jeep cheerfully names the extended-wheelbase SUVs from Ford and General Motors as their rivals for these massive SUVs. American exceptionalism isn't dead yet.
The Wagoneer L and Grand Wagoneer L, though developed specifically for the American market, will be offered in some international markets, though Jeep declined to provide further specifics. In the U.S., they'll be available later in 2022.
In general, pricing for the Wagoneer L and Grand Wagoneer L comes in at a $3,000 premium over their corresponding regular-wheelbase models, which, given everything described here, can add up quickly. We're well past the point where a six-figure Jeep is truly shocking (figure about $111,000 for the top-tier Grand Wagoneer L), even if it still raises eyebrows. We'll see if these extended-wheelbase uber-Jeeps, set loose from the Warren Truck Plant in Michigan, eventually roam the country like free-range bison.