2022 Jeep Grand Wagoneer Review: Sizing Up The Competition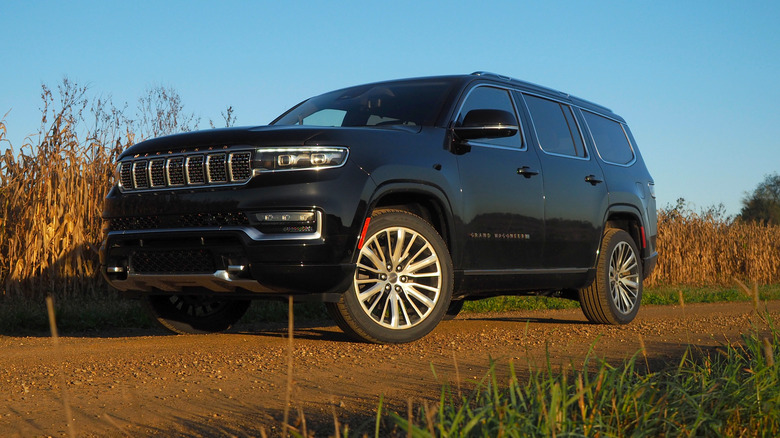 Chris Davies/SlashGear
Big SUVs are big business. Even so, the scale of the 2022 Jeep Grand Wagoneer still surprises: the "Grand" on the badge may be a reference to the three-row truck's lavish interior and lashings of tech, but it's hard not to be reminded of just how vast this particular model is. Then again, when you're taking on Mercedes, Lincoln, Cadillac, and others in a game they've been playing for some time now, you have to aim high.
High, wide, and long. At just shy of 18 feet in length, 7 feet in width, and over 6 feet tall, the Grand Wagoneer is an imposing beast. At the front, Jeep's traditional seven-segment grille is, of course, present and correct. It's a shorter, truncated version, though, jutting proudly at the leading edge of the hood and emphasizing the overall height of the front bumper.
Things get a little less successful at the sides, where Jeep's detailing seems to get lost in the overall dimensions. The dark paint doesn't help — I'd pick Jeep's handsome red, were it my money — and the chrome edging around the windows only emphasizes how small they look amid the sheet metal. Worst of all, it's just not all that memorable.
The trunk, at least, has a little more going for it. The chromework still isn't the most flattering flourish, but the slimline lamps are pleasing. I like Jeep's bold lettering — and, for that matter, its choice of font — picking out "Grand Wagoneer" across the power tailgate and the lower front doors, too. Leaning into the identity of this being the pinnacle of Jeep ownership seems like a good strategy.
Unapologetically brash luxury inside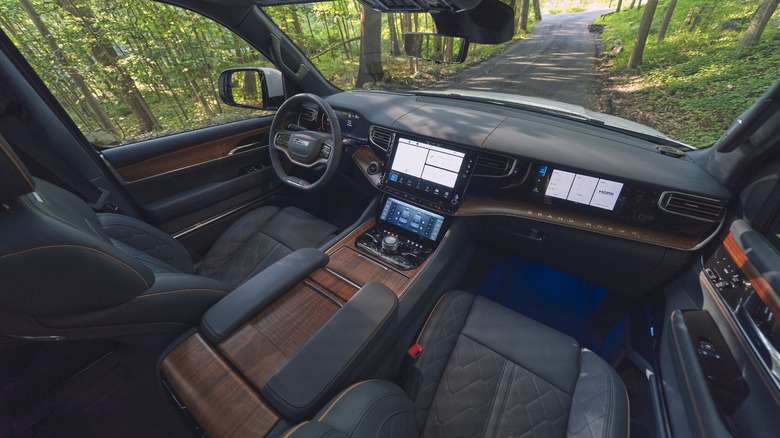 Jeep
Much the same can be said for the cabin, where Jeep has pushed the boat out to make the Grand Wagoneer experience stand out. It's a brasher interpretation of luxury than what we're used to from the Germans, certainly, though holds up nicely to what Cadillac and Lincoln are doing.
Given the exterior dimensions, you'll be unsurprised to hear that there's no shortage of cabin space. Step in, aided by the auto-lowering air suspension and power running-boards, and you'll find all three rows have plenty of head, leg, and shoulder space. Jeep will let you configure things with seating for up to eight courtesy of a pair of benches in the second and third rows, though I suspect most will opt for fancier seating and the second-row captain's chairs.
They're about as pleasant as the seats up-front, and indeed there's a lot to like about Jeep's renewed focus on materials and trim. There are four different color schemes available for the cabin, ranging from classics like black and tan, through to more eye-catching options like Blue Agave. Whichever you choose, seat adjustment is easy (and generally electric), including expanding the trunk.
That starts out with 27.4 cu-ft with all three rows of seating in place, a healthy amount that expands to 70.9 cu-ft if you drop the third row down. There's up to 94.2 cu-ft if you drop all the bench seats, but it's worth noting that Jeep's fancier second-row seat options can impact that. The second row center console occupies a little space of its own.
A burly V8 as standard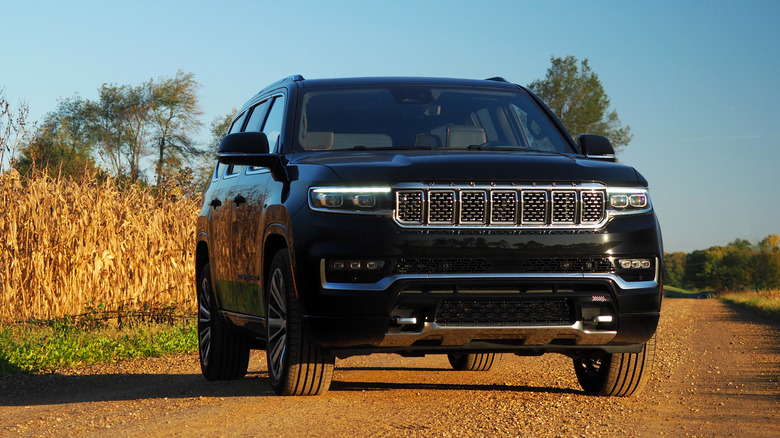 Chris Davies/SlashGear
With a 6.4-liter V8 HEMI engine under the hood, there's not-inconsiderable power to go with the Grand Wagoneer's not-inconsiderable 6,400 pound curb weight. 471 horsepower and 455 lb-ft of torque head to all four wheels via an 8-speed automatic transmission.
Given the heft, it's no surprise to discover the Jeep prefers to amble rather than sprint. There's more than enough grunt for all but the most frenetic of highway overtaking situations, and little seems to perturb either the relaxed personality of the V8 or the syrupy shifting of the gearbox. Dinky little buttons on the steering wheel allow you to change gear yourself, if you really must, but for the most part it's easier just to leave things to the Grand Wagoneer to handle.
That allows you to focus on piloting the big beast. Certainly, there's decent visibility out of the front — albeit with that usual large SUV blindspot ahead of the grille, sizable enough to swallow a child or driveway obstacles — and the rearview mirror can toggle into a digital version, piping through the view from a rear camera. An optional second camera built into the headliner can show what rear seat occupants are up to, too.
Air suspension is standard, though set your expectations to something other than the pure wafting experience that some big, plush SUVs deliver. Sure, it'll smooth out bumps and potholes, but it's not quite the isolation you might expect; I found switching to Sport mode got rid of some of the floaty tendencies. If, of course, you find many three-row family haulers feel too remote, then the Grand Wagoneer's tuning could well be a welcome change.
Practical and thirsty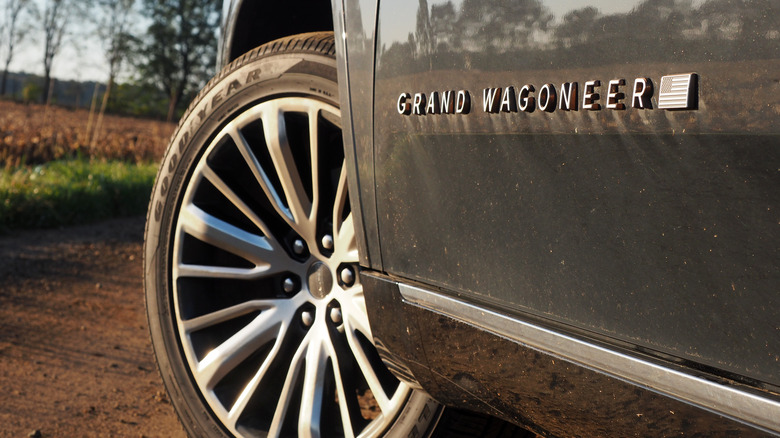 Chris Davies/SlashGear
That more purposeful intent carries over to practicality. With the optional towing package, the Grand Wagoneer is rated for a hefty 9,850 pounds. If you'd rather roam off-road — which seems unlikely, but Jeep can't risk its reputation not building the SUV to handle it — the Selec-Terrain system has modes for snow, sand/mud, and rock, and can lift for up to 10 inches of ground clearance and 24 inches of water fording. The toggles for that and the ride height adjustment are chunky and easily located either side of the knurled transmission selector.
On the highway, meanwhile, driver assistance tops out at Jeep's Active Driving Assist, a hands-on adaptive cruise and lane-keeping system. Eventually there'll be a hands-free version, which will rely on attention-monitoring to make sure you're still paying attention, but it's not available yet. Given how smooth that tech leaves road-trips in a Super Cruise-enabled Escalade, I'd lean towards the Cadillac if you're regularly driving long distances.
For the moment, Jeep's largest model is also one of its thirstiest. While the automaker is gradually spreading electrification through its range, we'll have to wait a little longer for a Grand Wagoneer 4xe. Plug-in hybrids have worked their magic on the Wrangler and, more recently, the Grand Cherokee; while they're not entirely zero-emissions with their gas-electric pairing, there's typically enough EV range for the average daily chores.
That's something to look forward to. Right now, the Grand Wagoneer is rated for 13 mpg in the city, 18 mpg on the highway, and 15 mpg combined. It'll insist on gulping down premium gas, too. The EPA numbers are, at least, achievable, assuming you temper the more profligate inclinations of your right foot.
No shortage of gadgets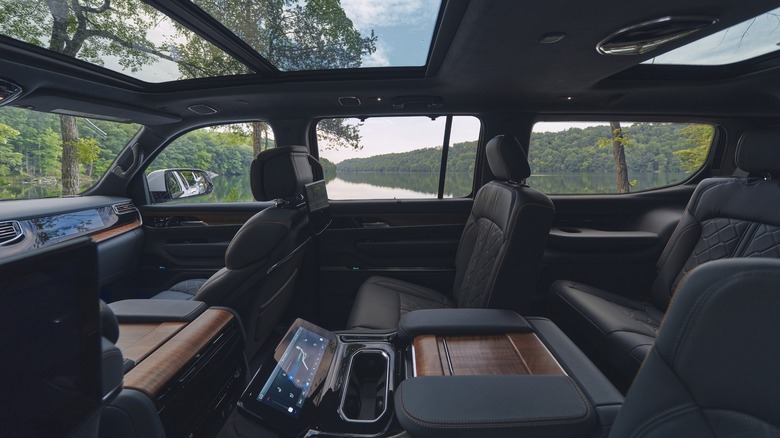 Jeep
Spending a little longer on the road allows you to enjoy the Grand Wagoneer's cabin, anyway, which is a bonafide tech-fest. Jeep bills it as offering up to 75-inches of display area, though it's a lot more useful than just one big TV slapped atop the dashboard.
Instead, there's a 12.3-inch driver display which can be adjusted to show the bare minimum or a carousel of useful data cards, along with a 12-inch center touchscreen running Uconnect 5 and supporting Apple CarPlay and Android Auto in their wireless flavors. A 10.25-inch touchscreen below that is dedicated to the seat controls, including adjustment and massage; it also powers out of the way to reveal a storage compartment, Qi wireless charging pad for your phone, and USB ports.
The front passenger can optionally have their own display, another 10.25-inch screen which can pull in video from the cabin camera, show media control, and be used to adjust the navigation. It's clever, though I'm not entirely sure it's necessary given it's not like the center screen is that far a reach.
In the second row, there's an optional central 10.25-inch touchscreen for adjusting HVAC, ambient lighting, and seat heating/cooling (if fitted). It does leave the USB and power ports on the console behind it a little tricky to reach. Also optional is the rear seat entertainment package, with twin 10.1-inch screens and integrated Amazon Fire TV. You can stream video to one or both displays simultaneously — using Bluetooth headphones for the audio — or hook up another source via HDMI input.
In short, there's a whole lot going on here, and there'll undoubtedly be some familiarization time involved to get to grips with it. Nothing says "relaxing road trip" like having to bark out tech support advice from behind the wheel, after all. I had no issues connecting my iPhone wirelessly, and with up to 11 USB ports spread around the cabin there's no shortage of ways to recharge, though as is often the case those in the third row are left with little in the way of built-in entertainment.
Holding its own in the 3-row luxury SUV segment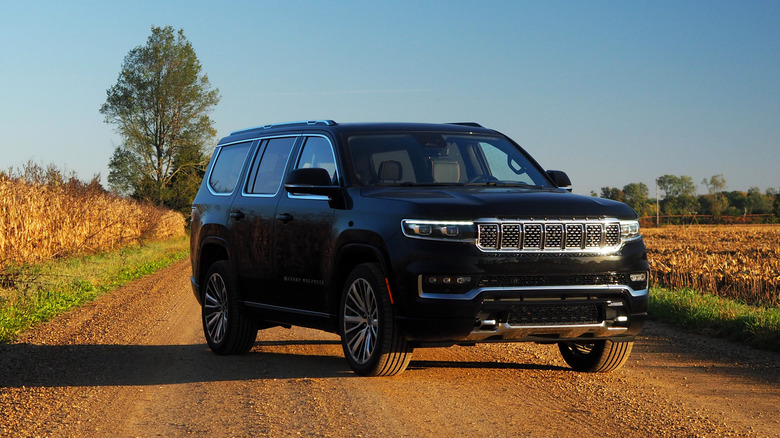 Chris Davies/SlashGear
My biggest curiosity was whether the 2022 Grand Wagoneer could live up, not only to its name, but to the established competition. After all, Cadillac's Escalade and Lincoln's Navigator have solid reputations, while three-row SUVs from Mercedes, BMW, and others are plush and rewarding ways to transport a sizable family.
The reality is that yes, Jeep's entrant does more than enough to compete in such company, albeit with a price tag to match. The party kicks off at $88,640 (plus $2,000 destination) for the Series I, but if you want the nicer leather and potent 1,375 watt McIntosh audio system with 23 speakers you're looking at the Obsidian spec, and that starts at $103,490. Active Driving Assist isn't standard until the flagship Series III, and that's a whopping $107,995.
Not cheap, then, but neither is the competition. Six figures is par for the game when you want a sizable family hauler that can double as an impromptu limo (and if you just want the space not so much the prestige, Jeep's regular Wagoneer adjusts the balance accordingly).
Style-wise, an Escalade or Navigator dress up their bulk with greater elegance. Despite Cadillac and Lincoln's recent efforts, though, I think the Jeep's heaping of tech leaves its cabin the fanciest, assuming you're willing to cough up the cash. Its biggest shortcomings are thirst, and that gadgetry like hands-free driving assistance and a PHEV powertrain just aren't ready yet. Beyond that, though, Jeep's strategy to go big as it expands into a high-end segment is brash enough that the 2022 Grand Wagoneer holds its own.