2022 Lincoln Navigator First Drive: Luxury SUV Bets On Hands-Free Tech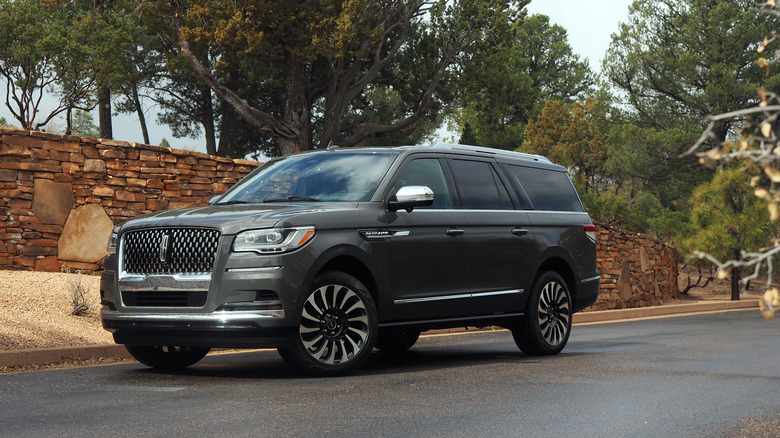 Chris Davies/SlashGear
I didn't have "Lincoln makes its 2022 Navigator SUV even bolder" on my bingo card for the year, but the three-row vision of American Luxury certainly isn't shy in this freshly-massaged form. Debuting Lincoln ActiveGlide, the automaker's hands-free driver assistance system, along with a new voice-controlled Amazon Fire TV-powered entertainment package, the new Navigator may not be ready to embrace electrification but it's definitely more high-tech in other ways.
You'd be forgiven for thinking there was no way the proportions of the Navigator could get any larger, but clearly nobody told the team at Lincoln that. While the SUV remains a vast 17.5 feet long in standard wheelbase form (or a foot longer still in long-wheelbase Navigator L configuration), not to mention a towering 6 foot 4 inches high, the grille is bigger than before. That's emphasized even further by the slimmer headlamp clusters.
Stroll to the back, meanwhile, and the somewhat anodyne rear of the Navigator has also been freshened up. The new 3D light clusters give a little more visual appeal, and now support welcome pattern animations when you approach and leave the SUV. Fresh wheel designs — in up to 22-inch sizes — along with new black-out and monochromatic packages and some extra colors complete the main exterior changes. The 2022 Navigator still looks most interesting from the front, but the side and rear views do hold their own a little more.
Two new Black Label trims inside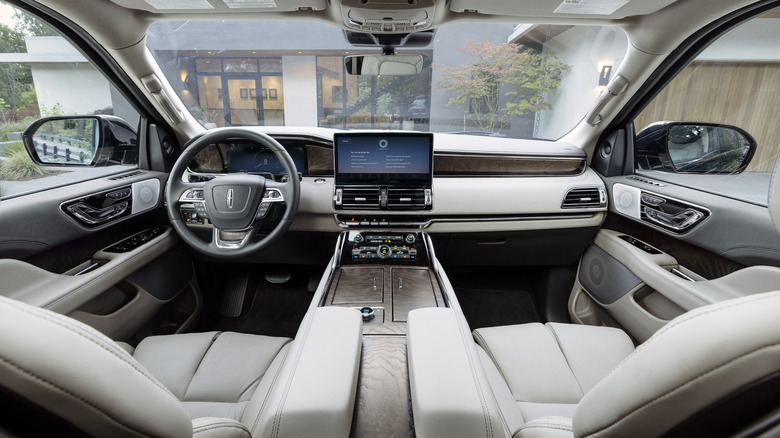 Lincoln
Inside, meanwhile, the upgrades are more obvious, particularly if you opt for the flagship Black Label trim. There, Lincoln has added two new themes to the existing Chalet and Yacht Club options. Central Park combines open-pore dark walnut with laser-etched graphics of New York City maps, while Invitation has open-pore Khaya wood with dual laser-edging for a black substrate with gold highlights. It sounds, honestly, a touch extreme on paper, but in practice Lincoln's execution is unexpectedly elevated.
The same goes for the general fit and finish which are, for the most part, top-notch. True, you can find a handful of examples of mundane plastics — particularly as you get closer to the third-row seating — but for the most part, everything feels solid and creak-free.
It's more cohesive, too. The Lincoln Constellation theme now extends to all of the cabin screens, including the 12-inch cluster display and the larger, 13.2-inch center infotainment touchscreen, and the automaker's charming Symphonic Chimes have been carried over from other models, too. It's a reminder that there's more to a feeling of quality than just what the eyes see and the fingers come into contact with. Revel's excellent Ultima 3D audio system — with 28 speakers in total — is also carried over as an option.
A more inviting second row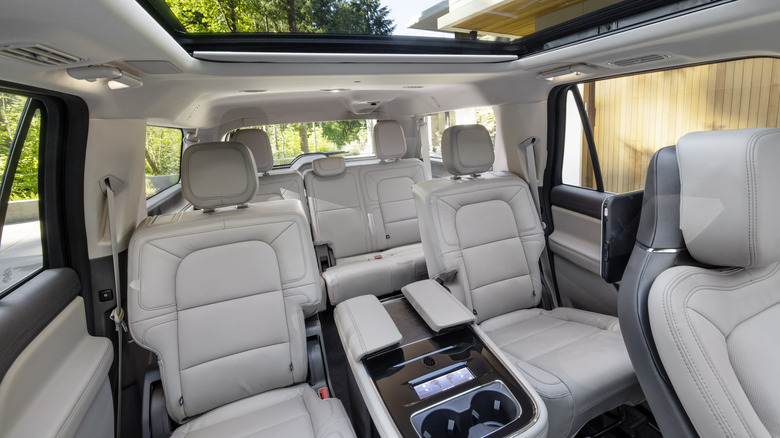 Lincoln
The front seats still get the option of Lincoln's 30-way Perfect Position Seats, which have a borderline-overwhelming number of adjustments to play with. Thankfully that's saved to the standard Personal Profiles (along with audio, climate, and other comfort preferences) which can load automatically when you use Phone-as-a-Key, also standard. Lincoln has made its massage seat mechanism much quieter, too; considering the old system could sound like an elderly asthmatic dog at times, it's an unexpectedly welcome improvement.
So, too, is the greater attention placed on the second row. There, the two captain's chairs now have heat and ventilation as standard, and offer massage as an option; it's all controlled with a new 5.8-inch touchscreen embedded in the armrest/table between them, which also manages multimedia and other settings.
Fire TV powers the second row entertainment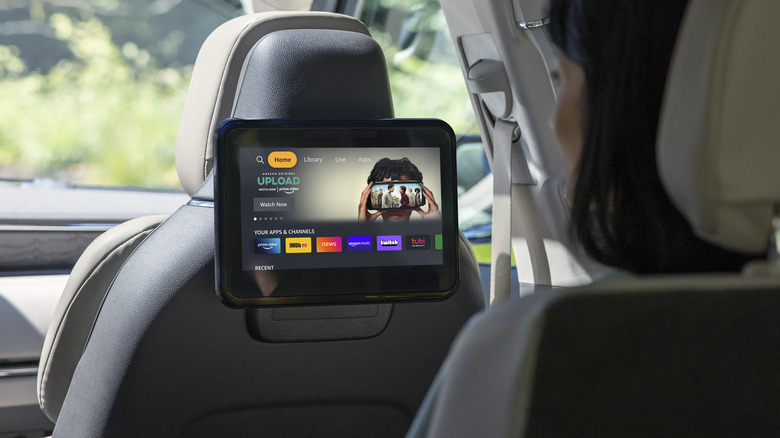 Lincoln
Optionally mounted on the back of the front row headrests is the new $2,100 Lincoln Play system. It's a collaboration between the automaker and Amazon, and runs the latest version of Fire TV. While we've seen that appear in other cars – like Jeep's Grand Wagoneer – this is the first implementation with touchscreen support, though there's also Alexa voice control and two remotes as well.
Each of the 10.1-inch Full HD screens has its own remote and Bluetooth headphones (or you can supply your own headphones if you'd prefer) and can stream content from Amazon Prime, Netflix, and other apps via the Navigator's standard WiFi hotspot. There's also HDMI, USB Type-C, and SD options for external media, plus each screen has around 9GB of storage for downloading Prime Video content for offline viewing. It's possible to wirelessly cast content from one screen to the other, too, for synchronized playback.
It's a clean and easy-to-use system, though there are still some foibles to bear in mind. Storage isn't user-expandable, and you'll need to be in the car to actually download shows and movies: there's no way to remotely preload each screen with what you might want for a road trip. While there's hands-free Alexa support in the front, you don't get Alexa video support there. That means, while you can dial up home security cameras through the rear screens, for example, you can't do the same on the front display which is running SYNC 4 instead.
My biggest concern, though, is longevity. As with other automakers' implementations, nobody is giving any commitment as to how long the Fire TV software will be updated. While some updates are in the pipeline — pushed out via the 2022 Navigator's over-the-air (OTA) module support — it's unclear how long that will continue, and the Fire TV hardware itself doesn't support physical upgrades. If you have a Fire TV Stick plugged into your TV at home, and Amazon decides not to keep supporting it, you can always unplug it and slot in a newer version; the same simply isn't the case for the embedded system in the Navigator.
A familiar engine, but no EV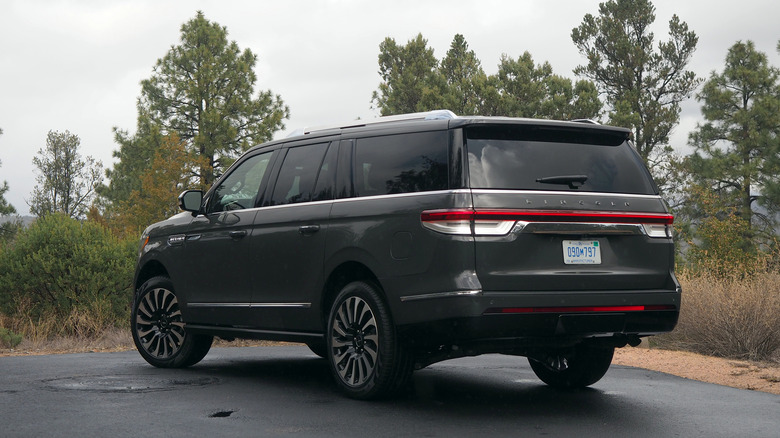 Chris Davies/SlashGear
Carried over is Lincoln's 3.5-liter twin-turbo V6, now with 440 horsepower and 510 lb-ft of torque, and paired with a 10-speed automatic transmission with SelectShift. Adaptive Suspension with Road Preview has been added, now using a front-facing camera and other sensors to scan the roadway ahead and precondition the air suspension to better handle potholes and bumps.
It may not be a V8, but it's a silky, refined drivetrain nonetheless. Plenty of low-end torque means no lag from a standing start, and despite the 5,600+ pound curb weight and the aerodynamics of an apartment block it'll gleefully surge forward for highway overtaking. The normal drive mode — which has both 4x2 and, on so-equipped cars, 4x4 versions — is tuned on the soft side, and it can edge on wallowy when on less sweeping roads. Flick over to the sport mode, though, and things tighten up without getting crashy.
Conspicuously absent is any sort of electrified option, without even a mild hybrid system never mind a plug-in hybrid or full EV. That seems a missed opportunity, given the potential both for fuel economy and smoother, quieter driving. You'll be unsurprised to hear that the Navigator can be thirsty: 17 mpg in the city and 23 mpg on the highway (or 19 mpg combined) for the 2WD model, or 16 mpg in the city and 22 mpg on the highway (or 18 mpg combined) for the 4WD version.
2022 Navigator vs Escalade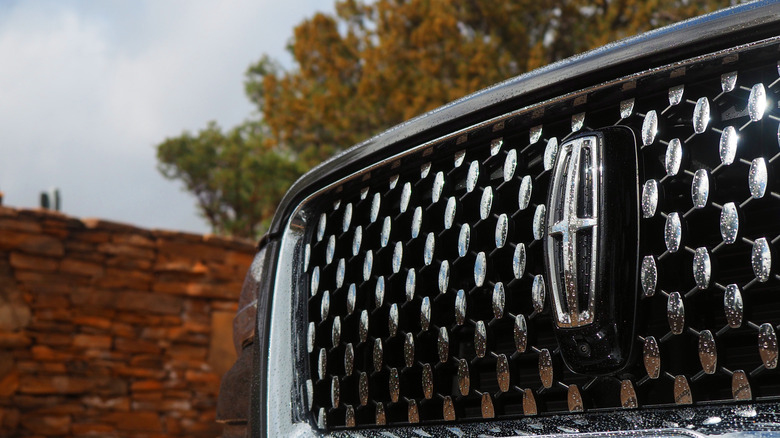 Chris Davies/SlashGear
For many, the question will be how well the 2022 Navigator holds up against the latest Cadillac Escalade. Back in 2018, when the fourth-generation of the three-row Lincoln first debuted, it faced Caddy's older fourth-gen Escalade. Fast-forward to today, though, and 2021's fifth-gen Escalade presents a significantly greater challenge.
The reality, though, is that the two SUVs feel like they're focused on two fairly distinct audiences. Cadillac leaned heavily into a vision of high-tech luxury, including vast, dashboard-spanning curved displays and plenty of gadgetry. Its exterior style may shout a little less "Art Deco melodrama" than the prior generation, but it still leans on the modernistic. While the V8 is likely to please many, it's thirstier than the Navigator's V6, though Caddy does offer a more frugal diesel option.
Lincoln's Navigator, in contrast, feels somewhat more restrained. Sure, it has no shortage of tech toys to play with, but they're presented in a more traditional way in the cabin. The exterior aesthetic feels less challenging, too: it's oversized, like anything in this segment, but perhaps a little more classic in its feel.
I don't think that makes one "better" than the other, really, but it's a reminder that the demands from drivers looking to this segment are as varied as the sort of Navigator buyers themselves. Lincoln says it actually picks up the youngest of its customers, with an average age of 50 years old.
Lincoln ActiveGlide has promise - and foibles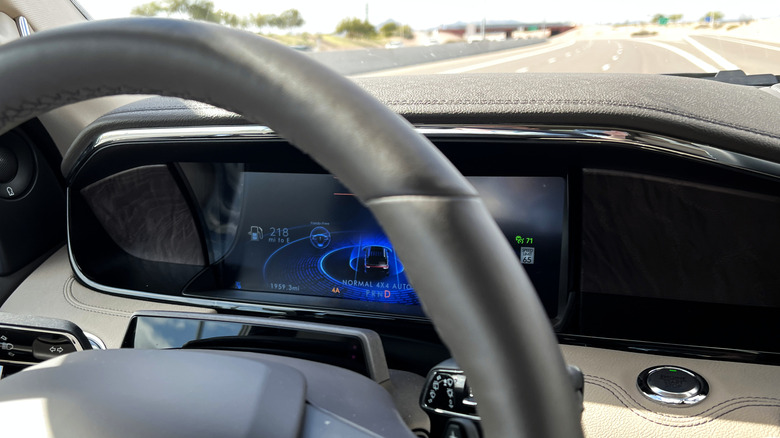 Chris Davies/SlashGear
Both Lincoln and Cadillac have a hands-free driver assistance option: in the case of the 2022 Navigator, that's the debut of Lincoln ActiveGlide. Also known as Ford BlueCruise, it allows for hands-off driving on 130,000+ miles of pre-mapped divided highway in the US and Canada. The SUV can hold its position in the lane, keep pace with the traffic ahead, and slow down to a full stop and then resume without — in theory — any interaction from the driver, just as long as the steering column-mounted attention camera is convinced they're looking ahead and paying attention to the road.
This isn't autonomous driving, and whoever is at the wheel is still responsible — even if they're not necessarily touching it. As with the Escalade's Super Cruise, ActiveGlide is billed as a convenience feature to help remove a little of the stress of road trips. It's standard on the Reserve and Black Label trims.
As I detail in my separate Lincoln ActiveGlide first drive, there's both a lot to like and plenty of room for improvement in the Navigator's system. When it's working as billed, it's definitely more relaxing in the driver's seat. Unfortunately, ActiveGlide doesn't support automatic lane-changing, unlike the latest iteration of Super Cruise, and it tends to require driver involvement when tackling corners far more often than you'd expect. With the same OTA update support as other Navigator systems, it seems certain that Lincoln will be tweaking the system as time goes on, and hopefully ironing out some of the more objectionable issues.
Big, bold, and among the very best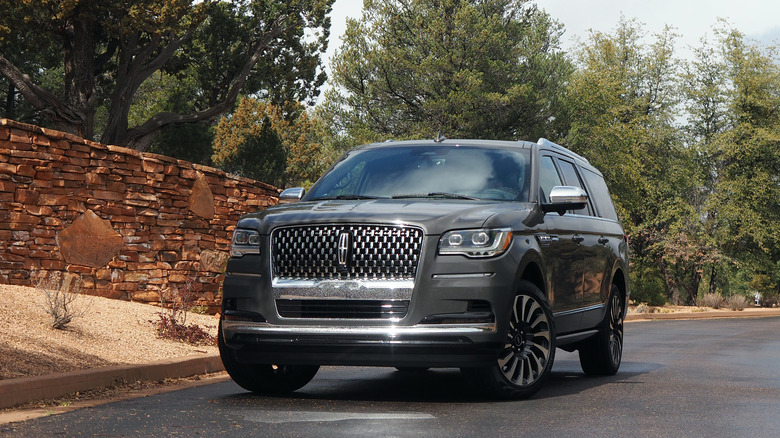 Chris Davies/SlashGear
Otherwise, though, there's a generous balance between tech and good, old-fashioned comfort. There's Trailer Reverse Guidance for the first time, road-edge detection, a standard 360-degree camera, and the blind-spot detection can be extended to cover the length of what's being towed (up to 8,700 pounds, configuration depending). Meanwhile, seats that are usable for adults across all three rows, together with 19.3 cu-ft of cargo space behind the third row (or 34.3 cu-ft for the extended wheelbase) mean there's plenty of room for both people and luggage.
No Navigator is cheap, though improved standard equipment across the Standard (from $76,710), Reserve (from $87,045), and Black Label (from $102,980) trims does assuage a little of that pain. Having driven both Reserve and Black Label models back-to-back, I'd say the former should satisfy most people. The extras loading up the Black Label trim are pleasing on the eye, certainly, but life in the 2022 Navigator Reserve is hardly spartan.
That should be enough to keep the big SUV more than competitive, at least until Lincoln's EV roadmap produces its first model. We're expecting the first electric Lincoln sometime this year, though it's unlikely to be a full-sized SUV in the Navigator's class. Until that arrives, the 2022 Navigator feels like an eminently pleasant way to carry a big family, though Lincoln will need to make good use of its OTA system to iron out some of the rougher edges of its most high-tech options.