The Electric Fiat 500e Is Coming Back To America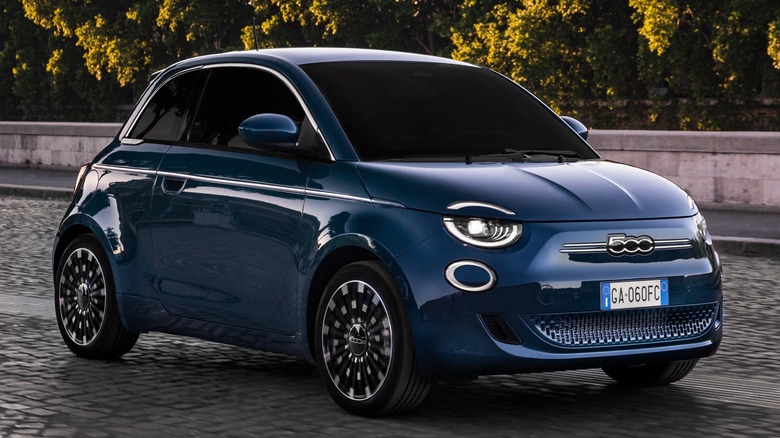 Fiat
The Fiat 500 was an adorable Italian tiny car that arrived in the United States in 2011. The little vehicle was a pop culture sensation and relatively popular given its diminutive size and footprint. It was around until the 2019 model year when it ended its American vacation and returned to Italy. There was even a hot hatch variant with the Fiat 500 Abarth; that model managed to put out 160 horsepower in a package only a little bigger than a chest freezer.
Naturally, there was also an electric version called the Fiat 500e. The original iteration of the 500e was a good idea, at least on paper; it was a tiny car perfect for commuting and short excursions, something EVs excel at. In reality, the electrified Fiat could have used more time on the drawing board. According to Car and Driver, a 2019 500e achieved only 84 miles on a battery full of electrons and was only sold in California and Oregon for over $34,000. Those numbers wouldn't have been unusual for an EV in 2015, but for the 2019 model year, there were far better electrified options around. Today, Fiat announced that the 500e is coming back to the United States and it's bringing some designer flair.
Fiat's electrified future in the States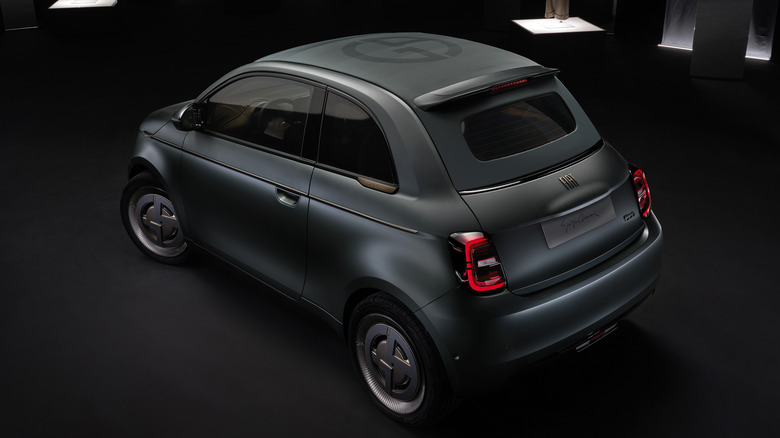 Fiat
While Fiat and Stellantis have not revealed any specifications for the new 500e, the brand announced that it will be available during the first quarter of 2024. A press release confirms there will be no new gas-powered 500 in the States, with the automaker saying: "The new 500e is irresistibly cool, small and Italian; it is the ultimate fashion accessory. If you want it, you must go electric because that is the only way it will be offered in North America." It can't get much clearer than that.
With its launch, the 500e will be one of the first EVs from Stellantis in the United States, along with Dodge's EV muscle car and the upcoming EV Ram truck. To celebrate the new EV's launch, Fiat worked with designers from Giorgio Armani, Kartell, and Bvlgari to make three special one-off editions of the electric car. According to Fiat, the designs show off the 500e's sustainable nature. The new car along with all the designer editions will be revealed in its full EV glory at the Los Angeles Auto Show.