2016 Fiat 500 Abarth Review: Flawed but feisty boredom-buster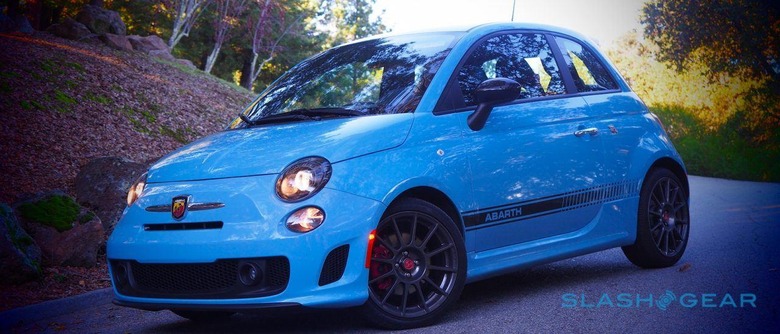 The 2016 Fiat 500 Abarth had an advantage as soon as it gurgled onto my driveway. I'm a sucker for a small Fiat, though as with so many of my flaws I blame my parents for my weakness. Growing up, my mom had a series of tiny city cars from the Italian automaker: a bright red original 500, a rattling 126 with a fiddly manual choke, a boxy Uno and a couple of comparatively sleek Puntos, among others. None would win any awards for refinement, but all had its own particular charm.
The 500 Abarth is very much of the same school. No, it doesn't have the oversized, often-overheating engine of the original cars to wear the scorpion badge. Those, after all, required a permanently-propped engine cover at the rear in order to stay anywhere close to properly cooled. What it does have is personality, for better or worse.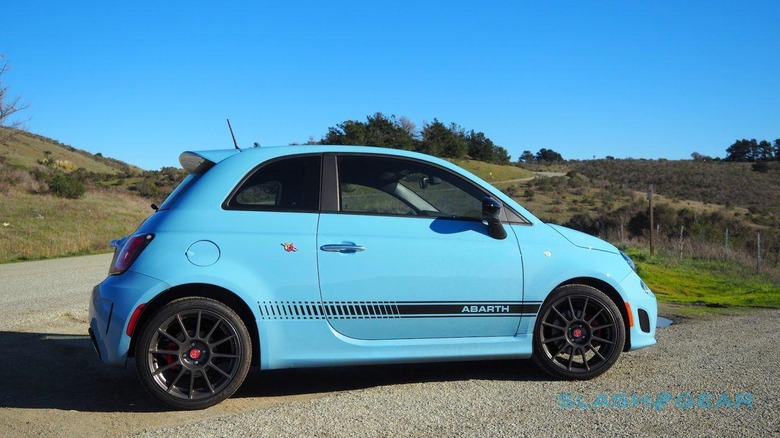 The Abarth team takes the regular 500 and ramps up the feisty-factor. Out go the regular Fiat badges, replaced with the tuning house's own, and then comes new fascia front and rear, a new diffuser from which two gun-barrel tailpipes emerge, and a high-level spoiler is perched atop the hatch. The black detailing on the mirrors and lights, along with the side stripe, are optional extras.
Under the tiny hood there's a 1.4-liter turbocharged engine. With the standard five-speed manual transmission it musters 160 HP and 170 lb-ft. of torque, but with the $1,350 six-speed automatic fitted to this particular review car, it's tuned for 157 HP and 183 lb-ft. While enthusiasts will welcome the "correct" orientation of the gearshift's manual mode – you pull back to change up a gear, just like in a "proper" racer – there are no paddle shifters to help keep your hands on the wheel.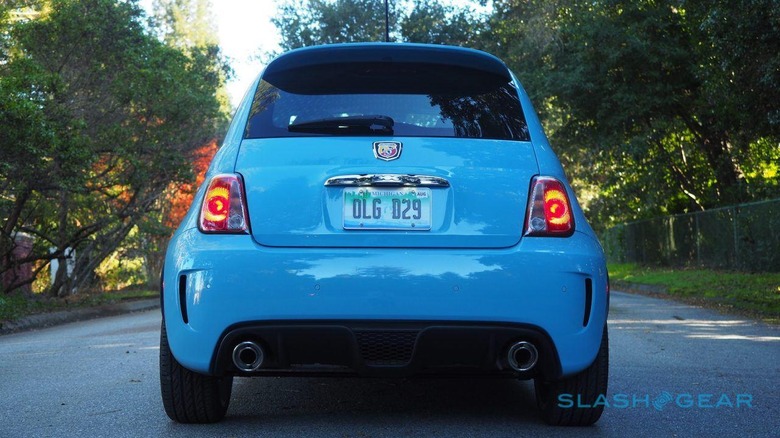 Start the Abarth up and you can't help but notice the tailpipes. This might be a little car but it has the soundtrack of a much larger one; there's plenty of potential for watching double-takes as pedestrians glance for the muscle car the noise implies, only to spot a baby blue 500 instead. Sport mode switches up the throttle response for more punch.
Whichever mode your in, though, the transmission prefers to keep things thrumming. As the dinky boost gage tacked on at the left of the all-digital instrument binnacle makes plain, this is an engine/gearbox combo that welcomes high revs and as low a gear as possible. The 6.9 second 0-60 mph time isn't going to win any drag races, but the Abarth is really more about twists and city slaloms.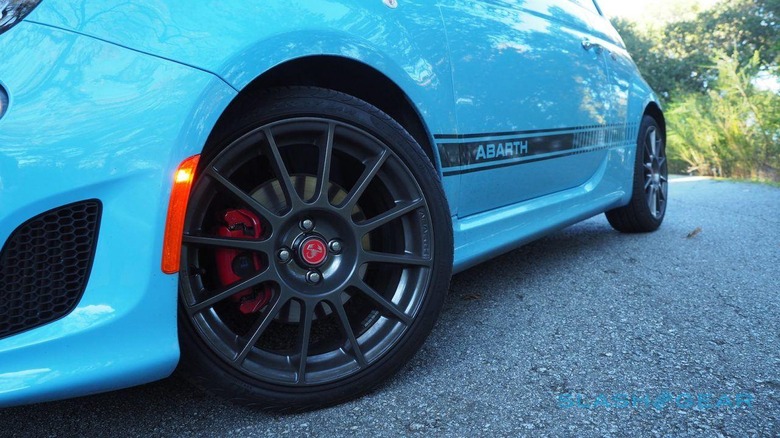 There, the whippet-handling and eager steering encourage the sort of nippiness that tiny Italian cars are infamous for. Since you can pretty much count on it always being a ratio below what you'd probably choose for comfort and economy's sake, sudden squirts into closing gaps in traffic are addictively easy. At the other side, while the single-piston front and rear brakes may look small, they're more than enough to haul the Abarth to a halt in short order.
A short wheelbase, stiffened and lowered suspension, and narrow 205/40R17XL BSW 3-Season tires (a $1,400 option with the handsome 17-inch forged aluminum black-finish wheels) make for a jumpy ride on anything but silky smooth surfaces. Find yourself on a heavily-grooved freeway and the 500 has a disconcerting habit of tracking, with the odd wobble thrown back up through the steering. You quickly learn to dive around potholes rather than expect the dampers to absorb them.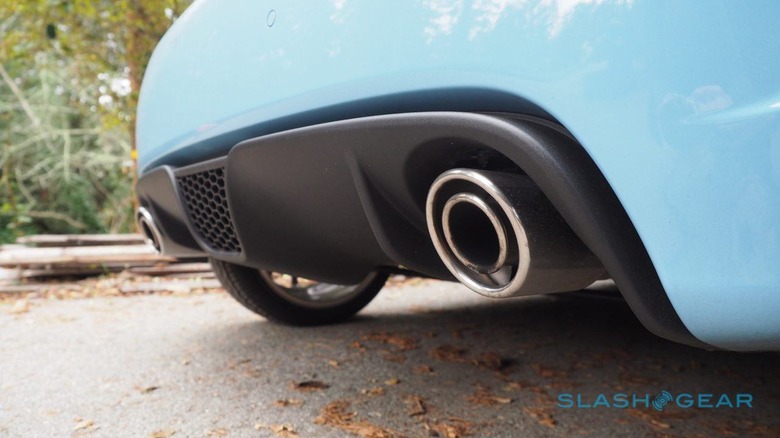 On back roads and in urban jungles, the Abarth's pep is endearing in a raucous way. At highway speeds, though, the engine's grumble and the tailpipes' whine are less welcome passengers. Throw in the tendency of automatic to stick in fifth and it's a noisy place to be.
Expectations of practicality must be tempered by the realities of the 500's size, though some of the options don't help. The trunk, already compact, is partially consumed by the subwoofer for the optional $700 Beats Audio system; thankfully it's at least loud enough to be heard over the engine/exhaust combo. Rear seats are present but only usable for the most compact of people.
Happily the front seats are more comfortable and supportive, with pleasing red detailing and – if you tick the $975 Popular Equipment Package option – get fiercely effective heating. The same package also adds SiriusXM and automatic climate control. Without it, you get more basic A/C.
As for the dashboard, Fiat's swathe of body color-matching plastic looks good, but the ergonomics are scattershot. Switching cars with reasonable regularity has left me pretty adept at hunting down the right button or touchscreen control while on the move, but even I was scratching my head at times in the 500. The chunky, leather-wrapped steering wheel feels good though could be smaller, and it lacks telescope adjustment.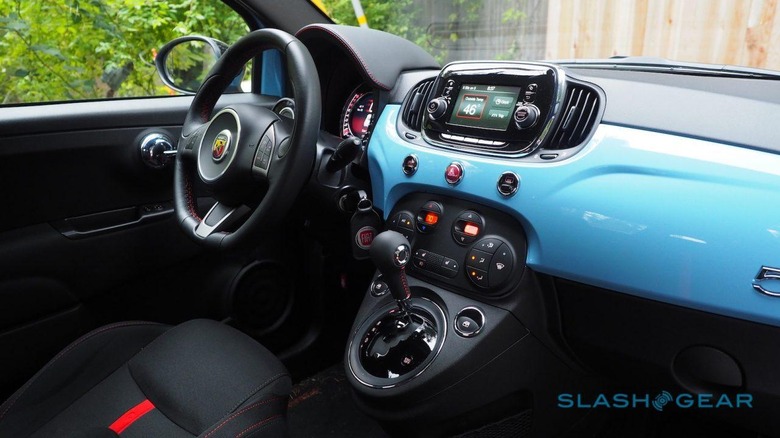 Add in the fact that the driver sits higher than feels right for a sports-centric car, and getting comfortable can be a struggle. Fiat's 5-inch Uconnect infotainment system is fairly straightforward and the USB input and aux-in are easily placed, though the forward cup holders are too narrow to slot an iPhone 7 Plus in. There's no Android Auto or Apple CarPlay, nor navigation or a reversing camera. Rear parking sensors are a $250 option.
The 500 Abarth is certainly a fun car, when paired with the right roads, but it could be tough to live with. The powertrain refuses to be anything other than in-your-face, and it's thirsty when you inevitably succumb to driving it like it demands. Fiat and the EPA quote 24 mpg in the city, 32 mpg on the highway, and 27 mpg combined, but I got 23 mpg in my mixed driving. Figure on refilling the diminutive 10.5 gallon tank fairly frequently.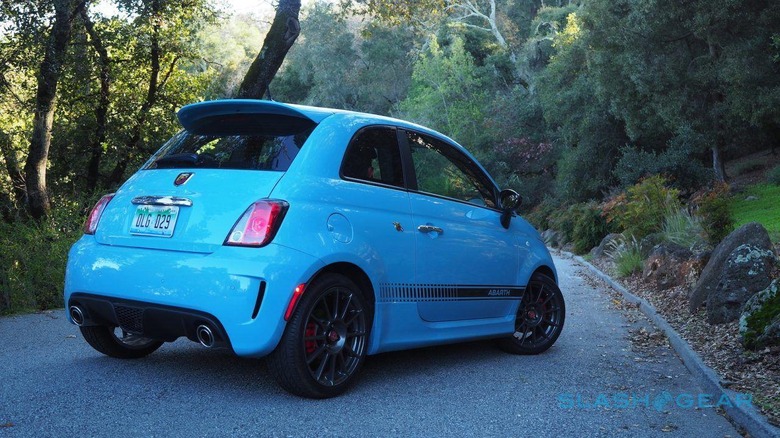 NOW READ: 2017 Fiat 124 Spider Review
As such, I can't really recommend it as a commuter car, but as an punchy chunk of flawed-but-fun entertainment it makes a lot more sense. The base price of $22,575 (plus $995 destination) underscores that, though with the various options this particular "Celeste Blu" example is a heady $28,945. Were it my money I'd skip most of the extras: the 500 Abarth's loud-mouthed charm comes as standard.