The Meteoric Rise And Fall Of Sam Bankman-Fried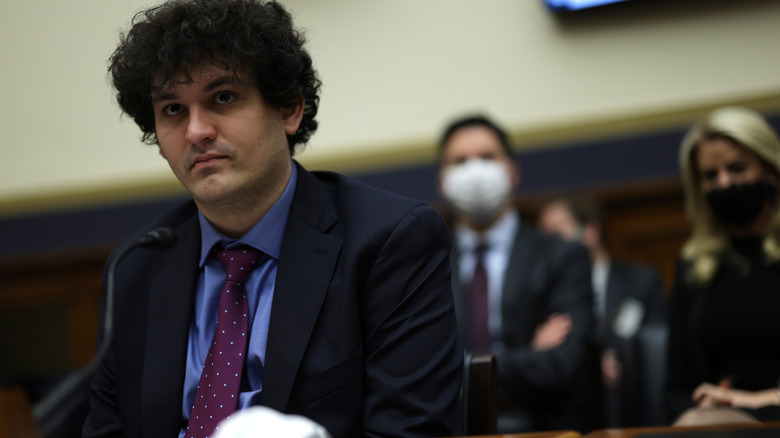 Alex Wong/Getty Images
Sam Bankman-Fried has been a few things in his life, but his two most prominent roles are almost the polar opposite of each other. At one point he could be considered the picture of a cryptocurrency success story — amassing a fortune worth billions and assembling a crypto-empire in a very short space of time. On the other hand, Bankman-Fried could potentially be used as a case study on the volatility surrounding cryptocurrency and how the market's lack of regulation could leave investors watching helplessly as their savings evaporate into nothing.
Bankman-Fried's story is far from over, and the fallout from his company FTX's spectacular collapse will likely drag on for years, involve many court cases, and result in new regulations as lawmakers act to minimize the chances of a similar situation occurring somewhere down the line. There is a lot to unpack before even getting to this point, so let's take a detailed look at where the former crypto billionaire came from, how he used digital currency to make his mark on the world, where it all went wrong, and what is likely to happen in the future.
The crypto market is notoriously volatile and unregulated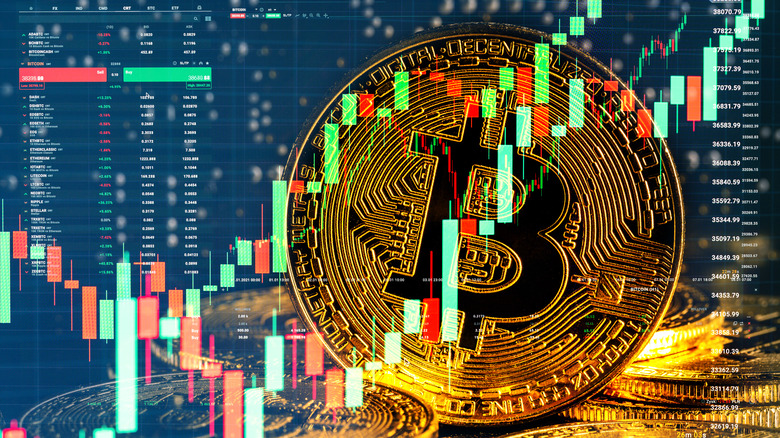 rzoze19/Shutterstock
The kind of situation that seems to be developing at FTX is not unique to cryptocurrency, nor to the financial industry in general. Large banks and investment firms have been collapsing for centuries, often with more dire global consequences than FTX's bankruptcy will have. The most famous recent example is Lehman Brothers, which went bust in 2008 and is now seen as the largest institutional casualty of the subprime mortgage crisis. The bank was the fourth largest in the United States and was widely seen as "too big to fail" but failed pretty spectacularly when the U.S. Government refused to bail it out (via Investopedia). Then there is financial fraud, which also happens even in heavily regulated markets. Jordan Belfort's pump-and-dump scam inspired a book that would later become the movie The Wolf of Wall Street, and Bernie Madoff managed to set up the largest Ponzi scheme in history decades after Charles Ponzi became so famous for the exact same scam that his name ended up attached to it forever.
Compared to the financial and securities sectors where those scams and failures took place, the Cryptocurrency market is basically the Wild West. National regulations on crypto exist in many countries, with some nations banning it outright, and the United States has both federal and state-level regulations relating to crypto, how it is traded, and how it is taxed. However, the market is nowhere near as highly regulated as other financial services, and many enthusiasts have strongly resisted regulation every step of the way. In addition to the lack of regulation is the market's volatility. Cryptocurrency is known for its huge, unpredictable, swings, which means you could make a fortune very quickly or lose everything in the same space of time.
Who is Sam Bankman-Fried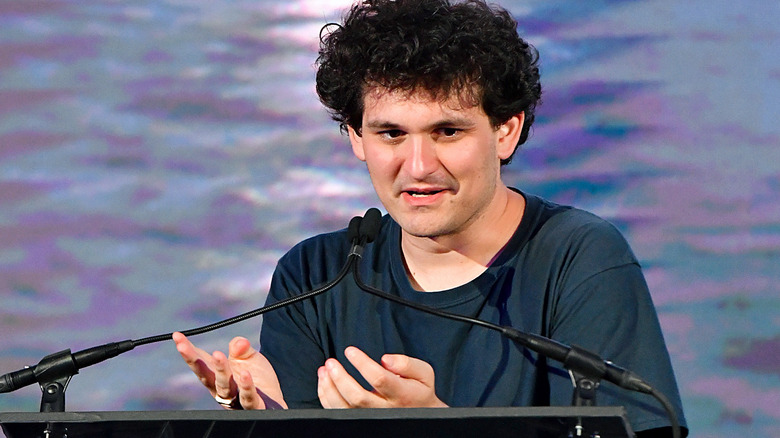 Craig Barritt/Getty Images
If you haven't been closely following developments in the world of cryptocurrency over the last few years, you had probably never heard of Sam Bankman-Fried until his face and failures were plastered across the world's major news outlets last week. His story isn't exactly one of rags to riches; he could fairly be described as hailing from an upper-class background if we use the standard American definition, which the Pew Research Center describes as a household with more than double the average American annual income. Bankman-Fried's parents are both law professors at Stanford, one of the most prestigious universities in the world. The future crypto billionaire didn't share his parent's enthusiasm for legal studies, instead opting to study physics at MIT — another world-leading and highly prestigious American school.
Bankman-Fried's interest in trading didn't begin with cryptocurrency. According to Forbes, he started out by trading ETFs, a traditional form of investment, at a "quant firm" which is a large hedge fund that uses algorithms as part of its decision-making. The future "King of Crypto" gravitated towards cryptocurrency trading in late 2017, and eventually co-founded his own exchange, FTX, in 2019. At his absolute peak, Bankman-Fried was worth around $24 billion, making him the 60th richest man in the world and the 41st richest American citizen at the time. That was just a few months ago. Today, things are looking far different for the 30-year-old.
FTX wasn't Bankman-Fried's first crypto-based company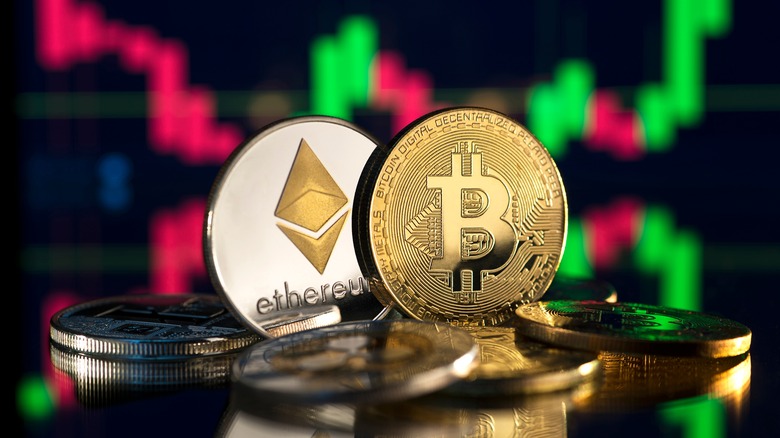 DUSAN ZIDAR/Shutterstock
Bankman-Fried didn't break into the crypto market with FTX. Two years before the failing exchange was founded, the young entrepreneur established Alameda Research which aimed to capitalize on inefficiencies in the market and the different rates cryptocurrencies were selling for in different nations to turn a profit. Before founding Alameda Research, Bankman-Fried admitted he didn't know much about Bitcoin or other cryptocurrencies. He soon noticed the famous crypto was trading for 10% higher rates in Japan than it was in the United States, and capitalizing on that difference is how the businessman got his break.
Staff numbers at Alameda Research were kept low and contained a number of Bankman-Fried's personal friends and others he or his family were closely associated with. When the company started, it consisted of around 20 people and a rented office in Berkley, California. Initial issues the future FTX founder would face included finding banks in Japan that would facilitate the transfers. This issue was eventually resolved and Alameda became very profitable very quickly, earning $20 million in just a few weeks. During its initial peak, sums as large as $15 million were being transferred to Japan, oh which the company would make $1.5 million in profit. It was Almadea Research's success that inspired Bankman-Fried and his team to start their own cryptocurrency exchange.
How Bankman-Fried became the King of Crypto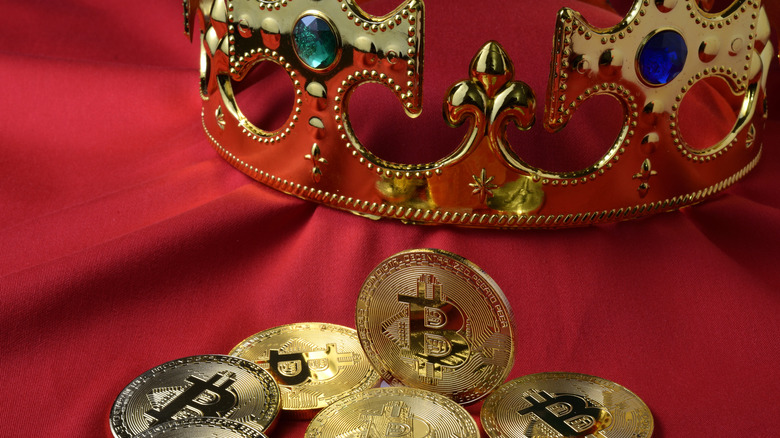 Steve Hamann/Shutterstock
The MIT graduate's net worth and notability were tied very closely to his main company, FTX, which he founded in 2019. FTX was founded as interest in cryptocurrency was surging, and the company would eventually become the world's third-largest cryptocurrency exchange. To make FTX a success, Bankman-Fried allegedly worked around the clock, skipped showers, and avoided relationships so he had the time needed to focus on developing his company. Rumors persist that the CEO had worked for over 30 hours straight on occasion, and asked to be woken up rather than have meetings with clients rescheduled.
As with his initial business, Alameda research, Bankman-Fried kept staff numbers at FTX relatively low compared to how much the company was making. FTX topped out at around 300 staff in total, with Bankman-Fried saying: "We told them additional employees added too quickly were a net negative, and they could take it or leave it." The CEO later claimed that businesses aiming for hypergrowth could not "replace growing revenue with growing expenses." FTX initially traded in cryptocurrency derivatives, cryptocurrency futures, options, and contracts, before following many other exchanges in launching its own token with FTT. He also became one of the most recognizable faces of the cryptocurrency movement, regularly talking about his ideas for regulation and the future of the industry. Being dressed like it's your day off and sleeping on a bean bag near your desk were as closely associated with Bankman-Fried as a black turtleneck and a pair of jeans was with the late Steve Jobs. The FTX CEO's net worth went north of $1 billion for the first time in 2021, and his public profile put him on top of the crypto mountain.
The exchange-owner publicly pushed for crypto regulation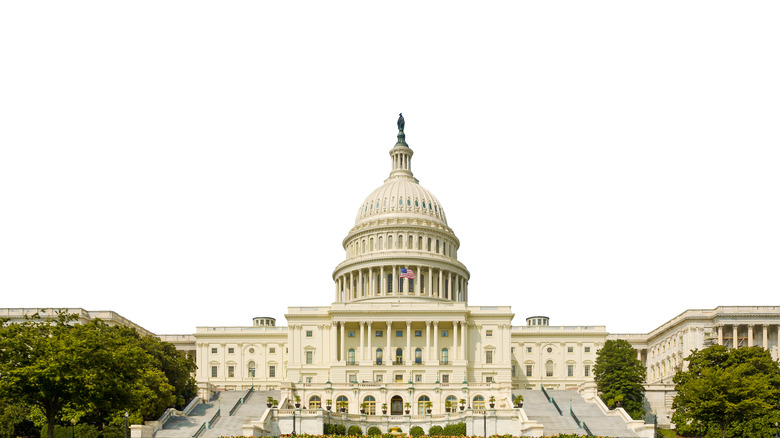 Marti Bug Catcher/Shutterstock
Over the last few years, Bankman-Fried has, publicly at least, strongly advocated for increased regulation in the cryptocurrency market. This includes testifying in front of the United States Congress in late 2021 where he recommended that the Commodity Futures Trading Commission (CFTC) has its regulatory reach expanded "to include, at a minimum, all spot transactions in (non-security) digital assets involving retail investors." The FTX owner also called for regulations to "ensure the safety and soundness" of "stablecoins" — which are a type of cryptocurrency that has its value pegged to something like the United States Dollar. The stablecoin's value only moves with the currency or other commodity it is tied to and is far less volatile than other cryptocurrencies. In the case of stablecoins, Bankman-Fried believed that they would not need "bank-like supervision" provided that "the core requirements of stablecoin oversight are met." These oversights included things like periodic audits, daily attestation of the assets backing the coin, and giving the Federal Government the ability to "inspect the assets."
Following the testimony, the entrepreneur had an interview with Bloomberg where he further expanded on his vision of crypto regulation. He said he agreed with rival exchange Coinbase's proposal for a self-regulatory organization (SRO) to be formed so the industry could in effect come up with and enforce its own rules. He also said federal regulators could also play an important part in policing crypto, even if multiple, influential, SROs are formed. He also praised the U.S. government's approach, saying "Congress has done a really good job of starting to get up to speed on digital assets. And I think they showed a lot of eagerness to continue learning."
Bankman-Fried's financial interests went beyond the realm of cryptocurrency.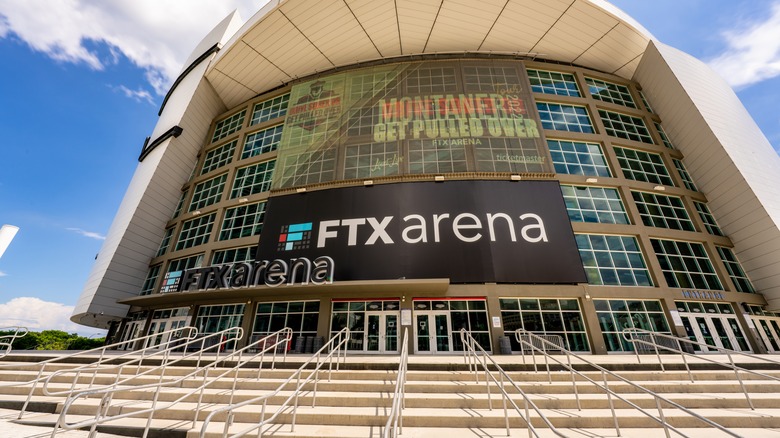 Felix Mizioznikov/Shutterstock
According to The Block, Bankman-Fried had set his eyes on the $300 billion luxury fashion industry and had appointed a successful beauty entrepreneur as its "head of global luxury partnerships" in an attempt to establish itself in the sector. Bankman-Fired's company also launched a gaming business at around the same time, with the goal of helping already established game developers incorporate blockchain technology and NFTs into the games they are making. The move into gaming may not be a huge shock, as the entrepreneur had long-standing ties with the Esports industry. All in all, he has close to 130 companies under the "FTX Group" umbrella.
More recently, Bankman-Fried had an alleged interest in Elon Musk's Twitter. The MIT graduate had apparently offered to partner up with Musk and help develop a new blockchain-based suite of services. He was also happy to put his money where his mouth is and offered to cover between $8 billion and $15 billion of the $44 billion Musk was about to spend to acquire the social media platform. Musk declined, and in the future, that may be seen as one of the wiser choices he made during the whole takeover saga.
The former billionaire has previously pledged to give away most of his earnings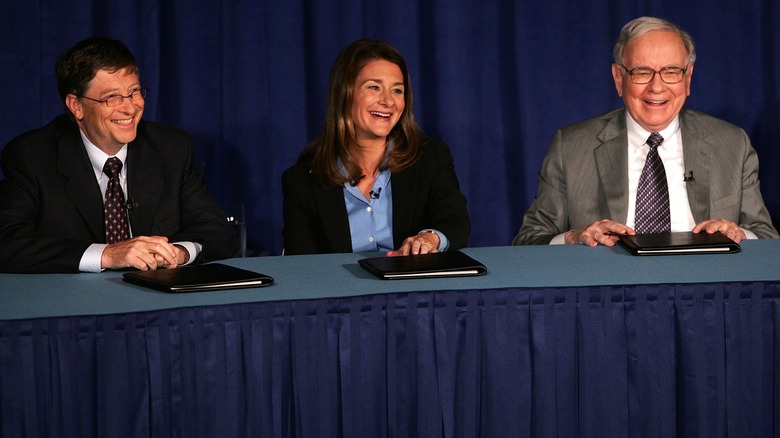 Spencer Platt/Getty Images
Earlier this year when he was one of the world's richest people, Bankman-Fried signed up to the "Giving Pledge" — an agreement dozens of prominent billionaires have made that involves them giving most of their wealth away to causes benefiting humanity within their lifetime. Despite the decrease in his net worth, the former Crypto CEO's name and picture are still on the Giving Pledge website, along with a quote that says: "A while ago I became convinced that our duty was to do the most we could for the long run aggregate utility of the world.
In the end, it's the work my friends and colleagues at foundations do that matters the most. A more just world would shine a brighter light on them. In this world, I'm honored to be able to support their work." The concept of the Giving Pledge was devised by Bill Gates, his ex-wife Melinda, and investor Warren Buffet. Since it launched, many of the world's richest people have gotten on board, including Media mogul Michael Bloomberg, Facebook founder Mark Zuckerberg, and the current world's richest person Elon Musk.
A good chunk of Bankman-Fried's philanthropy was done through the "FTX Future Fund" — which was his company's charity arm. However, following the collapse of FTX, the team running the Future Fund resigned via an open letter, citing "possible deception and dishonesty" from the company's leadership. The team condemned their bosses' alleged behavior and apologized for grants the company had awarded, which it may no longer be able to honor (via Fortune).
FTX rescued other failing crypto organizations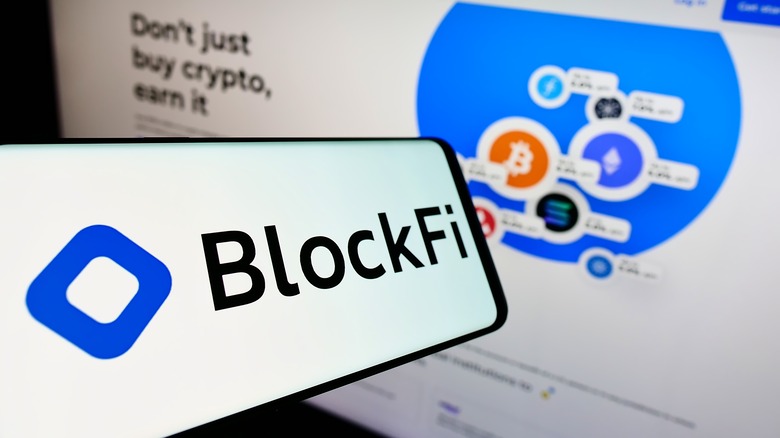 T. Schneider/Shutterstock
While the days leading up to FTX's collapse involved Bankman-Fried desperately trying to find other organizations willing to help dig his company out of the hole it was in, it wasn't long ago that the situations were reversed. During its brief existence, FTX had repeatedly bailed out or acquired smaller, failing, cryptocurrency companies. Bankman-Fried and his company became to be seen as "lenders of last resort" within the cryptocurrency community. Major bailouts Bankman-Fried was involved in included a deal that left FTX with the option to acquire fellow crypto company BlockFi for up to $240 million.
Just a few short months ago, when the industry was feeling the effects of another "Crypto Winter," Bankman-Fried explained to CNBC why he was so keen to help other struggling crypto businesses. He said: "It was important that the industry gets through this in one piece. It's not going to be good for anyone long term if we have real pain and real blowouts — it's not fair to customers and it's not going to be good for regulation." Now, less than two months on, FTX itself has collapsed, Bankman-Fried's personal wealth has all but evaporated, and no one is stepping in to save him
FTX's collapse happened very quickly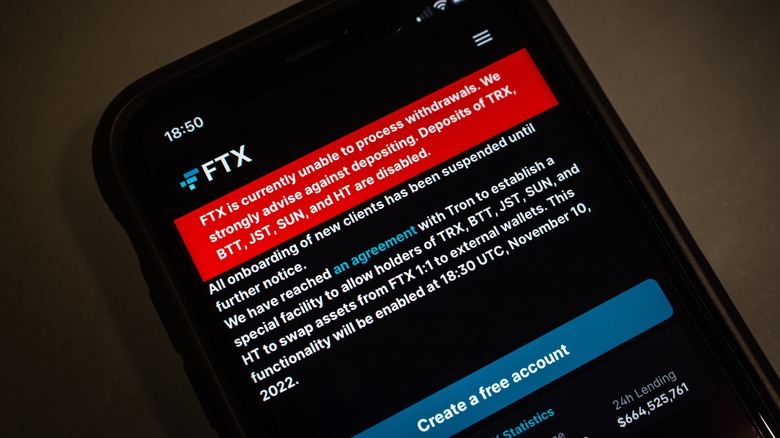 Koshiro K/Shutterstock
Cryptocurrency on the whole is experiencing a bear market, or "crypto winter" to use the term that is commonly applied to times when things are difficult for digital currencies. During times like this, smaller exchanges tend to disappear, but the bigger fish are usually well-prepared and backed enough to hang in there. Which is why it's such a shock FTX collapsed at all, never mind how quickly the whole thing unfolded. FTX filed for bankruptcy on November 11 with around 94% of Bankman-Fried's net worth evaporating at the same time. Bankman-Fried resigned as CEO and took to Twitter to confirm the firm was bankrupt, apologize, and promise to "give clarity on where things are with user recovery."
https://twitter.com/SBF_FTX/status/1591089317300293636
From the information we have available, it seems that problems arose when the FTX Group's venture arm, and FTX's sister company, Alameda Research, had most of its net worth tied to FTX's own crypto token, FTT. The news prompted regulators to look into the situation, Alameda Research's website went offline, and things toppled from there. The actual cause of the collapse was a "liquidity crisis" which means FTX didn't have the cash lying around to pay out what it needed to pay out. Bankman-Fried attempted to find around $8 billion to keep things going, and was in the process of negotiating a deal with rivals and former FTX investor Binance, but the Chinese-founded crypto exchange pulled out when allegations of misuse of customer funds emerged.
Bankman-Freid's current problems go beyond his net worth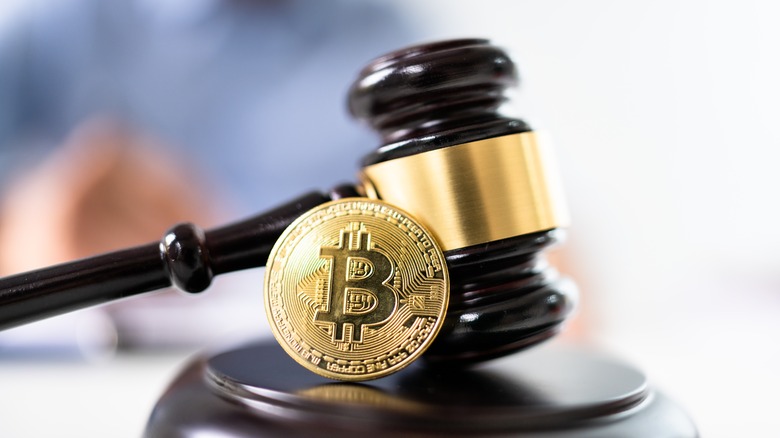 Andrey_Popov/Shutterstock
What exactly happened at FTX in the time leading up to the collapse, how customer funds were used, and what Bankman-Fried's involvement was are amongst the many things currently being investigated by the federal government. Bankman-Fried is a resident of the Bahamas, is not on U.S. soil, and isn't currently in U.S. custody. Multiple news outlets have reported that authorities in the Bahamas have interviewed the former FTX CEO, but no charges have been filed yet.
Should U.S. regulators, including the Securities and Exchanges Commission, find wrongdoing on Bankman-Fried's part, being in the Caribbean won't really help him. The Bahamas have an extradition treaty with the United States, so he would likely be on a short flight back should the U.S. authorities manage to put a case together.
To make matters worse, FTX was the target of a hack shortly after declaring bankruptcy, which saw up to $600 million of customer funds disappear. Users were asked to avoid the website and delete the company's app to avoid putting themselves at risk. The exchange also expedited the process of moving its remaining assets to "cold storage" which an executive said was "to mitigate damage upon observing unauthorized transactions." The nature and timing of the hack have led some on social media to claim it was an inside job. Either way, it is yet another FTX-related matter authorities will be scrutinizing.
This situation might result in massive changes to the crypto market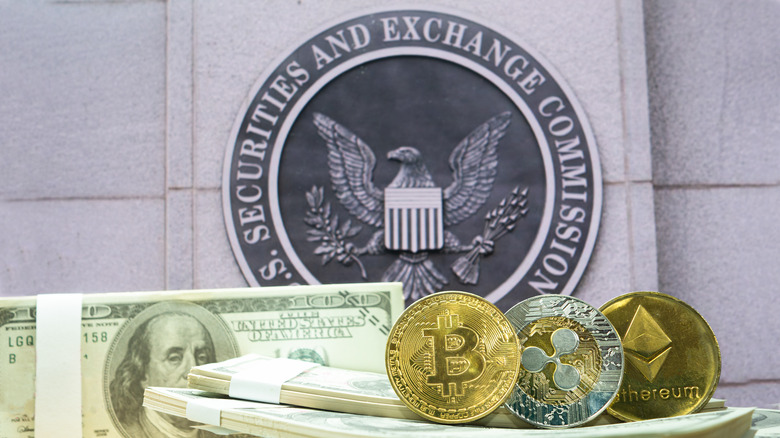 K.unshu/Shutterstock
Throwing a rock into a pool causes a ripple, and just like the ripple effect of the American subprime mortgage crisis caused bankruptcies and recessions around the globe, the collapse of FTX will undoubtedly change how cryptocurrency is viewed, regulated, and used.
In what could be seen as a slight silver lining, recent events mean that Bankman-Fried may see some of his suggestions for crypto-regulation being put into force. Thousands of U.S. citizens, and others around the world, have lost significant amounts of money due to FTX's collapse, and regulators aren't likely to continue looking the other way. There is also an argument that the collapse of one of the industry's top and most secure exchanges at a time when crypto is on the decline may be enough to kill the idea of digital currency completely. Or at least shy potential investors away for an extended period.
We're all going to be watching a movie about this in a few years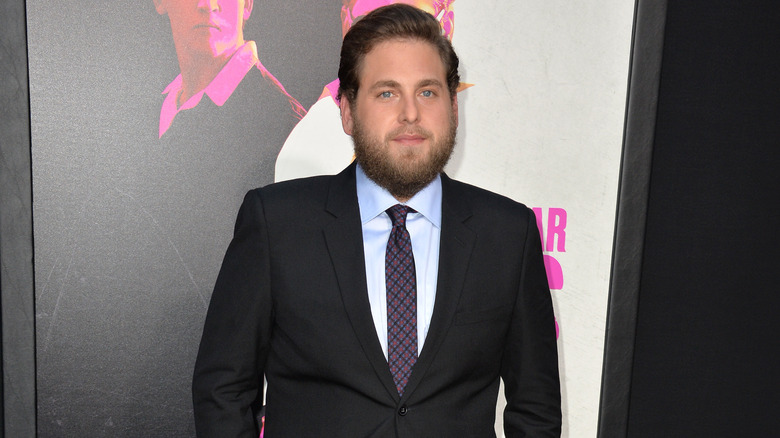 Featureflash Photo Agency/Shutterstock
While it's impossible to say for certain what twists and turns are left in the FTX saga, and where it will actually end, we might be seeing the eventual ending on the big screen in a few years' time. Movies based on similar situations, like Scorsese's "The Wolf of Wall Street" was a phenomenal success at the box office, and numerous films have been made about con artists like Bernie Madoff, including HBO's "The Wizard of Lies." A study of similar situations also suggests that several documentaries analyzing the matter will also be made in the coming years.
I'd watch that movie 🍿

— Elon Musk (@elonmusk) November 10, 2022
Social media users with an interest in the situation are speculating that drafts of screenplays may be being typed already, and have even picked out a star that could feature in any movie that happens. Jonah Hill has a passing resemblance to Bankman-Fried and has taken on similar roles before — having been praised for his part as Jordan Belfort's sidekick and co-conspirator Donnie in Wolf of Wall Street. It's not just random Twitter users who think this is a good idea either. The company's new CEO, Elon Musk, replied to a tweet predicting Hill would take a starring role in a film based on Bankman-Fried with the words "I'd watch that movie." On a semi-related note, there are currently no reasonable predictions about who will play Musk if a screenplay is ever written about his chaotic first couple of weeks at Twitter.