2022 Aston Martin Vantage Roadster Review: British Invasion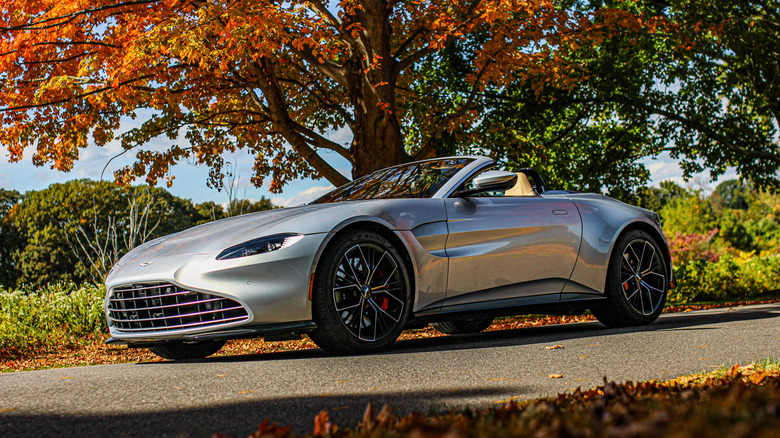 Alex Kalogiannis/SlashGear
By nature, we tend to root for an underdog in a competition but that same nature also likes to see the champ knocked down a couple pegs, too, if we're being honest. Watching a single victor constantly on top gets a little boring after a while, so it's refreshing when a challenger steps in every so often to mix things up.
This is particularly true when it comes to the never-ending schoolyard debate surrounding sports cars. There will never be a clear winner, but Porsche and its 911 flagship have long since earned their spots at the dream car argument table. Its all-rounder performance in a package suitable for daily driving is its particular trademark, one that competitors have always endeavored to emulate as they vie for its spot on the sports car pantheon.
Aston Martin has taken many shots at the Porsche 911 in the form of the Vantage, and while a very successful car in its own right, it wouldn't be accurate to say it knocked the 911 off its perch. In 2018, a new-from-the-ground up Vantage with sharp looks and even sharper handling renewed Aston's campaign to challenge the potent Porsche. Though initially poised to be a significant threat to the 911's domain, driving it again four years after its debut is a reminder of what not to do when you come for the king.
Tip-top shape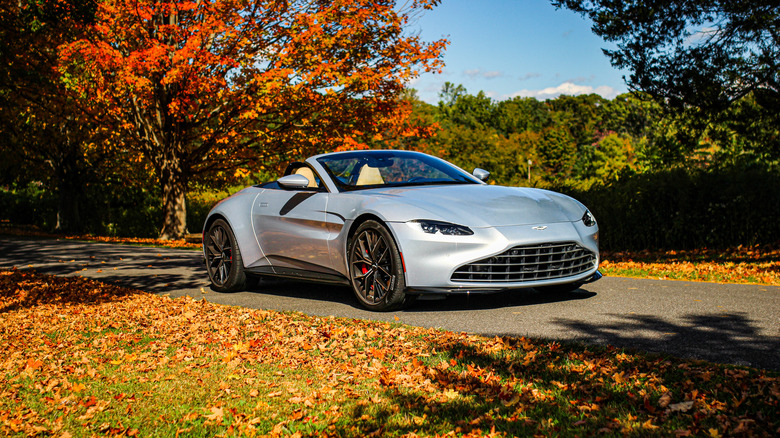 Alex Kalogiannis/SlashGear
The Aston Martin Vantage Roadster is the drop-top version of Aston Martin's two-seater rear-wheel drive front-engined sports coupe. There have been some limited-run versions of the car sporting V12 engines and manual gearboxes, but as it currently stands, the Vantage is available with a 4.0-liter twin turbo V8 engine and an 8-speed automatic transmission. This burly V8 is sourced from the good folks at Mercedes-AMG, and sends 503 horsepower and 505 pound-feet of torque to the rear wheels. The lack of roof makes it a touch slower than its hard-top iteration, meaning it can "only" top out at 190 instead of 195, and get from 0 to 60 in 3.8 seconds rather than 3.6.
While the engine may be from Mercedes, it's housed in an all-Aston body. Redesigned from the ground up as the previous iteration of Vantage concluded a 12-year model run, the new Vantage is very purposefully engineered to elevate performance. Its wheels are pushed out to the farthest corners of the car, limiting any overhang and accentuating the sports car's low, predatory stance.
There are distinct Aston Martin styling cues it shares with its current lineup family, the DB 11 grand tourer and the DBX performance SUV. That being a hard-to-miss grille, aluminum clamshell hood, and narrow headlamps that further push the hunter narrative the car is telling with its style. Side vents channel air from the well that houses its 20-inch alloy wheels along the side to its short but busy rear, beneath which you'll find the telltale slats of the diffuser prominently displaying itself. Removing the top doesn't take away form the Vantage's design, either. While the cloth top is slightly less elegant, it lowers quite quickly, so there's little time to dwell on it.
Vintage threads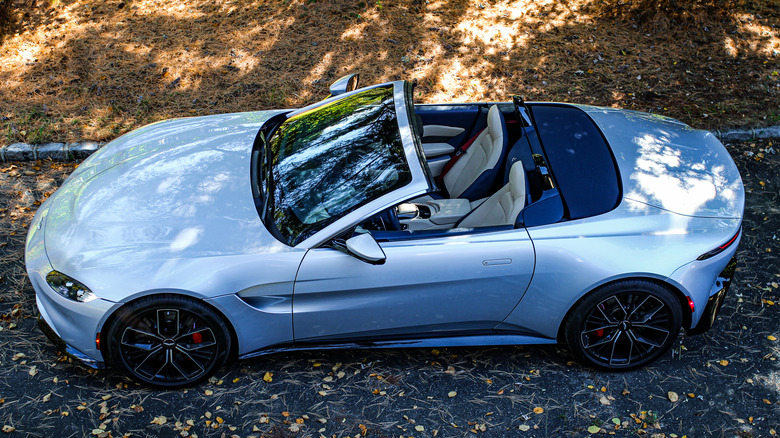 Alex Kalogiannis/SlashGear
Either with the top down or once seated, the form-fitting interior is revealed, to mixed results. In terms of design, there's little to complain about. Swathes of leather cover every surface and that which isn't is a hard plastic component of a functional system. Most inputs are tightly packed into the center console beneath the HVAC switches, with just a few on the flat-bottom steering wheel flanked by column-mounted paddle shifters. Though things are clustered together in a symmetrical package, it takes a bit to orient one's self to the layout. I've got bad news for you if your desired function isn't a button press away.
Sitting in the center of the dashboard is the 8-inch screen of the Vantage's infotainment system. Like the engine, it's another Mercedes component — specifically, one of its older COMAND units before retiring it for MBUX. Finding one of these in a 2022 vehicle is almost quaint, like finding a rotary phone and wondering how we got on with such a clunky device.
Throwback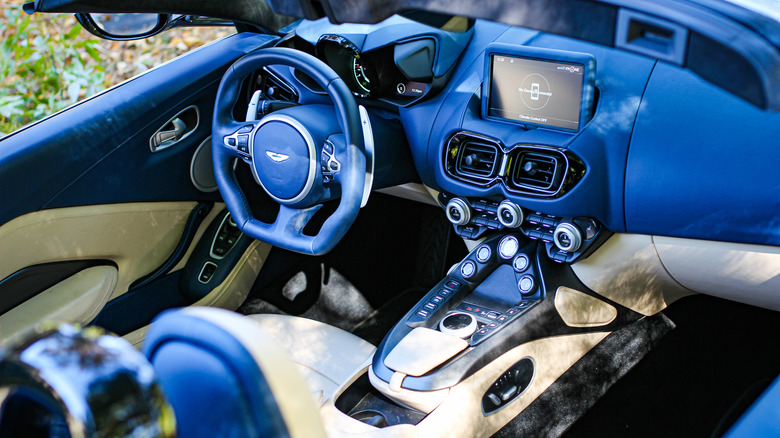 Alex Kalogiannis/SlashGear
The story isn't much different here, rotary and all, thanks to the only inputs being the knob on the center console. Relying on this system for minor things we take for granted like navigation and phone pairing is grit-your-teeth annoying. Even navigating its own menus is frustrating enough for you to abandon whatever you were trying to accomplish in defeat. AM radio it is, Vantage. It goes without saying that there is no Apple CarPlay or Android Auto to fall back on here.
The thing to keep in mind is that it was already strange to see this hand-me-down technology in the car back when it debuted in 2018, and the nearly five years of time in-between hasn't done it any favors. It unfairly dates this sleek, modern car so thoroughly, I half-expected to find a 6-disk CD changer in the trunk. In terms of additional tech, the Vantage is fairly bare-bones in that department, too, with most of it tied into the car's driving performance.
A special set of skills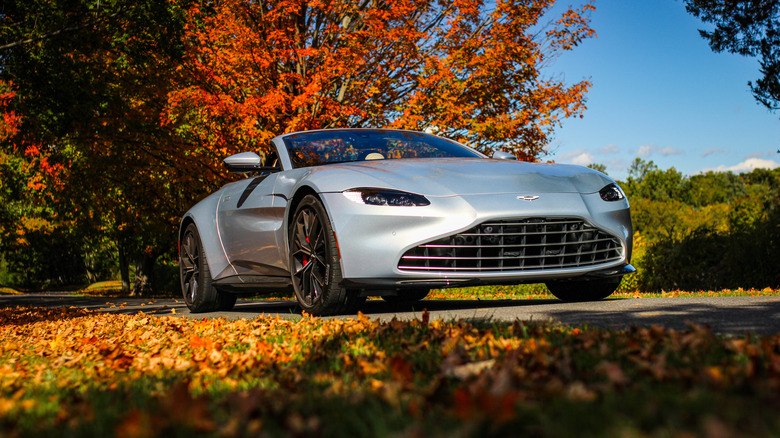 Alex Kalogiannis/SlashGear
Mercifully, the Aston Martin Vantage excels at what it showed up to do: drive. We've driven this car before. In fact, the previous reviewer and I shared seat time with the same car around the same track. What's safe to say is that the Vantage still gets this part of the experience very, very right. The Aston Martin's hunkered-down design and encompassing driving position gives the driver an overwhelming sensation of symbiosis. Every movement of the car, subtle or not, is felt directly as if specifically connected to the driver's nervous system.
The stout sports car is very aggressive with how it puts its power down, with the back wheels slipping from even the most delicate throttle press if it's on a mildly slick surface. This is encouraging when the Vantage is primed to get up to speed, if not mildly unnerving, mainly as a result of the strong road-feel. When it finds grip, the Vantage darts forward quickly and eagerly towards corners it will deftly sail around. In a bend the Aston Martin will respond to the driver's every command, and the active torque vectoring will make sure to grind down the apex of a turn like a belt sander.
There's very little in the way of software interference in case things get out of sorts. Dynamic stability control and torque distribution is present, but it feels hesitant to get involved unless things get very hairy. Maybe the Vantage defaulting in "sport" was a hint. The other drive modes, sport+ and track, lessen the electronic overwatch with each click and increase the throttle response, each tangibly different to each other. Removing the roof hasn't soured the Vantage one bit, in fact, the open cockpit further enhances the sense of connection with the car.
Circle of life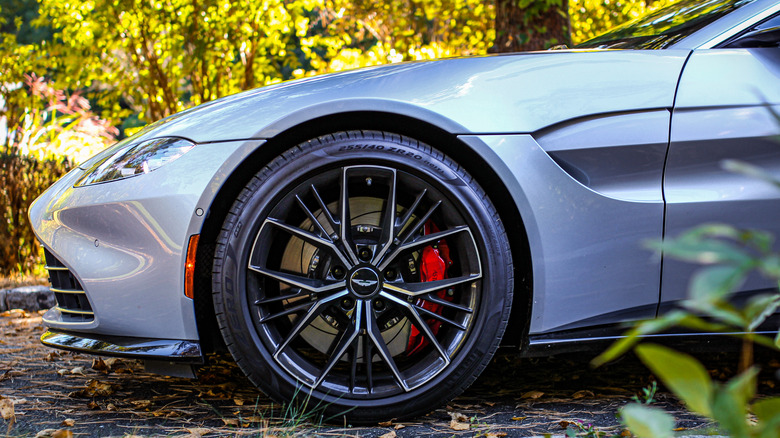 Alex Kalogiannis/SlashGear
To address the elephant in the room, the Vantage doesn't feel like a predator of the Porsche 911, it feels like an invasive species, if anything. The Aston's sharp looks are certainly appealing, particularly to those who have never fully warmed to the 911's rigid yet iconic design. Both have heaps of power and hyper-connected handling, with the Vantage distinguishing itself in that department, though both simply feel different in a way that's difficult to put to summarize in a handful of sentences. Suffice it to say that the Porsche 911 — and the GTS in particular – feels more... experienced and thus more capable.
If that didn't settle things, Porsche's more thoughtfully designed cabin and collection of tech conveniences make the British sports car feel analog by comparison. Not only is it more user-friendly and up to date, small quality of life touches like the ability to raise the front nose, adaptive cruise control and lane departure warnings make the 911 the easier vehicle to live with in between the wild driving adventures. In that regard it doesn't feel like it has much of a chance to pick off 911s in the wild, but it's scrappy enough to muck up their territory.
Old-school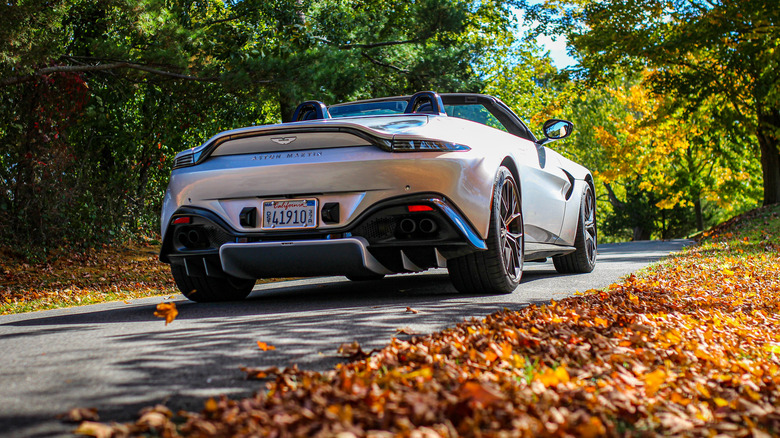 Alex Kalogiannis/SlashGear
At its core, the Aston Martin Vantage is a perplexing car that manages to remain charming despite its lackluster cabin conveniences and, frankly, unfair positioning as a Porsche 911 contender. The sports car's sharp, distinct handling and performance can't be denied and is only matched by its equally alluring exterior. Remove the roof, and the experience is even further enhanced. This iteration may be more suited for the coastal jaunts of your fantasies than it is for the track, but all that capability is there when you desire it.
With an asking price starting at $155,100, it will remain a fantasy for most, particularly with how pricey extras elevate the cost far more than the experience. All told, my Vantage du jour topped out at $185,786 thanks to a collection of cosmetic extras like a "Q Special" leather color.
It's money that customers, I'm sure, would rather use to upgrade a wildly out-of-date infotainment system for something much more in keeping with current trends. It's upsetting to harp on this, but even with a car that's so spectacular to drive, a disappointing interface greatly diminishes the overall experience — from navigation, to entertainment, to car system data. It would get a pass in an older car, but it's a modern one, and it would've been nice to have some Q-branch smarts included rather than a cheeky reference in the leather options. 
Given that there's a refresh planned for next year, we can be optimistic for some quality-of-life improvements, but we're talking about the car in its current state, not what might come next. All told, the Vantage Roadster is a modern car the carries the romantic spirit of the classics that must be experienced, though living with it after the honeymoon phase is another matter altogether.