The 2019 Aston Martin Vantage is jaw-dropping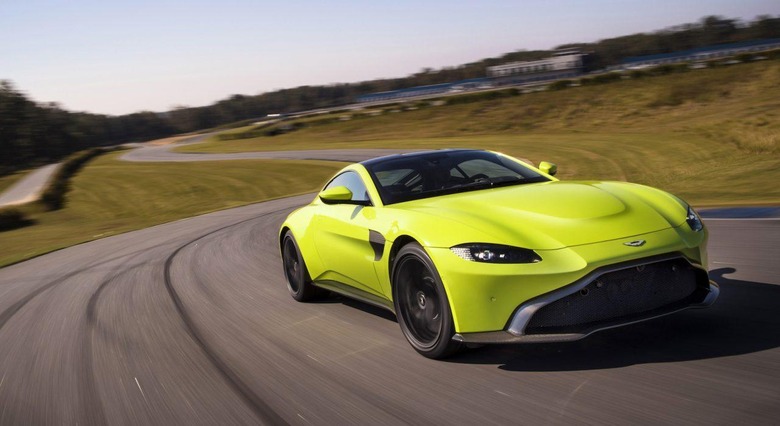 Gentlemen, start your engines: this is the 2019 Aston Martin Vantage, and if you want to bear that nameplate, you need to be something special. All-new when it hits dealerships next year, the new Vantage continues with its predecessors' priority of being the most aggressive, sporting variants in the British automaker's line-up. That means something both visually distinctive and technological impressive.
While at first glance it's clearly an Aston Martin, take a longer look and the departure from the marque's existing design language becomes more and more evident. The automaker says it's inspired by the Aston Martin Vulcan, its track-only supercar, but there are hints of DB11 in there too, albeit with far more aggression.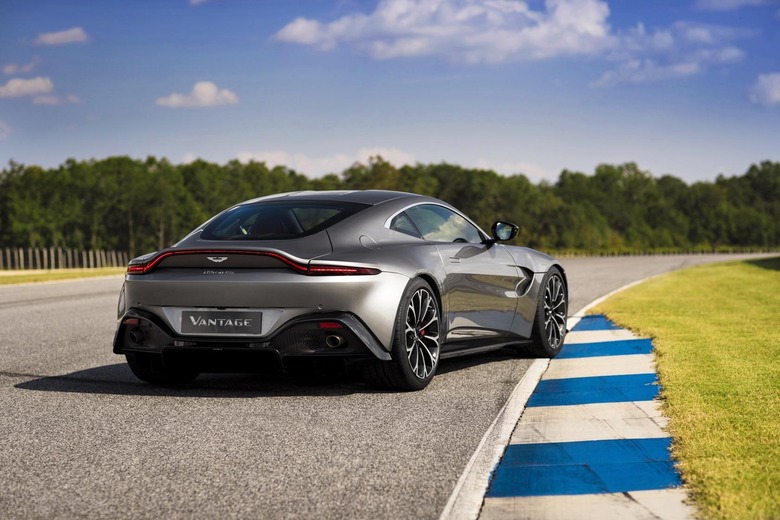 It starts at the front, with a new fascia and ultra-slim LED headlamps. The grille has been enlarged considerably from previous Aston Martin cars, still with the core shape intact, but now covering the entire lower front of the coupe. Sharp crease lines flow back to sizable, fully-functional side vents. At the back, there are more ultra-slim LED lamps and an integrated spoiler. It's 284 mm shorter than a DB11, and 34mm shorter than a Porsche 911.
Aerodynamics are the be-all and end-all of the design, however. The front splitter, now fully integrated, mates with minimal front overhangs. That side strake helps bleed air from the front wheel arch, cutting lift, while also feeding air along the Vantage's flanks. Underneath the car, there are long fences which channel air for cooling, and then lead it eventually to the rear diffuser. The low-pressure air area created there, along with the downforce-producing rear deck lid, help stick the Vantage to the asphalt.
Of course, you need an drivetrain that takes advantage of that, and Aston Martin isn't sleeping there. The 2019 Vantage has a new 4.0-liter, twin-turbo V8, brought in from Mercedes-AMG and then tuned by the in-house engineers, that's positioned low and far back in the chassis to deliver both a 50:50 weight distribution and a low center of gravity. It's good for 503 HP at 6,000 rpm, along with 505 lb-ft. of torque from 2,000 to 5,000 rpm.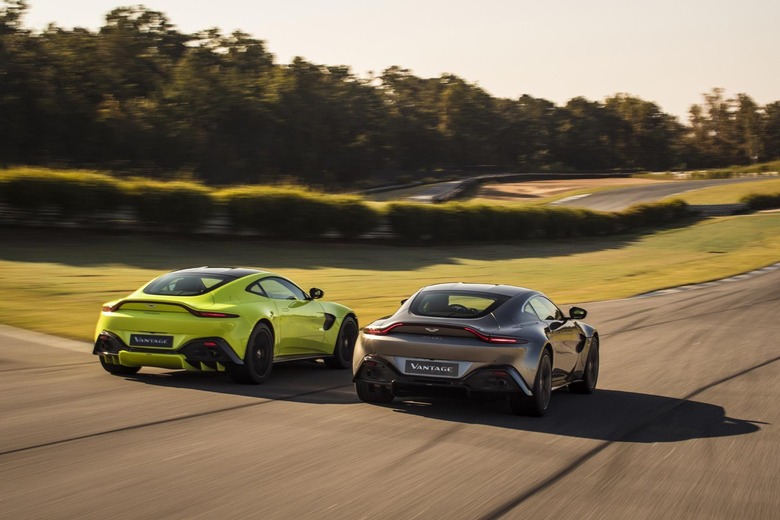 It's linked to a rear-mounted ZF eight-speed automatic transmission: Aston Martin says its been tweaked to deliver both short, crisp gear changes when the Vantage is being pushed hard, but also smoother shifts when you're cruising, something a DCT often struggles with. No manual option – frankly, the auto is just to fast for mere human gear changes to keep up – but we can't complain too much when the new Vantage does 0-60 mph in 3.6 seconds. Top speed for the 3,373 pound car is 195 mph.
The soundtrack may be pure Aston Martin, but the tech is cutting-edge. Dynamic Stability Control and Dynamic Torque Vectoring are included, while the electric steering is speed-dependent with 2.4 turns lock-to-lock.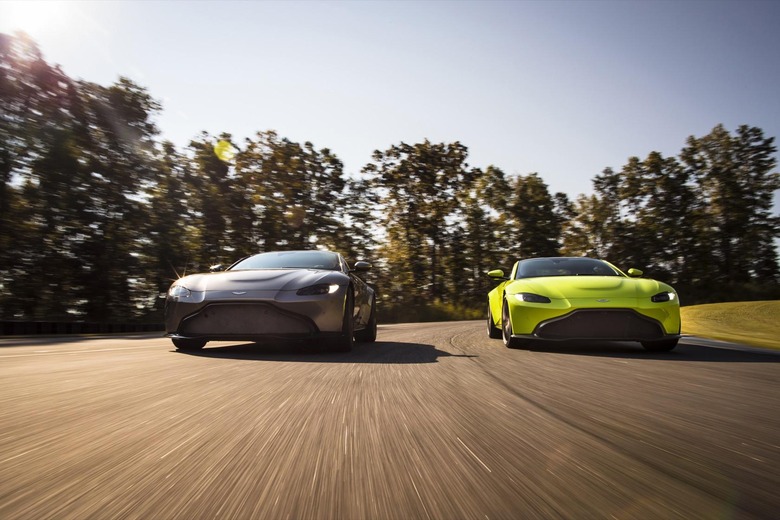 At the back, there's an Electronic Rear Differential (E-Diff), which is tightly integrated with the electronic stability control. By tracking the feedback from the various sensors dotted around the car, the E-Diff can push power between the rear wheels, flipping from fully open to entirely locked in milliseconds.
As for the chassis, that builds on what we've seen from the DB11, but with around 70-percent new structural components. Made from bonded aluminum, it has a solidly-mounted rear subframe and Adaptive Damping, with Skyhook technology. There are three drive modes: Sport, Sport Plus, and Track. Forged double wishbone suspension is up front, with multi-link at the rear.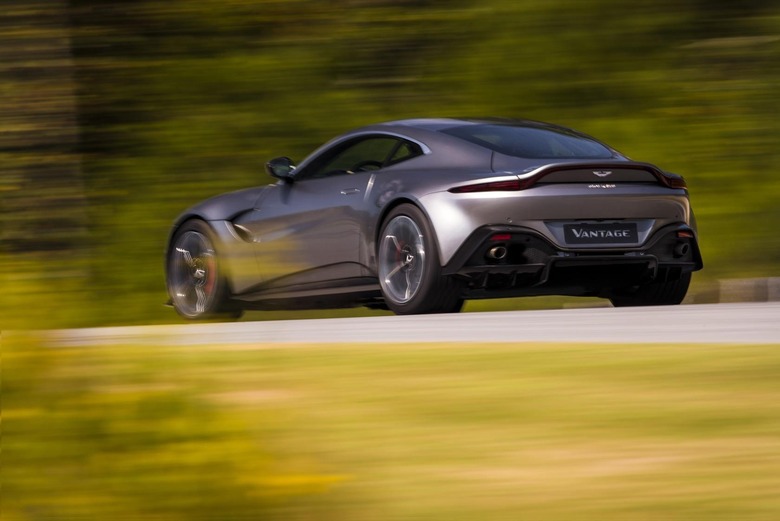 Aston Martin worked with Pirelli to cook up a special set of P Zero tires especially for the 2019 Vantage. They clad 20-inch Y-spoke silver wheels, and are joined by front ventilated two-piece steel brakes with 400mm disks, and rear ventilated co-cast brakes with 360 mm disks. As you'd expect, there are various other wheel options to choose from, along with different colors of brake caliper.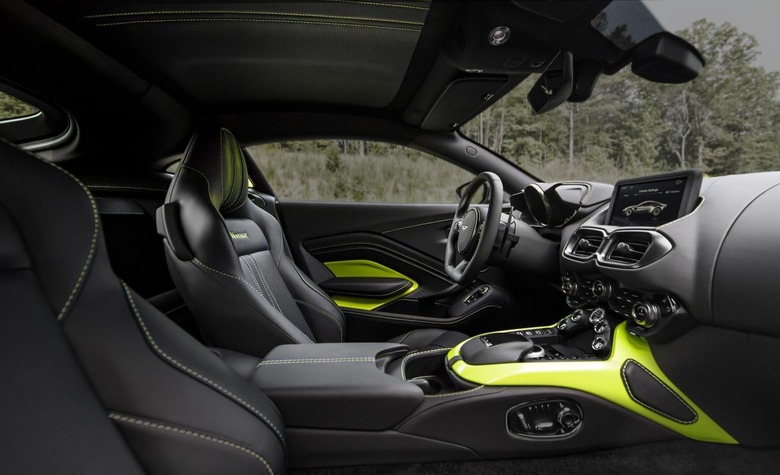 Inside, there's another big shakeup. Gone is the "waterfall" center console familiar from previous Aston Martin cars, succeeded by a more compact, focused layout with the core controls in a triangular cluster. There's plenty of Alcantara and leather – a full leather interior is an option – with pleasing touches like saddle leather door-pulls, rotary and toggle-switch HVAC controls, and fixed paddle-shifters that the automaker says have been given particular attention with regards their tactile feel.
Sport and Sport Plus seats are being offered, each 10mm lower than usual, though the Vantage isn't necessarily impractical. There's a 350 liter trunk, along with a surprising number of stowage places and cubbies in the cabin itself. Carbon fiber interior trim is optional.
The new Aston Martin Audio System is standard-fit, with an 8-inch display, navigation, Bluetooth, and USB connectivity. On the options list are heated and ventilated seats, keyless entry, auto park assist, blind-spot monitoring, a 360-degree camera, and more. WiFi is also included.
The result is a more striking, aggressive, and focused coupe than the DB11 grand tourer. As with Vantage models before it, the 2019 car focuses not only on going fast in a straight line, but getting around corners more rapidly. Indeed, the fact that it's smaller and more nimble is a key selling point.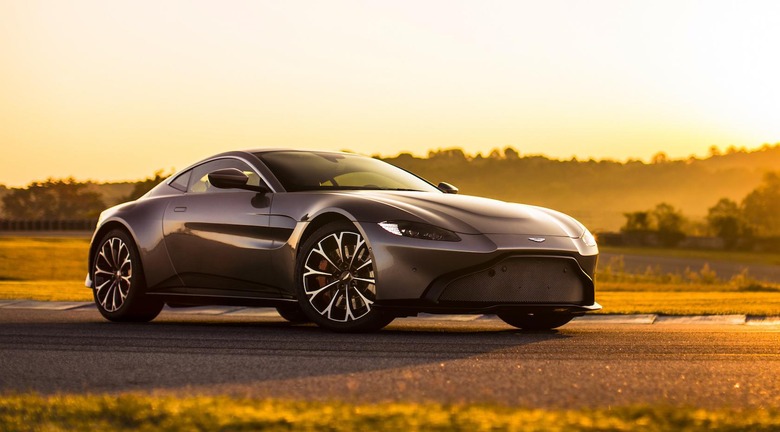 MORE 2018 Aston Martin DB11 V8 first drive
It has plenty to live up to, mind. The outgoing Vantage was Aston Martin's single most successful car ever, after all, and owners are expecting something just as happy on their commute as it is on racetracks.
The 2019 Aston Martin Vantage is up for order in the US now, with deliveries expected from Q2 2018. It'll be priced from $149,995.