Aston Martin V12 Vantage Roadster Sets A New Standard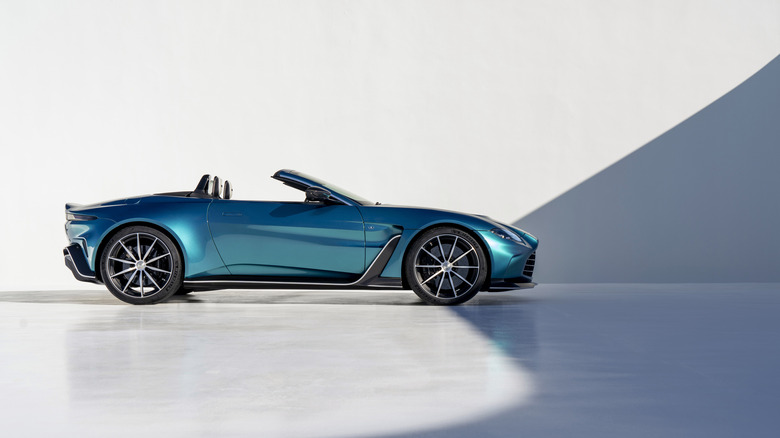 Aston Martin
British premium automaker Aston Martin debuted its V12 Vantage Coupe in March 2022 as the swansong of the brand's legendary V12 engine. According to Edmunds, the V12 Vantage Coupe is the last time Aston's V12 will appear in a Vantage, resulting in the most potent and quickest Vantage in the brand's history. However, the internet is awash with spy photographs of what is purportedly a drop-top variant of the new V12 Vantage, which means we haven't seen the last of Aston's great V12 motor.
It turns out the spies were right on the money. Aston Martin unveiled the newest V12 Vantage Roadster at the 2022 Pebble Beach Concours d'Elegegance. It's a convertible variant of the V12 Vantage Coupe equipped with the same twin-turbocharged 5.2-liter V12 motor. Production is limited to 249 units globally, and Aston sold all the build slots ahead of the vehicle's release.
"With more power and torque than any Vantage Roadster before it, this is a breathtaking machine created for our most enthusiastic customers," said Roberto Fedeli, Aston Martin's Chief Technical Officer.
Twin-Turbocharged V12 Engine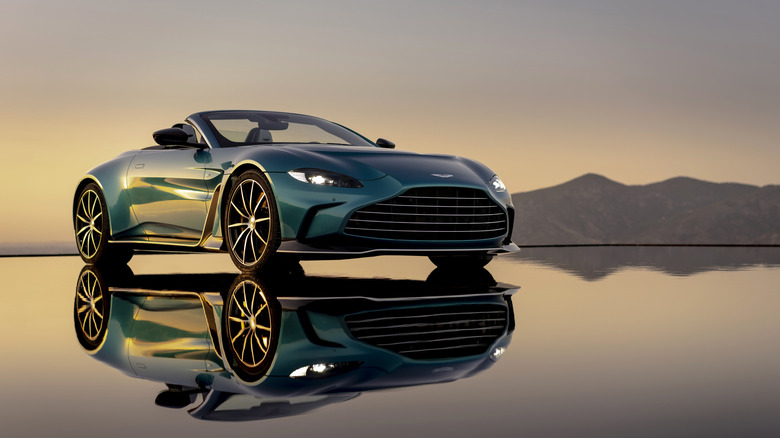 Aston Martin
This marks the first time Aston Martin fitted its twin-turbocharged V12 engine to a Vantage Roadster. Equipped with CNC-machined combustion chambers, dual variable camshaft timing, water-to-air charge cooling, and a 9.3:1 compression ratio, the V12 Vantage Roadster has 690 horsepower and 555 lb-ft of torque at its disposal — identical numbers to the Coupe. And despite weighing more due to its folding roof mechanism (about 1,855 kg than the Coupe at 1,530 kg), it could rush from zero to 60 mph in 3.5 seconds, just a hair over the Coupe's 3.4 seconds.
But like its hard-topped brethren, the V12 Vantage Roadster has a 200 mph top speed, making it among the fastest convertibles to roam the world's highways and the quickest Aston Vantage Roadster ever made. Power goes exclusively to the rear wheels using a rear-mounted ZF 8-speed automatic gearbox with a mechanical limited-slip differential (LSD), adaptive software, and optimized shift points. We could only wish for a proper manual shifter in this open-top V12 Aston, but the ZF 8-speed auto is the next best thing.
Widebody Construction & Widetrack Suspension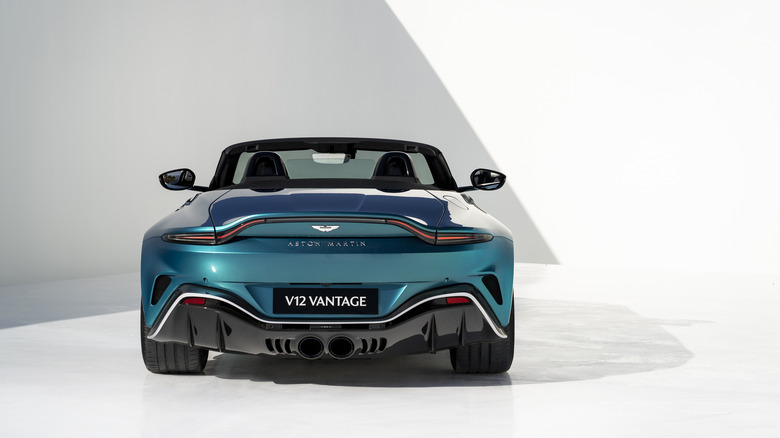 Aston Martin
The new Aston Martin V12 Vantage Roadster has a 1.6-inch (40mm) wider-track suspension (with adaptive dampers) hiding under its widebody construction. It has a carbon fiber front bumper, clamshell hood, front fenders, rear bumper, trunk lid, and side sills to save mass, while Aston fitted a lightweight battery and a stainless steel center-mounted twin-exhaust system that weighs 15.9 pounds (7.2 kg) less than in the Vantage Coupe.
Moreover, Aston Martin paid close attention to how it cuts the wind. It has a new bumper design with a front splitter to generate more downforce, while the sills, rear bumper, and rear diffuser are sculpted to a single panel to help tame the wind. Thankfully, the V12 Vantage Roadster makes do without a massive rear spoiler, but it remains optional for owners who like the look of a be-spoilered Aston Martin Vantage.
Complementing the V12 Vantage Roadster's performance touring vibe is a set of custom-designed 21-inch satin black or satin black diamond alloy wheels wrapped in Michelin Pilot 4S rubber. There's an optional set of ultra-lightweight forged wheels in a satin black or satin black diamond finish that weigh 8 kg less if you fancy dark-colored rims. Peering behind those gorgeous alloys are front and rear carbon ceramic brakes.
Endlessly Customizable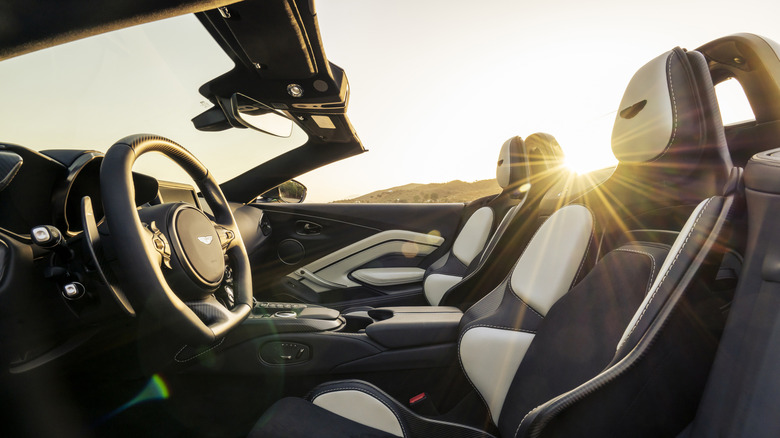 Aston Martin
The Aston V12 Vantage Roadster's interior is befitting a flagship model with heated sports seats, full semi-aniline leather upholstery (with custom quilts and perforations), gloss black & satin silver trim, and a color-keyed leather steering wheel. Of course, clients are welcome to customize their rides with custom paint finishes, graphics, liveries, and exotic materials via Q by Aston Martin.
"From a design perspective, V12 Vantage Roadster is a combination of living sculpture and physiology, such as the functions of an elite runner or thoroughbred racehorse," said Marek Reichman, Aston Martin's Chief Creative Officer. "The platform gave us a design opportunity to make a contemporary visual statement of intent."
Production of the Aston Martin V12 Vantage begins in the third quarter of 2022, and the first deliveries will arrive near the end of the year. Aston remains tight-lipped on the pricing, but we reckon all 249 buyers would pay upwards of $350,000 to enjoy the privilege.