5 fast facts about the stunning 2019 Aston Martin Vantage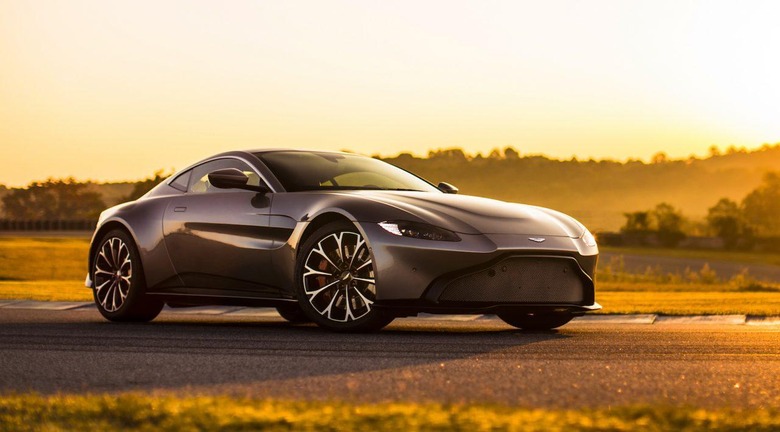 Aston Martin seldom makes a bad-looking car, but few have been quite so aggressively appealing as the new 2019 Vantage. Cheaper than the DB11, but no less special in its own way, the new Vantage promises lashings of technology to go with its eye-catching design, not to mention some 007-style credibility. Read on for five things you need to know about the new Aston Martin Vantage.
It's more focused than the DB11
Aston Martin may be a low-volume manufacturer, but its range serves some very different clientele. On the one hand, there are those looking for the pre-eminent grand tourer, a 2+2 with rear seats sufficient for a couple of kids (or some extra luggage) and a balance of performance and long-distance cruising. They're catered to by the excellent Aston Martin DB11.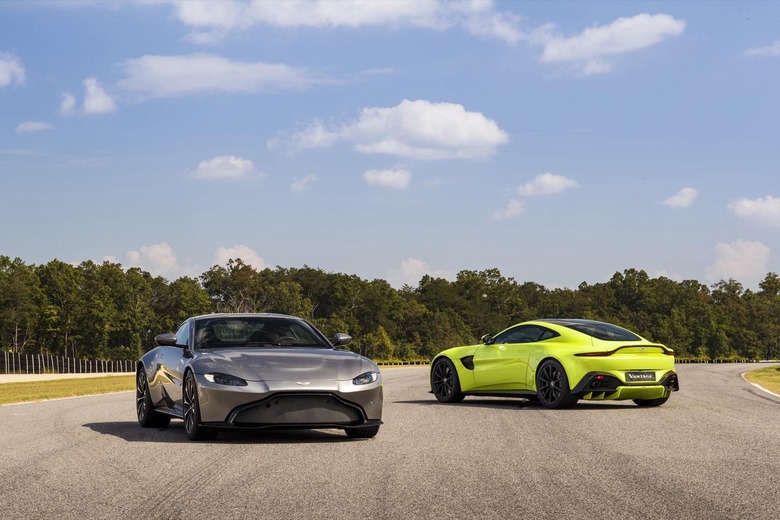 At the same time, however, there are drivers who want a true performance car – and who are willing to sacrifice practicality to get it. They're the 2019 Vantage's target audience, with the nameplate having traditionally been applied to the automaker's most aggressive, sporting cars. Ditching the rear seats means the Vantage can be smaller, lighter, and more nimble than the DB11, with more of a focus on aggressive driving.
It's an Aston Martin of firsts
It may be a car company with a lengthy history, but Aston Martin isn't holding back with the 2019 Vantage when it comes to adopting new technology. In fact, there are plenty of new features appearing on the coupe that haven't been seen before from the automaker's road cars. Some of those things you can see, and others are more subtle – though no less effective.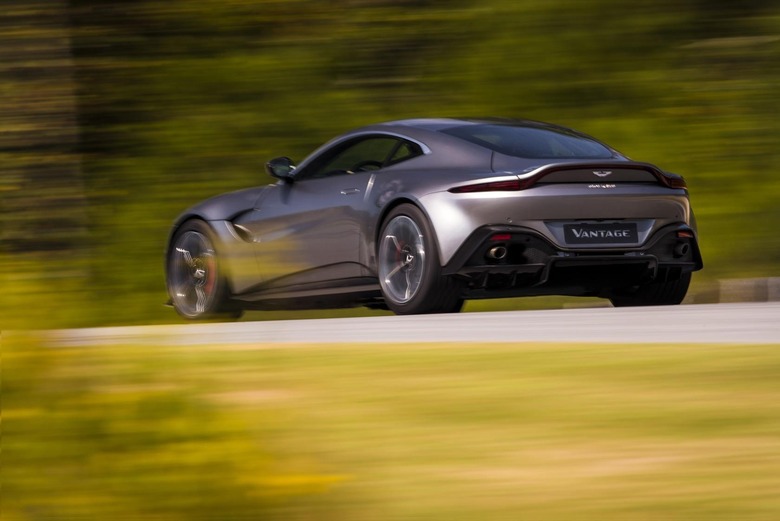 At the rear, for example, the sharp upsweep on the deck lid is designed with aerodynamics in mind. Aston Martin says it contributes "a significant" amount of downforce, and is a first for a core production model from the company.
An Electronic Rear Differential (E-Diff) is also making its debut on the Vantage. It's faster than a traditional mechanical Limited Slip Differential (LSD) and can go from fully open to 100-percent locked in milliseconds. Aston Martin has tied its control system into that of the electronic stability control, to better push power to the wheel that will make most use of it. The result is a car that's not only sharper in the corners, but promises better straight-line stability too.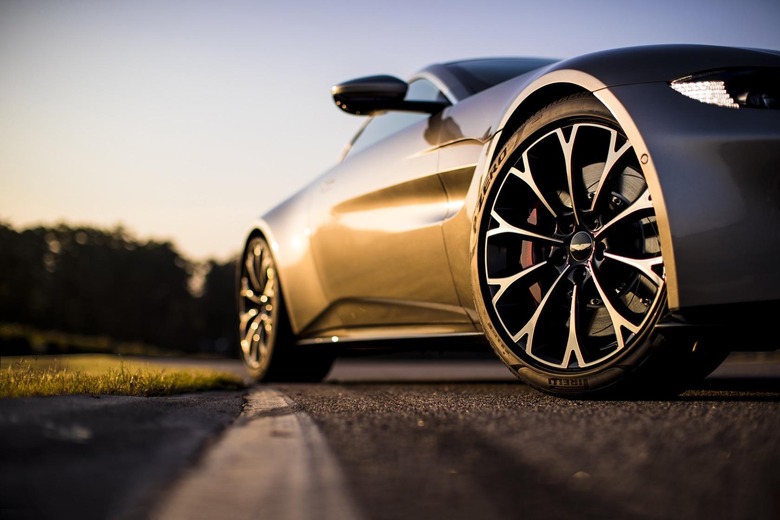 It's about as close to a Bond car as you can get
If you've watched the latest Bond movie, Spectre, you might think the new Vantage is familiar. That's no coincidence: turns out, the DB10 specially created for the film was in fact based on this new production car. Aston Martin may not have been ready to show off the Vantage, but it was happy to make a handful of DB10 for James Bond to drive, and then one to be sold off afterwards. Just ten were made for the movie, and then a single customer car with a price tag far more than the Vantage's $150k starting price.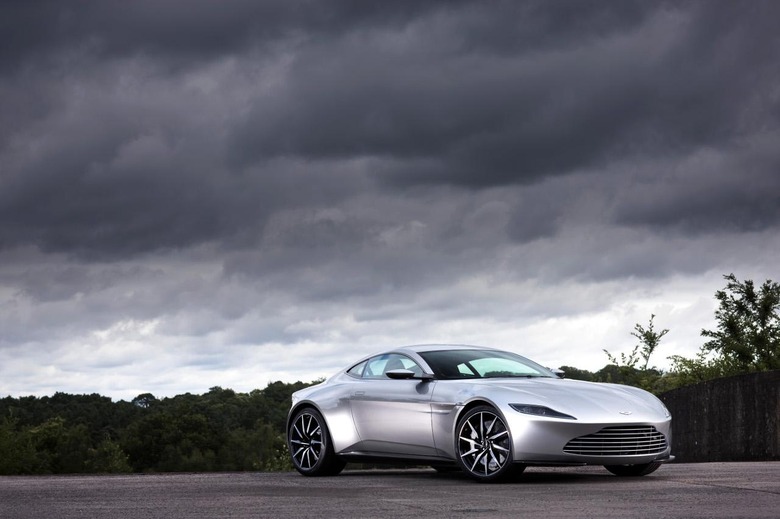 There's some German engineering under the skin
Aston Martin doesn't make its own engines from scratch for its road cars: instead, it starts with some proven engineering from elsewhere in Europe. The Vantage begins with a Mercedes-AMG engine, in fact, the 4.0-liter twin-turbo V8. That's then worked over by Aston Martin's own engineers, to make sure the car has the marque's distinct feel.
The result is impressive. 503 horsepower arrives at 6,000 rpm, while the 505 lb-ft of peak torque hits at just 2,000 rpm. Aston Martin claims a 0-60 mph time of 3.6 seconds, with the new Vantage hurtling all the way to 195 mph. At the same time, specific attention was paid to the exhaust sound, since previous Vantage models were naturally-aspirated. Switch to Sport Plus or Track mode, meanwhile, and it'll sound even better.
The new Vantage has an even more extreme sibling
What, you thought Aston Martin would leave it at one car this week? No chance of that. Hardly were our dropped-jaws collected after seeing the road car, the automaker pulled the covers from its racing sibling.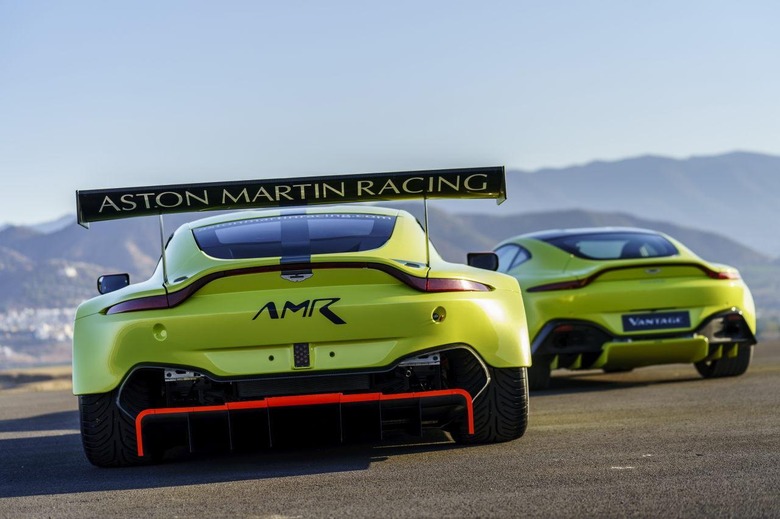 It's called the 2018 Aston Martin Racing Vantage GTE, and it looks like the road-going Vantage cranked up to 11. A huge wing for extra downforce, hood scoops, a near-outlandish rear diffuser, and all finished in the same lime-green paint. You won't be able to buy it yourself, but it's sure going to look impressive when it hits the FIA World Endurance Championship.