2020 Aston Martin Vantage AMR First Drive: Long live the manual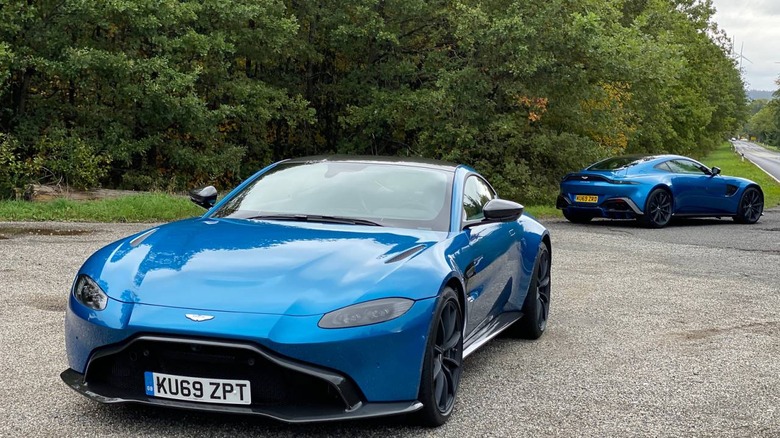 Right off the bat, Aston Martin wanted the new Vantage to go hunting for Porsche and McLaren. I experienced this first-hand on the challenging Portimao Algarve racing circuit in Portugal, a blistering combination of blind turns, massive elevation changes, and fast straights. There, the Aston Martin Vantage felt right at home and eager for more, but there was still one thing missing.
The Vantage I drove had the ZF-sourced 8-speed automatic transmission, and it was impossible not to wonder what it would be like if Aston Martin saw fit to add a proper manual gearbox. Clearly someone in engineering overheard my wishful imagination, hence the limited-edition Vantage AMR. Yes, the AMR model is equipped with a seven-speed manual gearbox with a dogleg first gear first seen in the V12 Vantage S. And yes, Aston is only making 200 examples of the Vantage AMR. All AMR models will come with a manual gearbox and carbon-ceramic brakes as standard, helping the automaker save roughly 100 kilos (220 pounds) in weight compared to the automatic version of the car.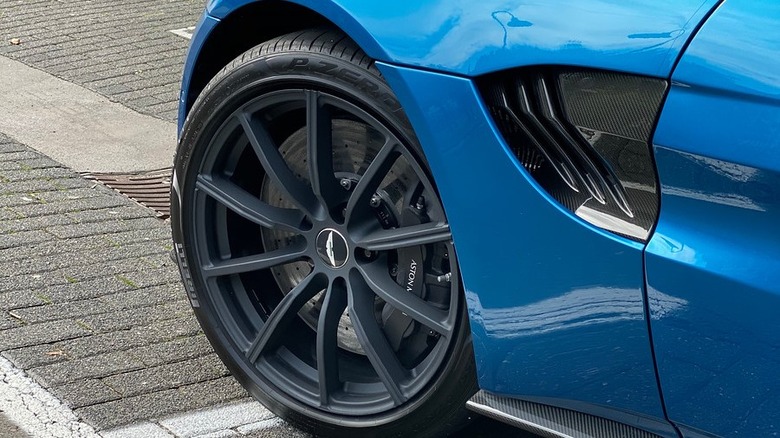 But transitioning from an automatic to a manual gearbox is not as easy as it might seem. For starters, that 100 kilo weight reduction could significantly affect the perfect 50:50 weight distribution of the vehicle. Indeed, according to Aston Martin, 70 out of those 100 kilos saved is attributable to the lighter manual transmission, which is devoid of the standard electronic differential found in the automatic version.
Rather fittingly, I think, the manual Vantage comes with a mechanical differential. Meanwhile, the remaining 30 kilos were achieved by using forged alloy wheels and standard carbon ceramic brakes. The result is near-perfection: weight distribution of 51:49 front to back.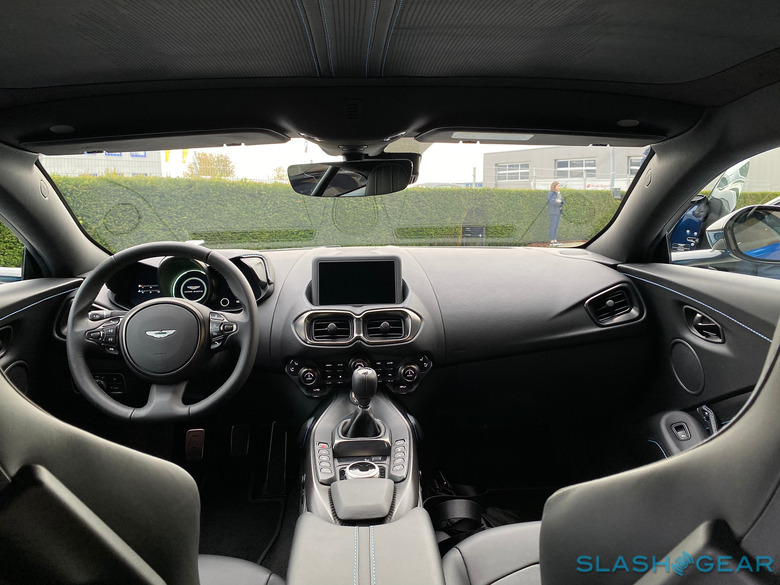 Weight distribution is one thing; a bigger challenge is engine software. Since there's no other application of a manual transmission with this V8 engine, Aston had to develop everything on its own. Even though the seven-speed is essentially the same unit as in the V12 Vantage S, the engineers went to great lengths to give the Vantage AMR its very own transmission tuning and shift feel.
You notice that off the bat with the pedal stroke, which is shorter than what I'd been expecting. This not only increases driver stamina over longer drives, but shorter clutch travel also means faster shifts when you're aggressively rowing through the gears. Achieving it, though, isn't just a case of picking a pedal length: Aston Martin had to develop a new master cylinder, in collaboration with AP Racing, to get this right. The result is a clutch pedal that engages with almost the same force as the brake pedal, but with a shorter stroke.
Then there's gear engagement, using what can be a tricky dog-leg manual box. According to Aston Martin, V12 Vantage S customers had one main complaint with the manual gearbox: the darn thing tends to engage fourth instead of second gear. Addressing this problem is a modified shift finger and some precision-crafted guide pins inside the shifter housing: the whole thing works together to prevent missed shifts while ensuring the stick slots nicely into second gear, instead of shifting awkwardly to fourth.
I must admit, some cranial reprogramming was in order for me to get it right. Shifting into first gear or reverse feels firmer than when selecting the other gears, too, something Aston tells me was intentional as well. I'm not sure if all of this is necessary if you're a trained manual driver, but the whole idea is to simplify and smooth the shift action so you can focus on the driving itself.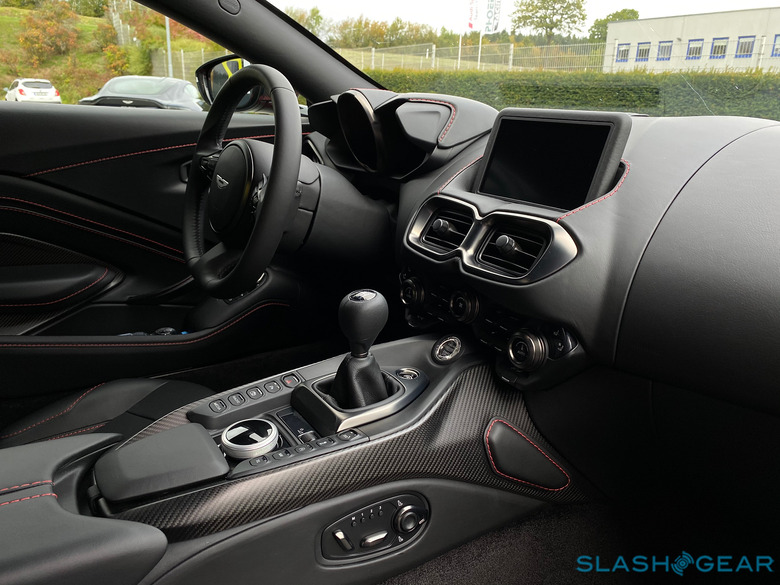 One last thing before we get to that driving. Aston Martin also threw in a brilliant party piece for potential Vantage manual owners, a new shift program called AM Shift – yes, the "AM" stands for "Aston Martin" – which offers active rev-matching and no-lift upshifts. Hit the button on the console, and you can downshift with precision without barking the throttle, or execute precise upshifts without lifting your foot off the gas. Seasoned manual drivers may balk at the assistance, but as someone spending minimal time through the year with a stick-shift, I wholeheartedly endorse it. For most of my drive, AM Shift was engaged.
There's a side benefit to AM Shift, too. With the dogleg first gear, you need to press the clutch and pull the stick left and down, which was already enough for me to pay extra attention every time I shift to first. After I turned on AM Shift, though, some of the thinking is done for you automatically to make you feel like an expert manual driver. In the old days, shifting to a higher gear would mean pressing the clutch, releasing the gas pedal for a moment, feeling the next gear engaging as you slide the stick, and then pressing pedal to metal once more.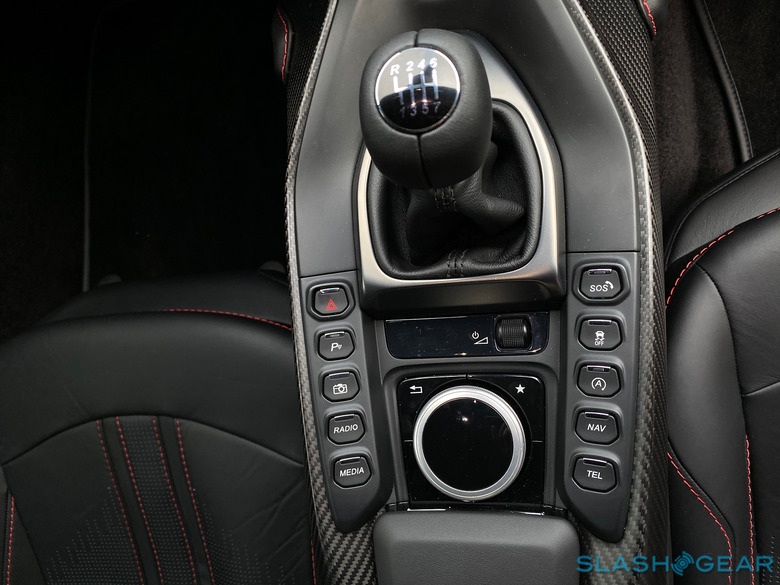 AM Shift bypasses the pedals: you can snick the transmission into higher gears, without first lifting off the gas. In the opposite direction, meanwhile, every downshift can be perfect since the system rev-matches the engine to the preferred gear setting. Sure, purists may scoff, and you can of course turn the entire system off by pressing a button, but I'm down for anything that maximizes enjoyment from behind the wheel of a supercar.
Transmission notwithstanding, this manual Vantage felt very similar to the automatic. Again, that's by design: Aston didn't want to lose any of the car's agility, or that sense as the driver that it's eager to be tossed into the next corner. What the manual box provides is more of a sense of connection in that process.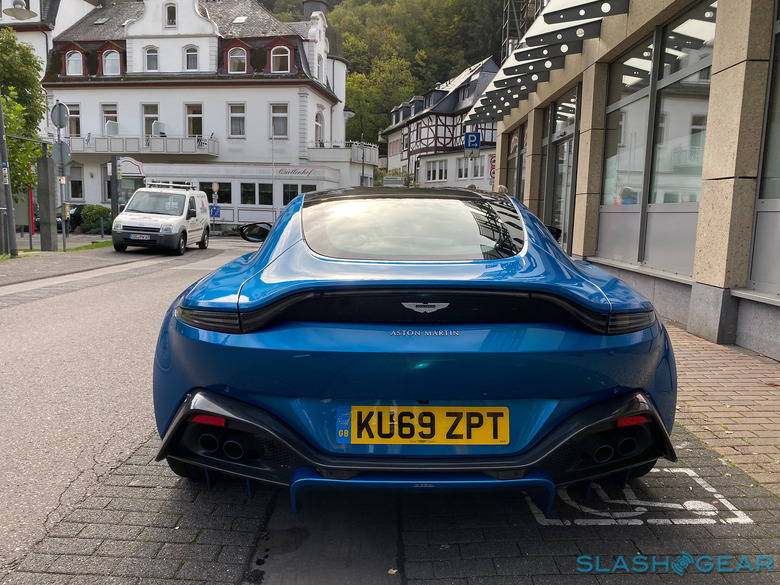 Now, manual cars can be more tiring to drive in the city or during rush-hour traffic, but when the road opens up and you're behind the wheel of a manual Vantage, that's where things really get interesting. It's the automatic Vantage but turned up that little bit extra: you feel more involved with the drive.
Out on the track, it takes knowledge and experience to squeeze out the fastest possible lap time in a manual Vantage. Then again, that isn't what this car is about. If you need an Aston Martin for track days, and split-second lap times are your focus, opting for the automatic is most likely the better choice. If you're looking for a real challenge when attacking those twisty mountain roads, though, the Vantage manual will unleash the kid inside you. Aston's tuning of the suspension, steering, and transmission may be held back from setting speed records by how fast your right hand can work, but it centers your enjoyment in the process of driving rather than boasting later on about just how quick you were.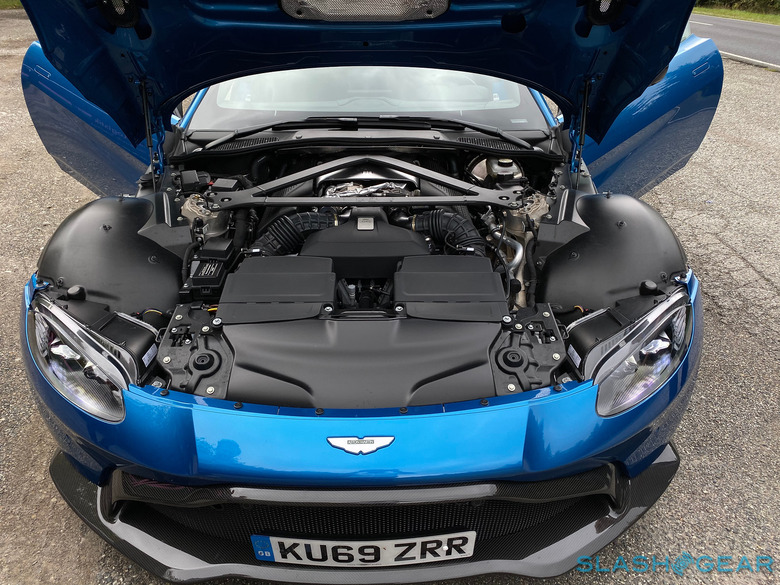 So, since your reaction times in a manual will always come second to those of a automatic, the Vantage AMR does 0-60 mph in 3.9 seconds, a full 0.3 seconds slower than its automatic counterpart. The Vantage AMR also has stiffer rear springs and rear anti-roll bars along with re-tuned dampers, though the front suspension remains unchanged. You get the same 503 horsepower from the AMG-sourced 4.0-liter turbocharged V8, but torque is intentionally trimmed to 461 pound-feet – approximately 44 lb-ft less than in the automatic – for the sake of the gearbox.
Don't sweat it. Having 461 pound-foot of torque at your disposal is no hardship, and I'd be lying if I told you the car felt like it was lacking in push. Yes, the automatic is faster in the real world, and yes it's less tedious to drive when the roads get mundane, but there's no denying the manual Vantage is the most fun to throw around.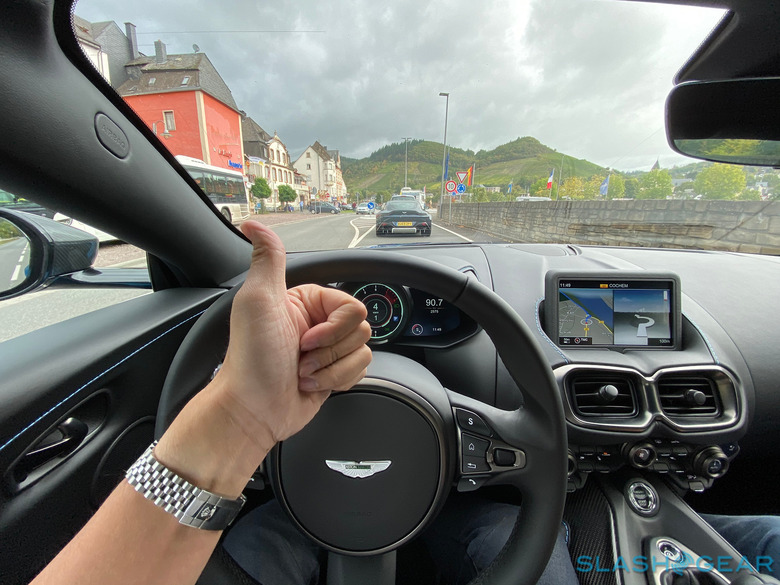 As you'd expect, there are various drive modes to choose from, depending on the road, your enthusiasm, and whether you'd like the Vantage AMR to go sideways or not. In Sport and Track mode, the throttle has a more linear response so you can slide the tail all day long. Switch to Sport Plus mode, however, and the response gets more aggressive still, for maximum agility and an even more responsive – and uncompromising – feel behind the wheel.
Is the Aston Martin Vantage AMR better than a Porsche 911? If you're a purist, I suspect no amount of prodding will pull you away from the 911. And, even though the new Vantage is meant to be a sports car from the ground up, I think it's way too much of a looker to be one. "Sporting GT" sounds about right to me. If that definition appeals then yes, I'd say the Vantage AMR is better than its 911 counterpart, and honestly nothing else I can think of comes close. The McLaren 570S is just as rapid but has even better steering feel than both the 911 or the Vantage, but unlike with the Aston or Porsche I can't imagine driving it every single day.
Those who feel the same way will get to choose between five designer specifications. 141 of the 200 Vantage AMR set to leave the production line will be available in either Sabiro Blue, White Stone, China Gray, or Onyx Black, with pricing starting at $180,000. Should you be pining for an even more limited-edition version of what's already a very limited car, the Vantage AMR 60th Anniversary edition should fit the bill. Only 59 examples – finished in striking Stirling Green and Lime – are slated for production, with prices hovering dangerously close to the $200k mark.
My gut feeling is that 200 cars won't be enough to sate worldwide demand for what's turned out to be one of the most involving Aston Martin road cars ever. Happily, then, Aston Martin isn't putting all this development work aside after the initial run. Those who insist on a manual shifter will be able to pick it as an option on regular Vantage models starting from next year, and while your lap times may not thank you, your enjoyment from behind the wheel will.