Acer Chromebook 516 GE Review: A Worthwhile, But Niche, Investment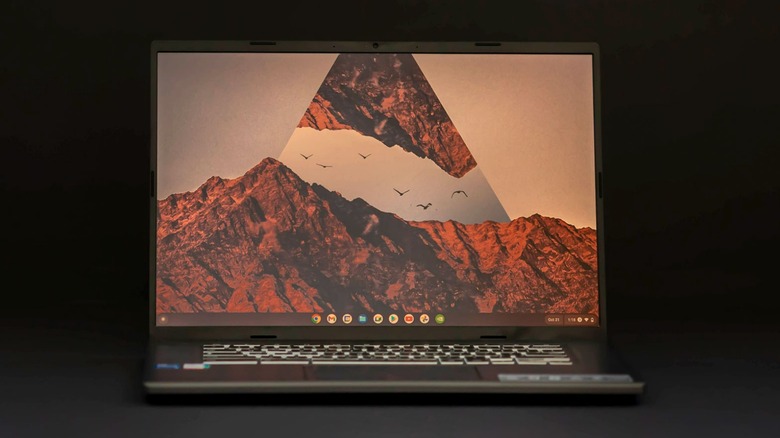 S.G. Howe/SlashGear
Earlier this year, Google tried and failed to breathe life into its attempt at breaking into the game streaming race. Now the tech giant has emerged with an attempt at reconciliation. After Google left cloud gamers unimpressed with the ill-received Stadia, it re-entered the field this month with a launch of Chromebooks that cater to cloud gaming. 
The release brings us a trifecta of new laptop models with one each from ASUS, Lenovo, and Acer, all sitting solidly in their own tiers of specs and overall beefiness. I was really curious how these would hold up in all of the standard gaming laptop struggles — cooling, weight, and battery life. Fortunately, devices tailored to cloud gaming aren't doing much heavy lifting on their own at all; that computing is done on the cloud service's end and then the game is streamed to the device.
It makes sense, then, that the new Chromebooks' priorities would be connectivity and speed. But still, we were skeptical initially of what difference it makes to purchase a modestly-featured laptop, even when its manufacturer touts it as dedicated to cloud gaming, over simply utilizing a quality laptop that you already have for cloud gaming. A Chromebook 516 GE review unit provided by Acer helped us to answer this question.
Specs and setup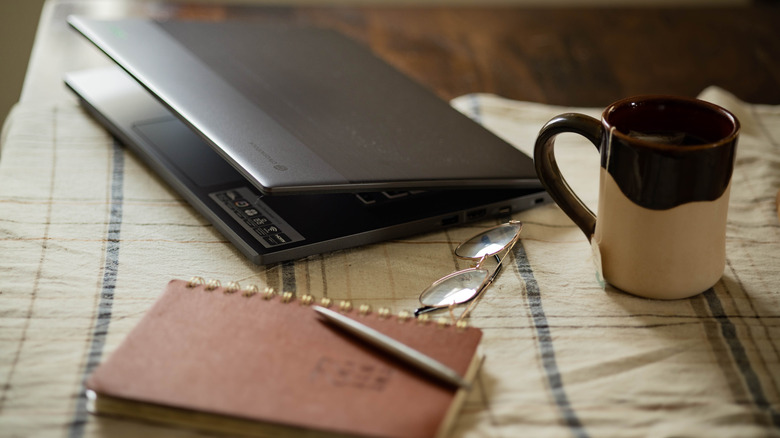 S.G. Howe/SlashGear
This Chromebook features a titanium gray aluminum body and a 16-inch LCD screen. Inside you'll find an Intel Core i5 processor, 8GB of RAM, and an Iris Xe graphics card. In terms of ports, there's an RJ-45 Ethernet and USB-C port on the left side, and an HDMI, USB-C, and USB-A port on the right. The RGB keyboard has some illumination customizability and also has distinct markings around the W, A, S, and D keys to support gameplay. This Chromebook's 2560 by 1600 pixel, 1044p, 16-inch display refreshes at a rate of 120Hz. The laptop is 3.75 pounds, 14 inches wide, 9.8 inches deep, and 0.84 inches high when closed. There are no other bells and whistles that higher-end laptops have — like touchscreen and fingerprint scanners — but that's reasonable at the price point.
Setup is identical to every other laptop that operates within the Chrome OS ecosystem. You'll be prompted to log in or create a Google account, then asked to select a wallpaper or theme. The laptop will look identical to any other Chromebook in terms of layout, controls, and navigation. The purchase of the Chromebook comes with access to three-month NVIDIA GeForce NOW and Amazon Luna subscriptions right out of the gate.
A solid build and quality audio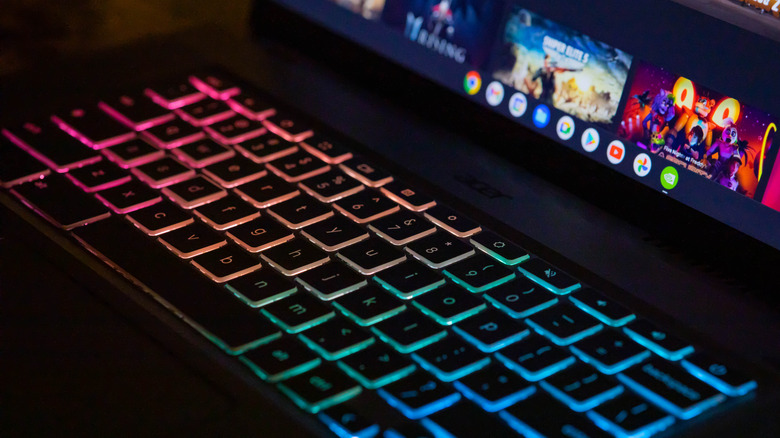 S.G. Howe/SlashGear
The first thing I noticed was the quality of Acer's build. With so many other manufacturers to choose from, the structural integrity of a Chromebook feels like somewhat of a mixed bag, but Acer did remarkably well. The casing is solid, the trackpad is as good as a trackpad can be, and the keyboard types smoothly. The illumination has multiple static color options — nothing as dynamic as a gaming keyboard, but that's unimportant. I have no reason to assume the keyboard's anti-ghosting tech doesn't work well; I had no issue with ghosted keystrokes during multiple rounds of gameplay, but I did use an Xbox controller more than I did the keyboard.
The sound on this laptop is noticeably richer than others I've played on recently. It's safe to say that the advanced audio from DTS creates a very impressive immersive listening experience with those upward- and downward-firing speakers. I got punchy highs and rumbling lows — the sound is definitely capable of catering to a diverse group of games — and the maximum volume is way more than I think anyone would need without blasting out their eardrums.
Display quality and connection speed are the strengths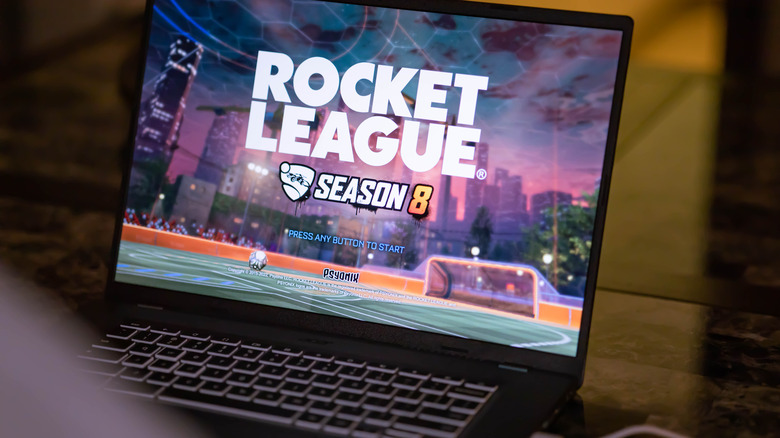 S.G. Howe/SlashGear
It is very obvious that the Acer Chromebook 516 GE was built to support a game computing powerhouse, not to be one. That is why we think you'd be quite underwhelmed if you were to attempt local (non-cloud) gaming. The GeForce NOW cloud service powers the game on its own servers and high-end graphics cards, like NVIDIA's RTX 2080, and streams the display to the receiving computer. This GPU is almost 1,200% faster than the Chromebook's built-in Iris Xe GPU (User Benchmark). The performance capabilities of the Iris Xe aren't in the same leage as NVIDIA GPUs — they aren't even really playing the same sport. Without those server-grade graphics and other computing components that you enjoy from GeForce NOW, this gaming Chromebook essentially becomes an everyday Chromebook. 
However, with the impressive latency and ping speeds (and that's on Wi-Fi, even, not ethernet) and gorgeous display, the Acer plays that auxiliary role very well. I imagine that, especially if you're capable of accessing Wi-Fi 6 or 6E, you'll never have an issue with slow wireless gaming. Even without being hooked up to ethernet (I was in the same room as my router, though), I was pinging at around 28-32, while everyone else in the game was pinging anywhere from the high 40s to over 120. Everything happening in the game did so at lightning speed; there was never the slightest bit of lag or annoying latency.
Miscellaneous notes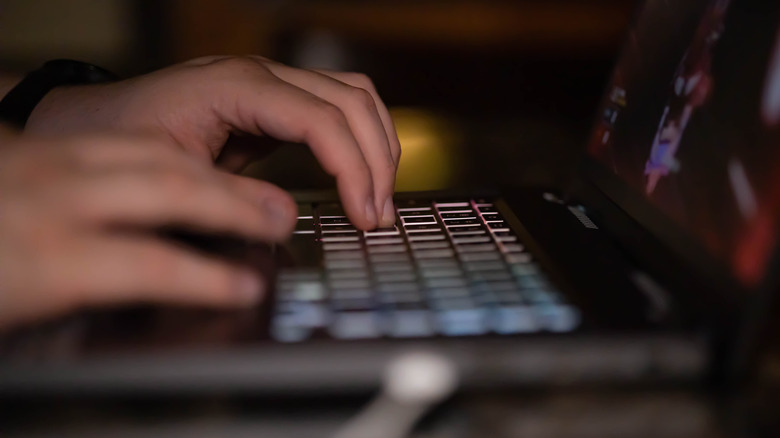 S.G. Howe/SlashGear
There are three platforms currently supported by GeForce NOW: Ubisoft, Steam, and Epic Games. The biggest downfall of cloud gaming, in general, is how many expenses you are forced to stack up to make it possible: the game itself, the distribution platform, and the cloud streaming service subscription — of which there will only ever be more to buy into. There's Xbox Game Pass and PlayStation Plus in addition to GeForce NOW and Luna, and smaller, closed-network solutions are emerging too. It was disappointing to see that there were a few games I already owned in Steam or Epic Games that didn't show up in GeForce NOW at all. Hopefully, this presumed lack of compatibility is ironed out as the service continues to add more games on a regular basis (according to an NVIDIA forum). 
You'll remember that I had three major concerns when it came to testing a laptop aimed at being a cloud gaming machine: weight (or portability), cooling, and battery life. When it comes to weight, I think this is an easily portable laptop, even with its 16-inch screen. It's slim enough to slip into backpack pockets, laptop sleeves, or messenger bags. I never noticed any cooling issues, or anything even remotely close to overheating, but I didn't put in eight consecutive hours of gameplay so extensive use could prove me wrong.  The battery might be an issue for some people; Acer claims a nine-hour battery life, but I'd barely put in three hours of gameplay on a fully-charged battery and was down to just over 50%. 
This laptop vs other Chromebooks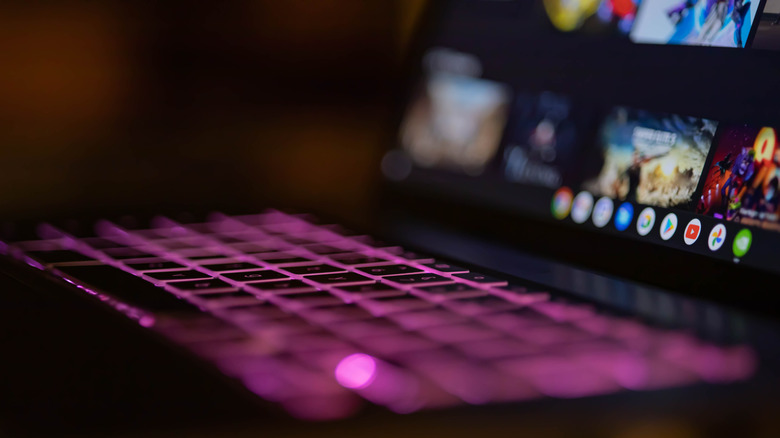 S.G. Howe/SlashGear
There is an overwhelming number of Chromebook options out there. You can thin the herd by only looking at gaming Chromebooks, but if you're trying to look for a good value for both gaming and work or personal use, let's look at the Acer Chromebook Spin 714. It's overall a smaller laptop — the screen is 14 inches, and it weighs less. The Spin 417 has a lower resolution screen and runs on the same Core i5 processor, but has a touchscreen and stylus, making it an easy switch between tablet and laptop. The Acer Chromebook Spin 417 has the same GPU as the 516 GE, along with the same RAM, but it will cost you $100 more. The Acer Chromebook 516 GE retails for around $650 while the Spin 714 is around $750. So with the lower resolution and smaller screen, you're not getting much value in the gaming department. The stylus and touchscreen would be great for work/school productivity, but you're making sacrifices to get there.
Turn your attention to the Samsung Galaxy Chromebook 2 and the value still isn't competitive with Acer's new laptop. For $700, you're getting a smaller screen (13.3 inches), a lower resolution panel, a weaker processor (Core i3), a lesser GPU (UHD Graphics, even the best version of which is only a fraction as fast as Iris XE), and no Wi-Fi 6E compatibility. So overall, even if we are casting the computing crutch brought by the cloud services to the side, the 516 GE will still be a stronger workhorse of a computer for you, gaming or not.
This laptop vs other gaming laptops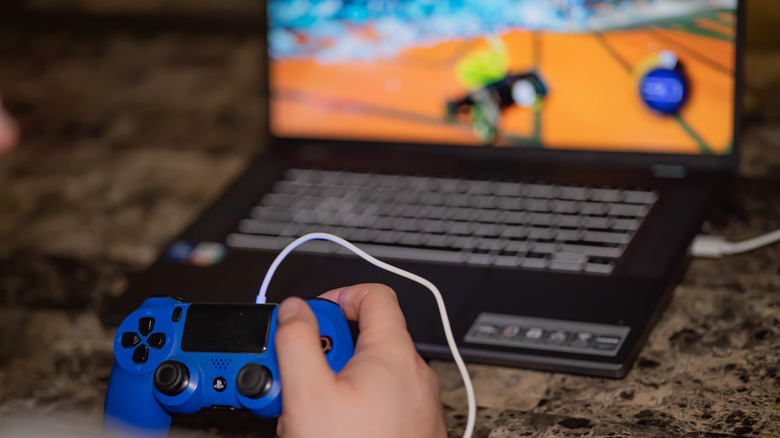 S.G. Howe/SlashGear
The general idea of laptops geared for cloud gaming specifically is pretty new, but if we are looking at the entire scope of gaming laptops, this one certainly falls in the middle-of-the-road, good-value-on-a-budget territory. Again, for non-cloud-based play, we don't think this is the best option, so it's hard to compare the 516 GE to the multi-thousand-dollar gaming behemoths. For maximum performance on a gaming laptop, you'd have to bust out of the Chrome OS ecosystem and expand your budget multiple times over.
But let's toy with hypotheticals for a moment and say you're comparing the 516 GE to HP's Victus (15z-fb000). You're getting better built-in graphics on the Victus (the NVIDIA GTX 1650 is superior to the Iris Xe, according to User Benchmark) and the same ports, but you're losing screen size and resolution. The Victus is capable of Wi-Fi 6 connection with 6E as an available upgrade. So all in all, while you'd be able to tune in to GeForce NOW at the same speed, your overall visual experience would probably be less-than without the work that Acer put into its display, yet the Victus retails for $800 (compared to this Acer Chromebook 516 GE at $650).
Is the Acer Chromebook 516 GE worth it?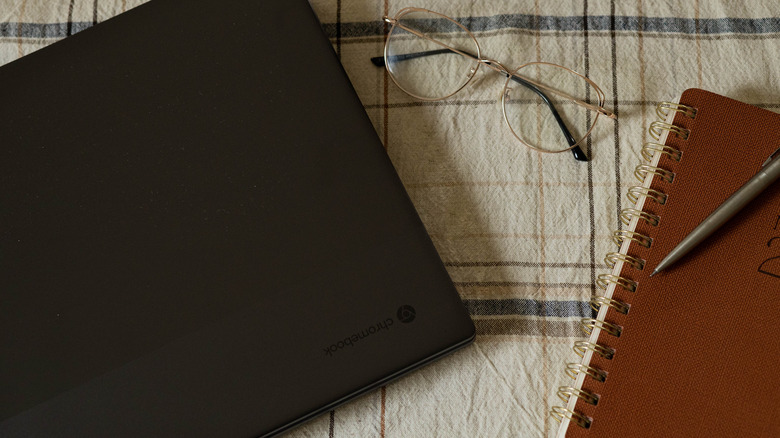 S.G. Howe/SlashGear
I think the fact of the matter is that a cloud gaming laptop will only be as good as the service it's streaming. For instance, the 516 GE standard refresh rate allows for 120 frames per second on the display — which is exactly the maximum that GeForce NOW is capable of, too. So, if we are waiting and hoping for cloud gaming laptops to improve, we should expect cloud gaming services to grow and develop first. That said, if you fit the description of someone solely seeking out a cloud gaming laptop, then I'd say it's a resounding yes — this laptop is very much worth it for you.
The question becomes which GeForce NOW tier is going to best serve your needs. You could spend $200 per year (and that's strictly just for the cloud gaming, not for any actual game purchases or distribution platforms) for 120 FPS, and 4K resolution, but the 516 GE isn't capable of 4K. However, at this tier, you get eight-hour sessions on servers dedicated to the top tier, so that'll be an easy answer for the most dedicated cloud gaming individual. But if you're new to the cloud gaming realm or just want to make sure this fits you before you spend the cash, GeForce Now's free, basic setup will at least help you answer that question. No matter what you choose, the Acer Chromebook 516 GE is a great instrument to get you there.