Omen And Victus Lead HP's Spring 2022 Gaming Lineup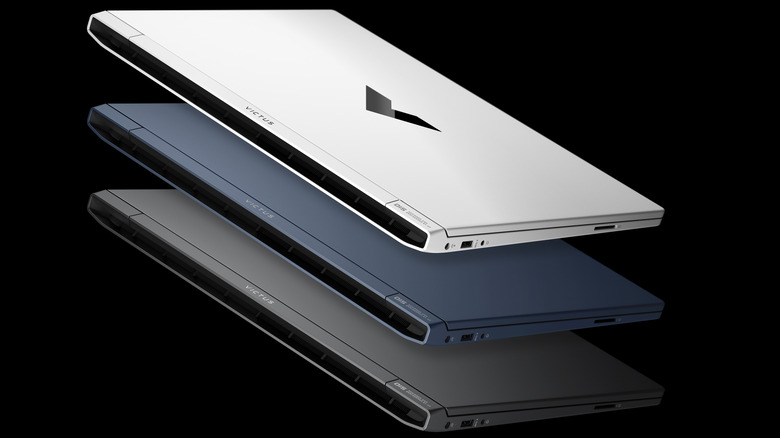 HP
Just under a week after revealing its Z-Series workstation laptop lineup, HP has officially unveiled its 2022 gaming laptop lineup, and it looks like both of its updated Victus 15 and Omen 16 gaming laptops are set to receive a decent (albeit evolutionary) upgrade over their 2021 predecessors. Those who are unfamiliar with HP's Omen and Victus laptop lineup may be interested to learn that these models have traditionally been priced starting in the $800 to 1000 range, which is the relative amount of cash you'd want to shell out for a decent starter gaming PC. 
That seems to be the general concept behind both of HP's 2022-edition gaming laptops, which offer zippy 12th-gen Intel CPUs or Zen 3 AMD CPUs in combination with powerful NVIDIA RTX 3000 Laptop GPUs or AMD RX GPUs, respectively, on the go. That said, we won't know further information about the exact pricing for any of the 2022 Victus 15 or Omen 16 laptops until June 12, 2022, which is the slated embargo date for pricing details. This is also likely when you'll be able to purchase your new laptop, so it's worth holding off on buying a new Victus 15 or Omen 16 gaming laptop at least until then.
Victus 15 laptop details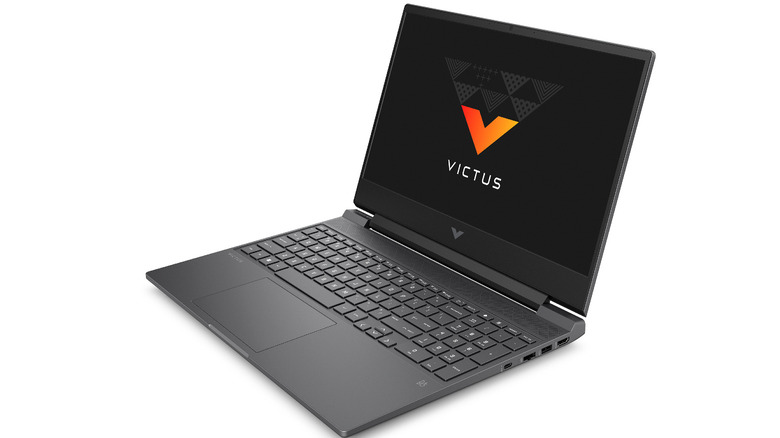 HP
According to the spec sheet released by HP, the 2022 Victus 15 comes in two flavors: AMD and Intel. Regardless of which CPU manufacturer you opt to go with, the 15.6-inch model is set to be the only available size at launch. The AMD model is slated to feature a 6-core AMD Ryzen 5 5600H CPU with speeds up to 4.2 GHz and a 16MB L3 cache and a souped-up Ryzen 7 5800H CPU if you choose to upgrade. It's also advertised to include up to 16GB of 3200 MHz RAM and an AMD Radeon RX 6500M GPU with 4GB of GDDR6 VRAM. It's promised to come packed in with Wi-Fi 6 and Windows 11 Home, meaning that it should be ready to play games out of the box. 
Alternatively, going with Intel gives you a gaming laptop that is even more powerful than its AMD cohort, including a 12-core Intel i5-12500H CPU with an 18MB L3 cache and up to 4.5 GHz processor speed. That's paired with up to 16GB of 3200 MHz RAM and a dedicated NVIDIA RTX 3050 Ti Laptop GPU, which supports raytracing. You can also choose to go with an Intel i7-12700H CPU at a higher premium. Both laptops are advertised to feature IPS displays rated for 1080p resolution at 144 Hz, and they are both advertised to have the same array of ports as well, including two USB-A ports and one USB-C port in addition to a single HDMI 2.1 port and a few other miscellaneous ones.
Omen 16 laptop details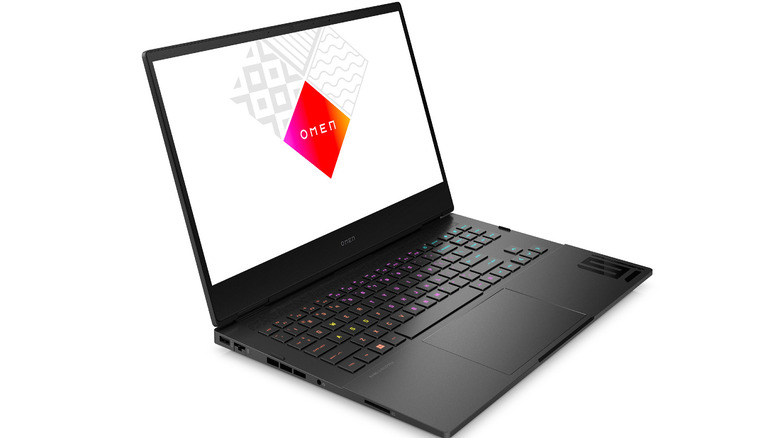 HP
HP's 2022 Omen 16 lineup certainly seems beefier than its 2022 Victus 15 lineup, but how much beefier is determined by how far you're willing to upgrade your machine in the shopping cart. Unlike the Victus 15, the Omen 16 comes in a 16.1-inch size by default, and it sounds like it comes with even more USB ports and an option to go with a 2K 165 Hz display. By default, the AMD Omen 16 model is notably more souped-up than its Victus 15 counterpart. 
Here, you're supposedly looking at an 8-core Ryzen 7 6800H CPU with up to 4.7 GHz at max boost, equipped with a 16GB L3 cache and at least 16 (but up to 32) gigs of 4800 Mhz RAM. That's a huge upgrade already, especially if you're planning on spending time playing PC games with this laptop, and it's paired with a decently powerful GPU to boot: the AMD Radeon RX 6650M GPU with 8GB of VRAM.
As you might expect, Intel is also bringing its own improvements to its equivalent Omen 16 laptop, which is advertised to include an i7-12700H CPU, which is supposedly packed with a whopping 14 cores that can boost up to a max speed of 4.7 GHz. It's supported by a 24MB L3 cache and at least 16 (but up to 32) gigs of 4800 Mhz RAM, just like the AMD build. Unlike the AMD build, however, this one can be equipped with the infamously useful NVIDIA RTX 3070 Ti Laptop GPU.