Acer's 2022 Laptop Lineup Is Packed With Chromebooks And Convertibles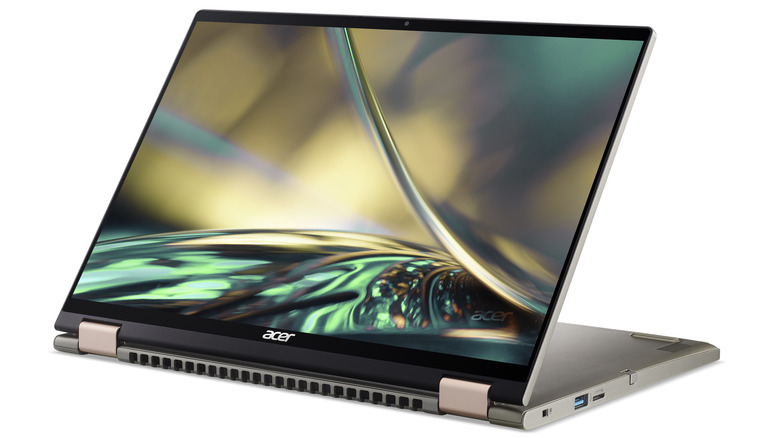 Acer
In what has to be Acer's biggest launch of the year, the company, on May 18, 2022, refreshed its entire lineup of products spanning Chromebooks, laptops, and convertibles. Among the Taiwanese company's new products are new laptops and Chromebooks in its "Swift" and "Spin" series. Acer has also expanded its lineup of Vero-branded eco-conscious products with the introduction of new Vero laptops in 14-inch and 15-inch display sizes. Apart from being made of recyclable parts, Vero products come with eco-friendly, completely recyclable packaging materials.
The positioning of these Acer products spans a wide price range, with the most affordable of the machines starting as low as $399, going up to $1349 for the most expensive product in the lineup. All of these newly introduced products are expected to go on sale between July and August 2022, Acer confirmed. Let us now take a detailed look at some of the products Acer launched today.
Acer Vero Laptops (2022): For the environmentally conscious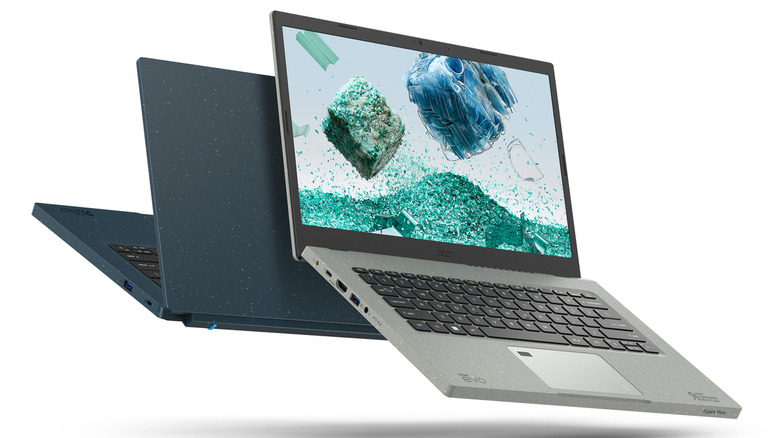 Acer
Among the most interesting products from Acer this time around are the two laptops from Acer's Aspire Vero range. Powered by the latest 12th-gen Intel Core processors, these machines come in 14-inch and 15-inch display sizes. The 14-inch Acer Aspire Vero laptop bears the model number AV14-51 and gets a Full HD display. Powered by an Intel 12th-gen chip, the machine packs Intel Iris Xe graphics and supports Wi-Fi 6 as well. The laptop has ample wired connectivity options and even features a Thunderbolt 4/USB-C port in addition to twin USB 3.2 gen1 Type-A ports. This machine comes in two color options: Cobblestone Grey and Mariana Blue.
The 15-inch Acer Aspire Vero laptop (AV15-52) is essentially a larger version of its 14-inch counterpart with nearly identical hardware. It gets the same processor options as the 14-inch model, albeit with a larger display. Even the ports and connectivity options remain the same. Other features common to both the 14-inch and 15-inch Aspire Vero laptops include trackpads made from ocean-bound plastic and a chassis made of recycled plastic. Both models are also designed to be easily upgradeable thanks to a bottom cover that's removable with standard screws. The two new Vero laptops are expected to go on sale in the U.S. starting in September 2022, with the prices of both variants starting at $749.99.
Acer Chromebook Spin 714: A convertible Chromebook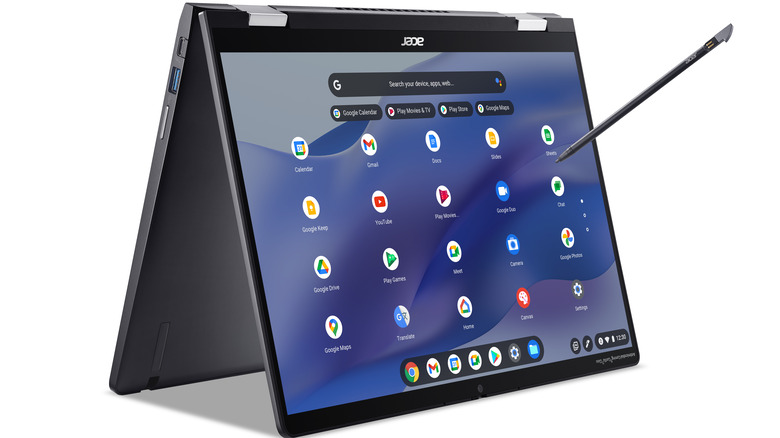 Acer
The Acer Chromebook Spin 714 (CP714-1WN) is positioned as a premium Chromebook based on Intel's 12-gen Core processors while also being Intel Evo certified. The machine claims a 20% performance improvement compared to previous-generation Acer Chromebooks and is now even more suited for tasks ranging from coding to video editing and Steam gaming. The Acer Chromebook Spin 714 claims a 10-hour battery life — and thanks to quick charging support, a mere 30-minute charge can extend the battery life to another four hours.
There are two display options for the Spin 714 that include a WQXGA (2560x1600) option and a lower resolution WUXGA (1920x1200) panel. Note that both these options feature Antimicrobial Corning Gorilla Glass that helps them not only resist stains but also fight against odor-causing bacteria.
Connectivity options on the Acer Chromebook Spin 714 include Wi-Fi 6E and Bluetooth 5.2. The machine also offers a decent array of ports that include a single HDMI port and two Thunderbolt ports. Some variants even feature a fingerprint reader for additional security. Another interesting detail about the Acer Spin 714 Chromebook includes the fact that the product is quite rugged and conforms to U.S. MIL-STD 810H standards. The Spin 714 will go on sale starting in August 2022 with a price tag of $749.99.
Acer Chromebook Tab 510: Durable tablet with 4G support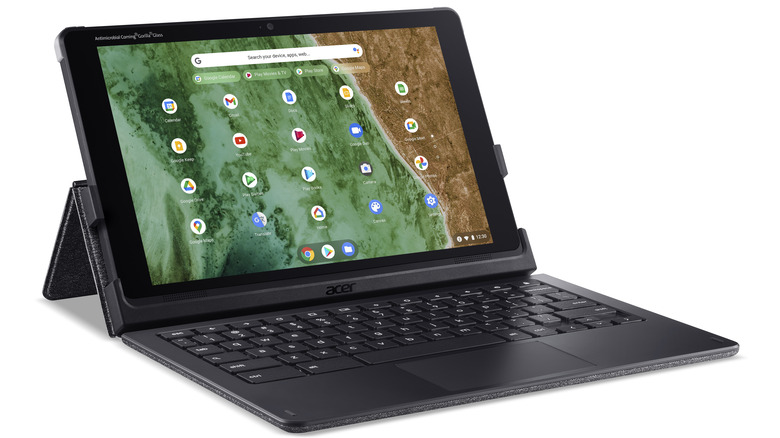 Acer
The next Acer product up for discussion is the Acer Chromebook Tab 510, which — as evident from the name — is a tablet-sized device that also doubles up as a Chromebook thanks to its convertible form factor. This machine features a 10.1-inch IPS LCD panel with a resolution of 1920 x 1200 pixels. Apart from featuring an 8MP camera for occasional photos, the Acer Chromebook Tab 510 also boasts of a 5MP selfie camera, which could mostly be used for video calls. 
Speaking of video calls, that brings us to the connectivity aspects of the Tab 510. There is a 4G LTE variant of the Tab 510 that is enabled by the Snapdragon 7c Gen 2 Compute Platform. The Tab also claims 11 hours of battery life from a single charge. Like the Acer Spin 714, this smaller machine also meets MIL-STD 810H standards. This rating is made possible by an impact-resistant chassis, shock-absorbing corner bumpers, and a reinforced design. 
The company claims the Acer Chromebook Tab 510 can survive drops from as high as 48 inches. Another feature borrowed from the Spin 714 is the Antimicrobial Gorilla Glass on the surface of the touchscreen. The Tab 510 also supports a dockable stylus along with a Keyboard Folio case, both of which are optional accessories. The product is expected to go on sale starting in July 2022 with an expected starting price of $399.99
Acer Swift 3 OLED laptop, Spin 5, and Spin 3 notebooks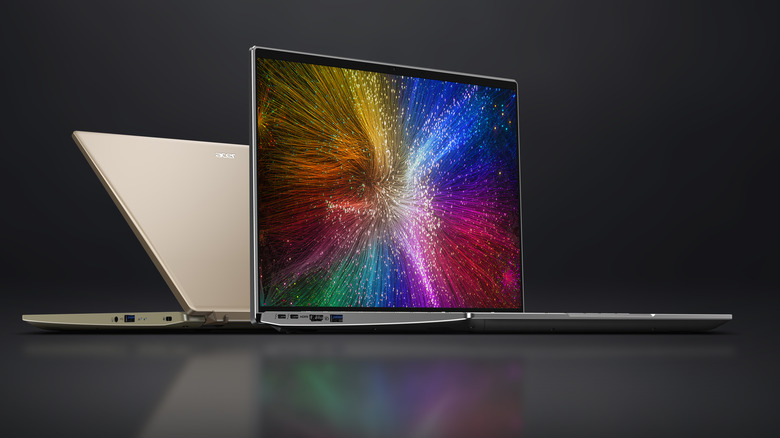 Acer
The new Acer Swift 3 OLED laptop uses Intel's newest 12th-gen Intel Core H-series processors with PCIe Gen4 SSD support and up to 16GB of LPDDR5 memory. The laptop also claims a 10-hour battery life, and the 14-inch OLED display features a 2.8K resolution. The Acer Swift 3 OLED weighs just 3 pounds thanks to an all-aluminum chassis. Connectivity options include support for Wi-Fi 6E as well as an array of USB ports. This is in addition to features like Temporal Noise Reduction to enhance low light video calls and support for an AI Noise Reduction feature for its microphones.
The two other laptops announced today include the Acer Spin 5 and Spin 3 notebooks, both of which happen to be light models powered by Intel's latest Core i7 chips. The Spin 5's key features include a 14-inch 2560 x 1600 pixel touch display with a 360-degree hinge design, support for Iris Xe graphics, and up to 16GB of RAM.  The Acer Spin 3 is also a convertible 14-inch laptop that comes with a dockable stylus. Other features include support for Wi-Fi 6, USB-C, and Thunderbolt 4 ports.
While the Swift 3 and the Spin 5 laptops will go on sale starting in July 2022 in the U.S., the Acer Spin 3 convertible will be available in August 2022. The Swift 3 OLED laptop has a starting price of $899.99, while the prices for the Spin 5 and Spin 3 start at $1,349.99 and $849.99, respectively.