28% Of BMW Fans Wish They Could Own This Classic Model – SlashGear Survey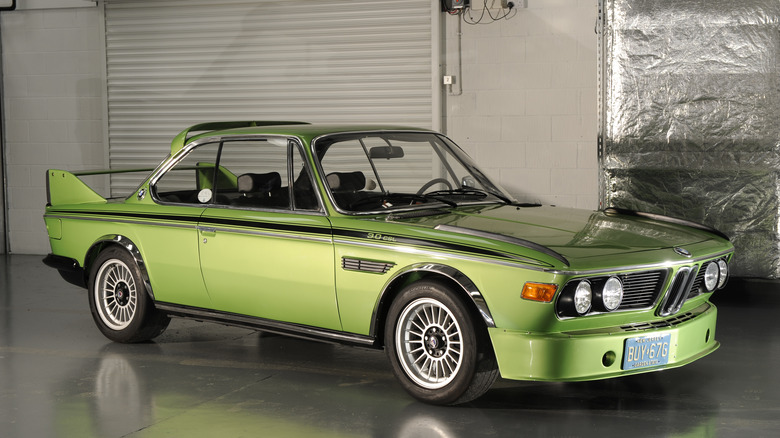 Heritage Images/Getty Images
German auto giant BMW is the purveyor of ultimate driving machines. Then again, the BMW brand is renowned for pushing the boundaries of automotive design (we're looking at you, BMW 4-Series, iX, and XM). But despite BMW's penchant for oddball proportions and gnawing facades, it never abandoned its core principle of churning out the finest-driving vehicles on the planet. The Bayerische Motoren Werke GmbH can trace its roots to 1913 with Rapp-Motorenwerke GmbH, an aircraft engine supplier during the first World War (per BMW).
In our latest SlashGear Survey, we sought the answers of 588 U.S.-based Beamer enthusiasts to find out which classic BMW they fancy the most. It's quite a tall order since the brand has built spectacular cars over the decades. We wouldn't mind owning an E36 3-Series (the best 3-Series car in our book) or an M5 E28, but the survey leaderboards tell a different story.
Most BMW fans wouldn't say no to the M5 Touring
We were pleasantly surprised that 28% of die-hard BMW gearheads would prefer to own an M5 Touring E61 manufactured from 2007 to 2010. BMW calls the M5 Touring a "perfect allrounder" with its spacious cabin, commodious boot, and 190-mph top speed. However, we're pretty sure the love has much to do with the M5 Touring's F1-derived 5.0-liter V10 engine that pumps out 507 horsepower and 384 lb-ft of torque. Moreover, the raucous powerplant could spin to 8,250 rpm, which delivers goosebumps with every gear shift. It's not the best-looking M5, but the M5 Touring E61's charm goes beyond skin-deep.
The second most desirable classic BMW is the 507 roadster. Manufactured from 1956 to 1959, enthusiasts refer to it as the prettiest BMW to leave the factory, and 27% of our respondents agreed. The hand-made 507 almost forced BMW into bankruptcy (per MotorTrend), but the mere fact that Elvis Presley bought two 507s is a testament to the car's lasting appeal.
The third most desirable classic BMW is the first-gen Z3 M Coupe that went on sale from 1997 to 2002. Rounding up the list of classic, fan-favorite BMWs are the 1973 BMW 3.0 CSL (14.97%) and the 1978 BMW M1 (9.01%).