The Forgotten Pontiac Concept Car That Still Looks Futuristic Today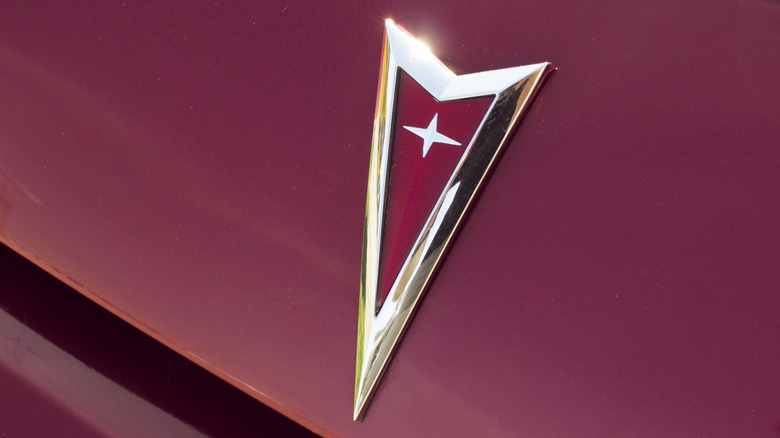 Vladi333/Shutterstock
The 1980s were a wild time for automotive experimentation. John DeLorean tried to reinvent the wheel — or, at least, the chassis, bodywork, and doors. Briggs and Stratton built a hybrid with six wheels, 10 batteries, and a two-cylinder lawnmower engine (via Hagerty). Italdesign went full Frankenstein on its Machimoto, welding a handful of motorcycles into a VW Golf to create a nine-person people mover barely recognizable as a car.
Lost in the madness were many concept cars that were, for lack of a better word, good. Some '80s concepts escaped the freakshow in favor of eye-catching aesthetics and solid engineering. A few even delivered on the concept-car promise of visualizing the future, anticipating real leaps forward in automotive technology. One such example was the 1987 Pontiac Pursuit, which delivered TRON-worthy '80s future aesthetics but, unlike similar peers, backed them up with a commitment to quality engineering and genuine innovations of design.
Retro design
At first glance, the Pontiac Pursuit fits with other automotive fantasies of the 1980s. Swooping lines, narrow headlights, and wheels almost concealed behind the bodywork, the Pursuit looks less like a car than it does a Heelys sneaker or an oversized computer mouse. This vehicle took an uncompromising look at what could be the future of automotive design — assuming the future of automotive design was an exercise in smoothing out every angle and including a pair of oversized eyebrows to the vehicle's hood.
Under the hood, however, Pontiac kept things simple. The Pursuit ran off a 4-cylinder inline engine with a conventional turbocharger and a 5-speed manual -– no alternate design or alternative fuels (via GM Authority). Things got interesting elsewhere. Had it reached production, the Pontiac concept would have been one of the first vehicles ever with a steer-by-wire system: the steering wheel communicated with battery-powered gears that turned all four wheels. Modern Infinitis use the same setup. 
Futuristic tech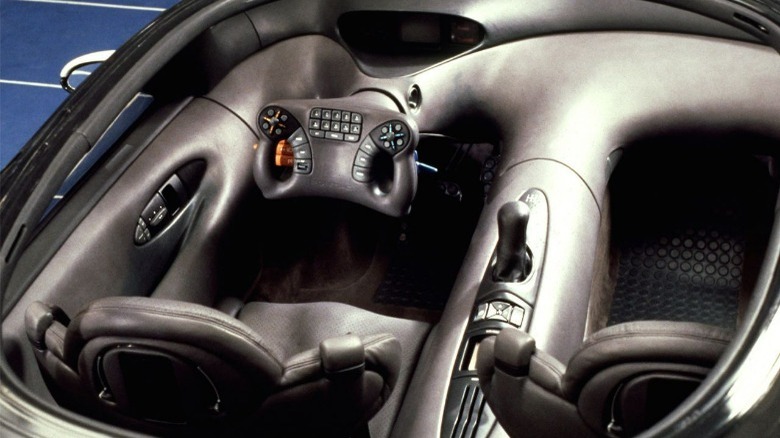 Pontiac/GM
The Pursuit also predicted the future with its onboard tech, just like a good concept car should. It had an infotainment system decades before they became common, complete with screens for the driver and rear seats. The driver screen monitored navigation, media, and climate control, all handled with buttons on the steering wheel. 
The next time you change songs or turn down the AC without taking your hands off the wheel, thank a Pontiac Pursuit. If your road-legal vehicle has a steering wheel that makes you feel like you're piloting a spaceship or driving a high-powered racecar, thank a Pontiac Pursuit.
Obviously, this version of the Pursuit never reached the market. GM folded Pontiac in 2010 after years of declining sales. In a touch of irony, one of Pontiac's last new models was the G5, branded the Pontiac Pursuit and, later on, the G5 Pursuit in the Canadian market. Alas, that model — a rebadged Chevrolet Cobalt — was the furthest thing from its groundbreaking ancestor.
You can get a taste of the Pontiac Pursuit today
The Pontiac Pursuit concept may not have made it into production, but plenty of the technology it featured is common on modern vehicles. Pursuit's tech went far beyond the space-age steering wheel and its control buttons. One of the standout features that would "probably be possible in 10 years" when the Pursuit was conceived is the GPS system. GPS is still one of the most useful features of any vehicle. Instead of navigating through a road atlas, writing down complex directions, and inevitably getting very lost, you just write in where you want to go, and your sat nav will keep you en route. 
Even cheap vehicles tend to have a built-in navigation system these days, but even if you're driving a secondhand car with a tape deck where your sat nav should be, your smartphone is capable of doing the job equally well. Drive-by-wire is an option on some modern cars, too. You may think electric vehicles have things like steer-by-wire by default, but not all of them do. Even Teslas don't currently use a steer-by-wire system, though the company is working on implementing one. Four-wheel steering is even less common, but still available on a fair range of vehicles, including Chevrolet's fully electric Silverado.
Some of the "futuristic" tech on the Pontiac is currently outdated, such as the car's built-in entertainment system. Although some vehicles still have built-in monitors and a DVD player as an optional extra, it's 2022, and iPads are probably a cheaper option if you want to keep your passengers entertained. Built-in entertainment is more of a "15 years ago" thing than something you'll spot on a car of the future.