Thrustmaster F1 Ferrari wheel is expensively authentic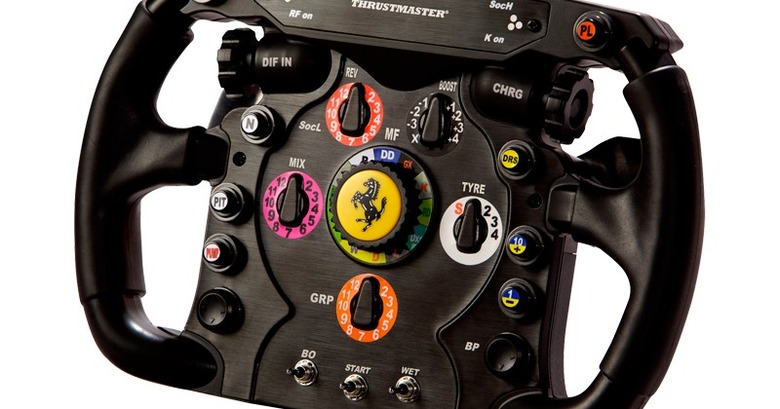 Thrustmaster has been pushing Ferrari-themed peripherals for gamers for a while now, but the company's latest F1 wheel is the most convincing yet. A full-size replica of the Formula 1 Ferrari 2011 racing wheel designed to work with the company's T500 RS system, the eye-catching accessory includes brushed-metal paddle shifters, all the rotary knobs and buttons from the authentic car, and an easy swap system for switching between it and the original GT wheel.
In fact, there are two rotary encoder knobs, for mid-race settings tweaks, eight dual-detent buttons, three tri-position switches with wheel re-centering and two 8-directional D-pads, set in a reinforced metal face-plate. The wheel itself is clad in textured rubber.
Two modes are supported, either the "normal" setup that works with PS3 and PC and activates 13 of the buttons and the three D-pads, or the "advanced" setup that enables all of the controls but is only compatible with PC titles. Impressive stuff, but it comes as a price: $199.99 for the wheel alone, when it drops sometime in October, with the T500 RS system having a $599.99 MRSP itself.