Tesla Is Finally Adding This Common Feature To Its Steering Wheels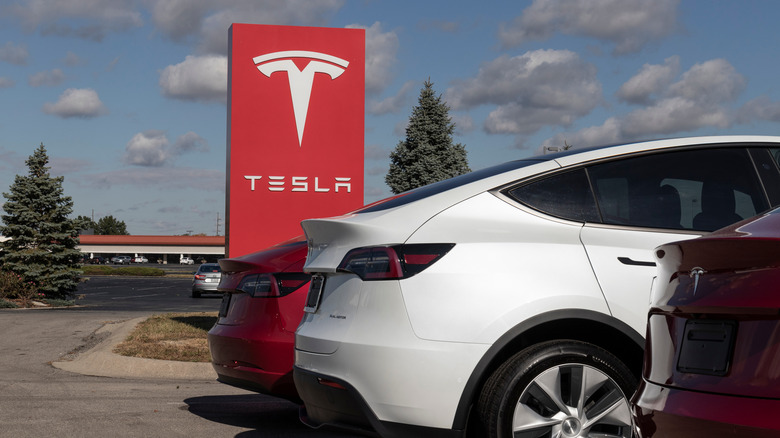 Jonathan Weiss/Shutterstock
When Tesla's steering yoke was introduced to the Model S and Model X in 2021, the unconventional steering wheel raised some eyebrows. Even the NHTSA was skeptical about it, but it was eventually approved. One of its biggest critics was Consumer Reports, which claimed that Tesla's rectangular steering yoke made it difficult to navigate sharp turns and parking maneuvers.
It was even more complicated since the steering yoke didn't have the big horn button at the center. Instead, Tesla designed an inconspicuous horn button on the top right of the yoke. This prompted some Tesla drivers to file a complaint to the NHTSA saying that they found it difficult to locate the horn button during an emergency and almost caused an accident. Another complainant pointed out that the horn button is "always in a different place" when you're making a turn. But now it seems Tesla finally listened to some customers who weren't happy about its steering yoke features.
Tesla updated the horn button on the steering yoke
"All cars made since November also have push center for horn – just waiting on firmware update," Elon Musk confirmed on Twitter about the horn placement issue. This was after a Twitter user asked if it was possible to "remap the horn on the steering yoke." In other words, if you drive a Tesla car with a steering yoke, you can use a regular horn after a software update. In addition, the update will allow you to activate the horn if you press your palm against the right side of the steering yoke. 
Another user on Reddit spotted a Tesla Model S with a sticker on the steering yoke that says "Airbag horn enabled in SW-352573." The photo suggests that Tesla is testing a different type of steering yoke that features a regular horn on the airbag location.
This isn't the first time Tesla has made a U-turn after it tried to re-write the rules of the traditional horn –- it was forced to recall about 500,000 vehicles that made fart noises and bleating goat sounds instead of the usual beeping horn sound, thanks to a feature Tesla called Boombox (according to CNN).
Tesla could also offer the round steering wheel option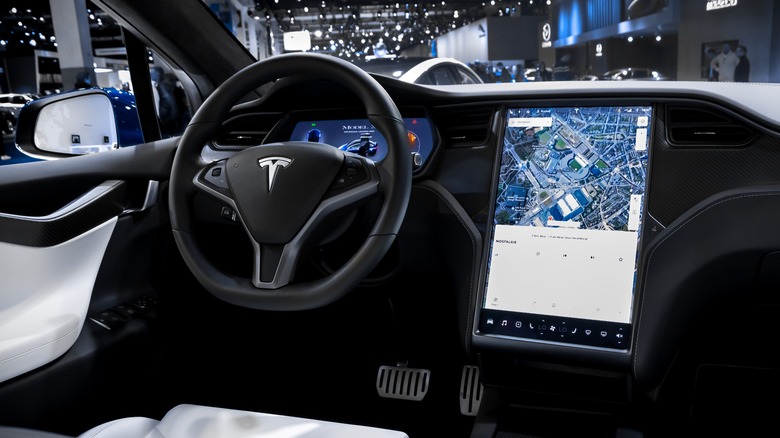 VanderWolf Images/Shutterstock
As reported by Electrek, Tesla could also be planning to offer a round steering wheel in future as an alternative to the steering yoke. This was discovered after a Tesla hacker uploaded a screenshot on Twitter of Tesla's service tools with an option to choose between a yoke or round steering wheel. However, we're not certain if Tesla will offer the traditional steering wheel in future Model S and Model X cars since it hasn't confirmed its plans.
Interestingly, Lexus recently introduced a yoke steering option of its own, but that hasn't received negative reception compared to Tesla's design. This is because Lexus' steering yoke implements a steer-by-wire system that makes it easier to maneuver without relying on hand-over-hand movement like a conventional steering wheel (via Car Magazine). Tesla is also working on a steer-by-wire system to improve its steering yoke concerns, but Elon Musk clarified that it could take "a few years."