2024 Honda Prologue Electric SUV Revealed Inside And Out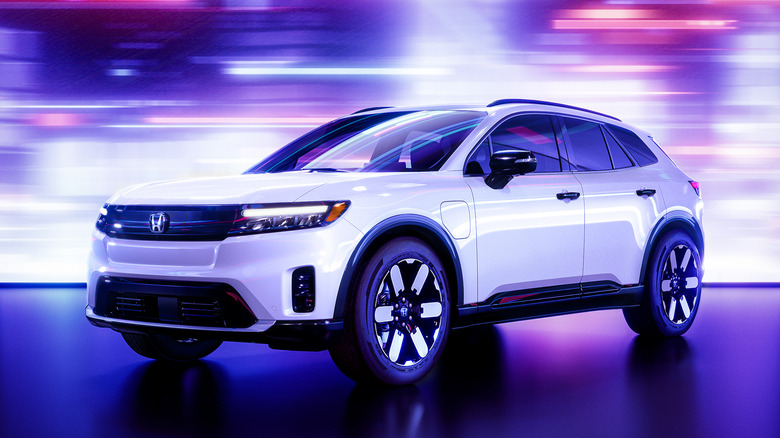 Honda
After teasing us with design renders last May, Japanese automaker Honda has fully revealed its all-new 2024 Prologue electric SUV. With plans to release 30 new EVs globally by 2030 and 100% zero-emission automobile sales by 2040, Honda has partnered with American automaker General Motors to fast-track its EV presence in North America. The initial fruit of this partnership is the incoming Honda Prologue, the first Honda SUV designed at the Honda Design Studio in Los Angeles.
Honda claims the Prologue would borrow design elements from its first all-electric car, the cutesy Honda e, but it's hard to see the resemblance. Instead, the Prologue inherits the Honda e's clean and simple lines to create a modern take on a future crossover with "Neo-rugged" design elements.
"Our goal was to create a clean harmony based on a rugged SUV image by coordinating the colors and materials to express neo-rugged design styling familiar to our customers and uniquely Honda," said Masaki Sumimoto, design lead for the Color, Materials, and Finish.
Bigger than CR-V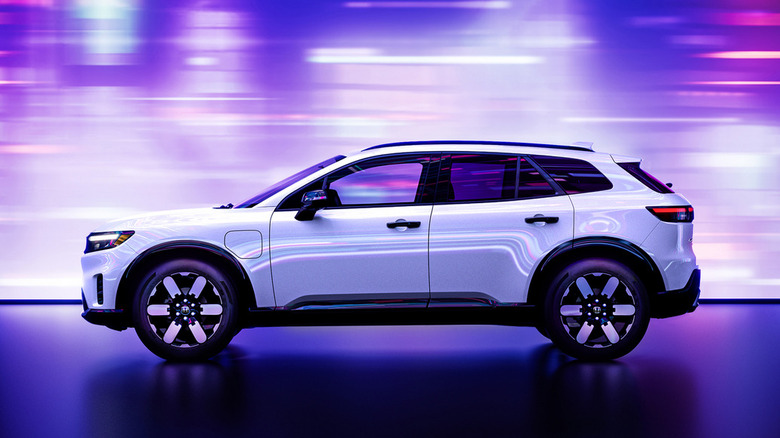 Honda
The 2024 Honda Prologue has a 121.8-inch wheelbase and is 8-inches longer and about 5-inches broader than the brand's popular CR-V crossover. It'll be similar in size and intent to the Honda Passport, with generous room for five adults and cargo. Wearing an exclusive North Shore Pearl paint — which Honda said was inspired by the natural colors of Lake Tahoe in California — the new Prologue will get a panoramic roof and 21-inch wheels.
The quirkiest part of the Prologue's design idiom is in the back. Instead of having the familiar H-badge, it has a stylized Honda typeface exclusive to the Prologue, with upper case H and lower case letters. Meanwhile, the interior loads up on tech features like an 11-inch digital instrument cluster, an 11.3-inch infotainment touchscreen, and a three-spoke tiller with integrated control buttons.
Honda adds the Prologue will get an available all-wheel drivetrain courtesy of GM's Ultium architecture. The automaker is not yet ready to discuss specifics like motor output and battery capacity. Still, we reckon single and dual electric motors and a modest battery are part of the plan, with a range of about 250 to 270 miles on a single full charge seeming likely.
From hybrids to EVs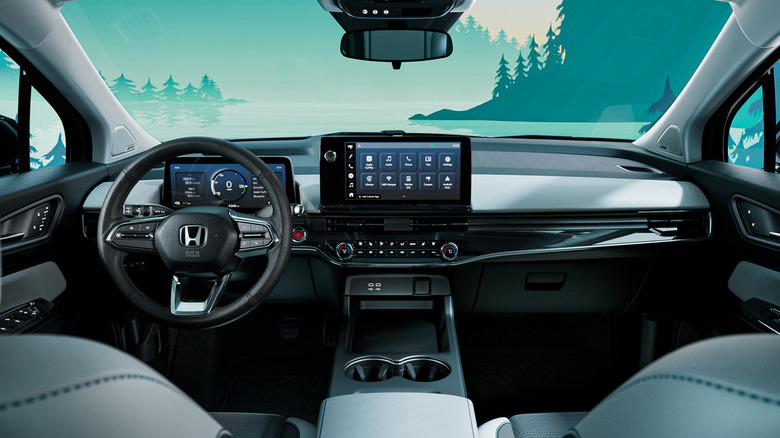 Honda
Honda is positioning the Prologue as an all-electric alternative to the brand's new CR-V hybrid debuting this October 2022. Honda plans to increase hybrid sales of the incoming CR-V by up to 50% and offer a shorter, two-year lease term in ZEV states, allowing buyers to transition to the Prologue EV when it arrives at dealerships in 2024. 
"We are not going to wait until 2024 to attract EV buyers because we see a natural progression for a CR-V customer to Prologue with its slightly larger size, larger interior, and capable handling," said Gary Robinson, vice president of automobile planning and strategy at American Honda. "We will support that transition now by implementing smart strategies with the CR-V hybrid, enabling our customers to transition to an EV."
In the coming months, Honda will reveal more about the 2024 Prologue electric SUV. With pricing slated to begin at around $30,000, if the range is right then Honda has a potential winner here, and it helps that the Prologue does away with the quirky, oddball shape of most conventional crossovers.