Honda And GM Are Teaming Up On Affordable EVs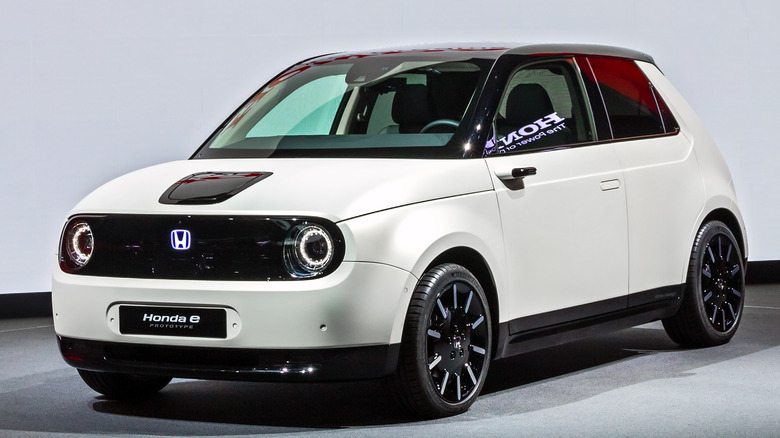 VanderWolf Images/Shutterstock
Honda is strengthening its partnership with GM and now aims to co-develop millions of electric vehicles five years from now. Starting 2027, the two companies aim to push electric cars in the crossover category, which Honda claims forms the largest segment of cars sold in the world. The focus of the expanded ties between Honda and GM are affordable EVs that deliver world-class quality and will be sold globally. According to a Reuters report, GM's Executive Vice President Ken Morris told reporters that the company is eyeing a price tag of under $30,000 for the upcoming slate of affordable EVs, undercutting its own Chevrolet Equinox SUV and domain leader Tesla's uber-popular Model 3 vehicle. Honda and GM are already working together on two electric cars — Honda Prologue and the first Acura-branded SUV — both of which are slated to launch in 2024. 
The series of low-cost electric cars that Honda and GM aim to develop will be based on the next-gen Ultium battery technology. Revealed back in March of 2020, Ultium employs pouch-style, large-format cells that can be stacked horizontally or vertically to achieve more flexibility in terms of battery shapes and sizes. The raw output can fall anywhere between 50 kWh and 200 kWh, while the range figures peak at 400 miles for the most powerful configuration.
This partnership can disrupt EV market dynamics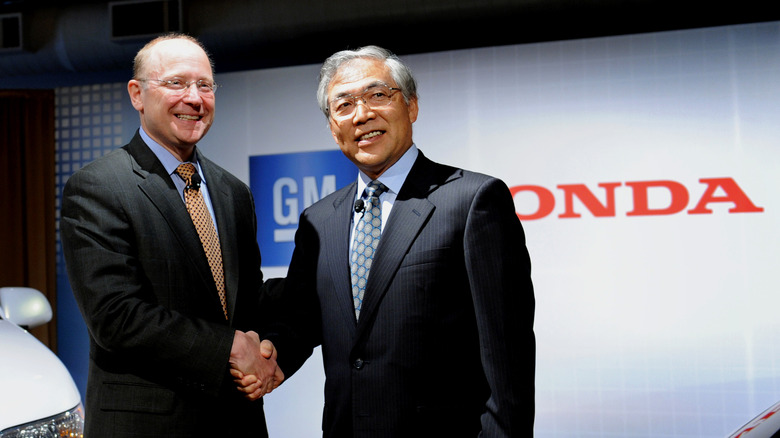 Bloomberg/Getty Images
Another goal of the renewed partnership between the two automobile giants is to standardize vehicle parts and leverage each other's tech to achieve a high output for shipping electric cars worldwide. In the coming years, GM and Honda will work together to boost the performance of EVs and tone down the cost of electrifying vehicles. The two companies first joined hands in 2018 towards the development of battery tech and soon expanded the scope of collaboration to making electric cars together. Honda is already making EVs based on the in-house e:Architecture, but won't say how it will impact the development and marketing of affordable electric cars made in collaboration with GM. Financial details of the deal haven't been made public, but the strengthened ties are touted to help GM achieve its carbon neutrality goals by the year 2035, while Honda aims to accomplish the same in 2050. 
Honda is already a stakeholder in GM's Cruise unit that works on self-driving tech alongside Microsoft. The two companies previously worked together on hydrogen fuel cell tech and are now sharing inputs on solid-state batteries. Honda also inked a deal with Sony earlier this year for making EVs that are slated to hit the roads in 2025. Honda is quite bullish on the EV sales prospects, as the company aims to move roughly 70,000 units of the upcoming Prologue EV once it arrives at dealerships in 2024.