Cardi B Has An Epic Car Collection That She Can't Drive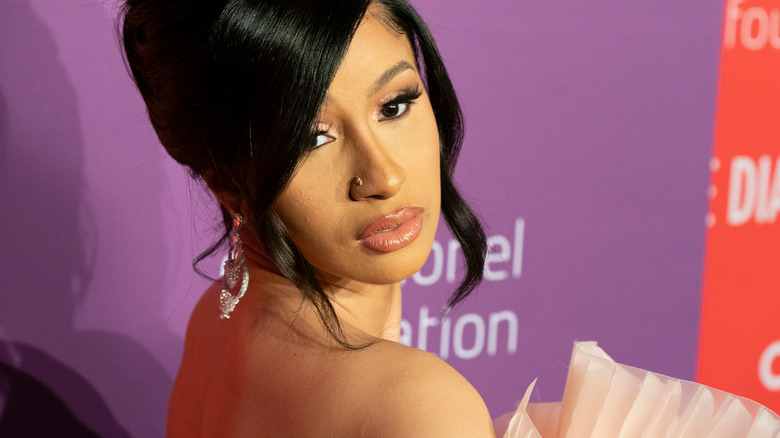 lev radin/Shutterstock
Rapper and hitmaker Cardi B is a phenom in the music industry. Born Belcalis Marlenis Almánzar on October 11, 1992, in New York City, Cardi B got her first taste of fame as an internet celebrity on Instagram and Vine. She was also a star of the VH1 reality show "Love & Hip Hop: New York" and released two mixtapes (Gangsta B*tch Music, Vol. 1 and Vol. 2) before pursuing a full-time music career with her debut album "Invasion of Privacy" in 2018 (per Biography).
Cardi B's debut album started breaking records left and right. According to Forbes, "Invasion of Privacy" spent 200 weeks on the Billboard 200, making it the first album by a female rapper to do so. The album peaked at No. 1 upon release in April 2018 with the smash hit "Bodak Yellow (Money Moves)." She is the first female rapper to have five No. 1 songs on the Billboard Hot 100 (per Forbes).
With an estimated $40 million net worth (per Wealthy Gorilla), Cardi B has amassed an impressive car collection that would make any car guy (or girl) drool in envy. But then again, what good is an epic auto collection if you can't drive the vehicles?
A garage full of supercars and exotic vehicles
It turns out that Cardi B is a huge car freak. According to Hot Cars, Cardi B's garage is home to a gathering of the most expensive and exotic vehicles known to man. It includes a pair of Lamborghini Aventadors, an orange Bentley Bentayga (which she bought to celebrate the success of "Bodak Yellow"), a Lamborghini Urus, a Rolls-Royce Wraith, a Dodge Challenger Hellcat, a McLaren 720S Spider, a Lamborghini Huracán, a Mercedes-Maybach S-Class, and a Ferrari Portofino.
That's not all. Cardi B's garage includes a Maserati Levante, a Mercedes-Benz G-Wagen, a Chevy Suburban, a Fiat 124 Spider, a Maserati GranCabrio, an Alfa Romeo 4C, a Porsche Macan, a Chevy Camaro ZLI 1LE, an Audi R8, and a Mercedes-AMG C 63.
The S-Class is arguably Cardi's best option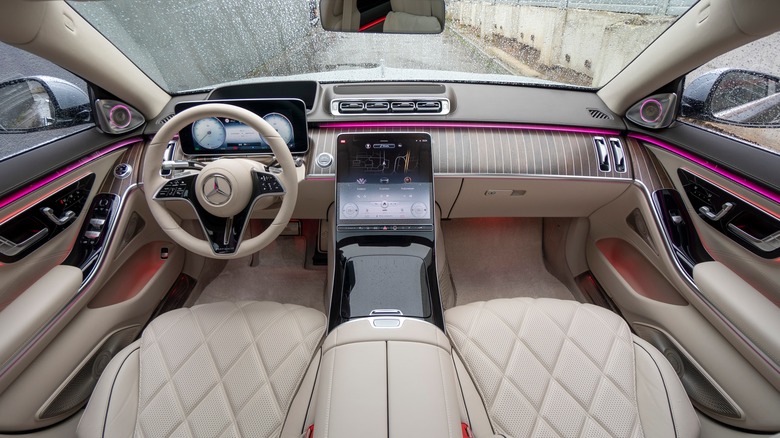 Artur Wave/Shutterstock
While many of the cars in superstar Cardi B's collection are incredible, not being able to drive them may dilute the appeal somewhat. While a Ferrari, or a Lamborghini, may look impressive on Instagram,but they aren't that comfortable to travel in. You end up sitting quite close to the ground, the suspension is uncomfortably firm, and bucket-style seats are designed to reduce your chances of flailing around and breaking something during a crash — not for comfort.
The S class however, is an absolute pleasure to be chauffeured around in. The long wheelbase means there's plenty of room in the back, and the Maybach coachbuilding expertise further enhances that to give a staggering 50-inches of rear legroom. You're also surrounded by leather, wood, and diamond pattern upholstery giving an air of luxury and comfort that's probably only rivaled by the Bentley and Rolls Royce Cardi B also has in her garage. The doors are also electric and controlled via touchscreen, so the chauffeur doesn't even have to be that attentive. AIRMATIC air suspension means that unlike in a super car, you won't feel every bump in the road. And the 4.0-liter bi-turbo V8 engine is enough to hit the same speed limits that will reign in the Ferraris and Lambos, so you'll arrive at your destination at around the same time.
Celebrities often buy cars they can't drive
Cardi B isn't the only musician who has spent hundreds of thousands on cars she can't actually get behind the wheel of. Despite owning several high-value vehicles, including a £110,000 Jaguar MkII, former Oasis guitarist Noel Gallagher can't actually drive any of them. The Manchester-born rocker claims he was "too busy" to pass his test during the 90s, which makes sense given Oasis' rampant success, his touring schedule, and the number of time consuming fistfights he seemed to get into with his brother Liam. Gallagher, who relies on a chauffeur for transport, is also on record saying: "Yeah, it's never interested me. I think I'd be involved in a rage road incident within an hour of passing my test," (via Cheatsheet).
Ed Sheeran is yet another musician who forked out for a few cars before he was legally allowed to drive. The ginger guitar strummer woke up, wiped the sleep out of his eyes, and eventually passed his test at the age of 24 — but not before he'd already purchased himself a Mini Cooper. Sheeran didn't keep all of the cars he purchased to himself. He also bought his manager a Range Rover and his sound man a Porsche. Unlike Cardi B, not having any experience behind the wheel didn't put Ed Sheeran off. He is one of the very few celebrities to attempt Top Gear's Star in a Reasonably Priced Car segment without a drivers' license. He wasn't the worst driver on the show either, coming just ahead of comedian Jack Whitehall on the show's scoreboard. Whitehall didn't have a license either, but had at least taken a few lessons before his laps.