ZTE nubia 5 Houston Rockets Limited Edition hands-on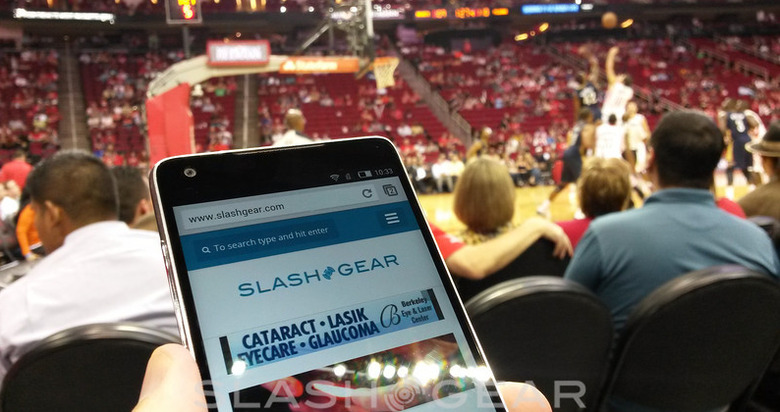 In what must be the strangest cross-branding we've seen in a smartphone in the past several years, the folks at ZTE have released the ZTE nubia 5 with the Houston Rockets – the NBA team. What we're doing this weekend is having a peek at the official limited-edition ZTE nubia 5 from all angles – with a full review in the near future, of course. This is just the first in a line of public pushes for this device and the brand as it enters the United States with a vengeance here in 2013.
You may have seen ZTE appear on SlashGear before – they've been a force internationally for some time. We saw them earlier this year at Mobile World Congress in Barcelona where we got some ZTE Grand Memo hands-on time and a chance to hear from the company about the excellence of the Qualcomm Snapdragon 800. ZTE has also brought smartphones and other small electronics to USA-based carriers in the recent past – see our ZTE tag portal for entries from Virgin Mobile, US Cellular, and more.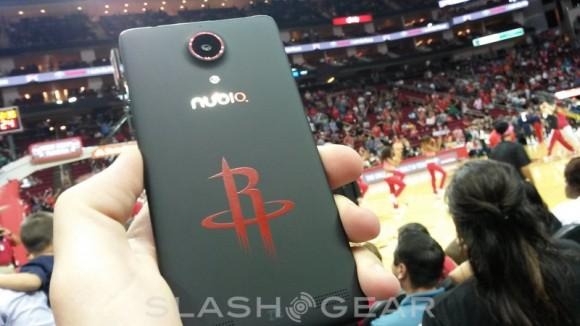 The ZTE nuba 5 Houston Rockets limited edition smartphone works with the same body and specifications as the regular version – here you'll just find a bit of added flare on the back. This machine works with a 5-inch display with 1080 x 1920 pixels across its face, that bringing it in to a cool 441 PPI (the same as the Samsung Galaxy S 4, mind you). The display technology here is IPS LCD, so it's also quite bright – we'll leave full comparisons to other devices for our full review.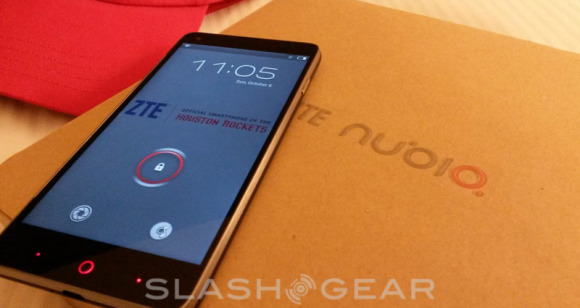 At the moment we can tell you this – the nubia 5 is set to be a surprise contender for our pocket right out the gate. The idea is striking that this device costs (in some cases) well over $100 less than similar-spec'd devices here in the states (compared to their off-contract prices too, of course). That alongside the idea that ZTE's launch will likely be a lot smaller than most of these more well-known US-based manufacturers: that's certainly a plus for those of us looking to roll with something a bit more unique than the average consumer.
Dimensions of this device are 5.43 x 2.72 x 0.30 inches – tall, not too wide, and certainly thin. Under the hood you've got a Qualcomm Snapdragon S4 Pro APQ8064 processor (quad-core) working with a Krait 320 bit of graphics power. Inside you've also got 2GB of RAM as well as 16GB built-in storage. This device works with a unique user interfaces as well – ZTE's own, working right on top of Android 4.1.2 Jelly Bean.
There's a 2,300 mAh battery under the non-removable back casing which, as you can see, sports a special Houston Rockets logo below the nubia logo that'll be standard. This smartphone's back-facing camera is a 13-megapixel shooter (with fancy Sapphire Lens glass) and the front works with a 2-megapixel camera. This machine will be put through the paces by SlashGear and given a full review in the near future.
Stay tuned and see how this smooth-looking and smooth-feeling smartphone fares as we give it a full run-down as the device appears available from retailers imminently. The device is officially up for pre-order from online sources for a cool $450 off-contract, and no carrier-specific options have yet been named.