ZTE nubia 5 introduced with Full HD display and 13MP camera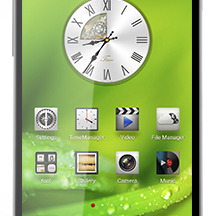 ZTE has introduced its nubia 5 smartphone, a high-end offering equipped with a Full HD display and a 13-megapixel camera, among other savory features. The phone will go up for pre-order this coming Saturday for $449.99 in the US, and is being hailed as a photography-centric handset, with offerings including a Konica-Minolta lens and intelligent stabilization.
As far as the photography features go, the nubia 5 has three different photography modes — Fun Mode, Auto Mode, and Pro Mode — each of which is mostly self-explanatory. The Fun Mode is essentially for taking a fast snapshot and applying a photo filter to it, a la Instagram. Auto Mode tosses HDR and smile recognition into the mix, while Pro Mode adds 4-direction panoramas, burst mode, and manual control of things like focus, gradient, and lighting.
As far as specs go, the ZTE nubia 5 has a 5-inch Full HD display (443ppi), while under the hood the handset runs a Qualcomm Snapdragon S4 Pro 1.5GHz processor alongside 2G of RAM and 16GB of internal storage space. There's a 2-megapixel on the front of the device for video chatting and selfies, while the battery is a somewhat hefty 2300mAh capacity.
ZTE USA's CEO and Chairman Lixin Cheng said: "As the software and apps available on today's smartphones replace more and more of the other devices we use on a daily basis, the specifications for features like cameras, displays and speakers are becoming increasingly sophisticated. The nubia 5 really pushes that trend further. Moreover, the launch of the ZTE nubia 5 builds on our ongoing commitment to the U.S. ZTE will be working closely with our customers to make devices like this available in the U.S."