Yahoo Maps Gets Indoor Mapping From Nokia HERE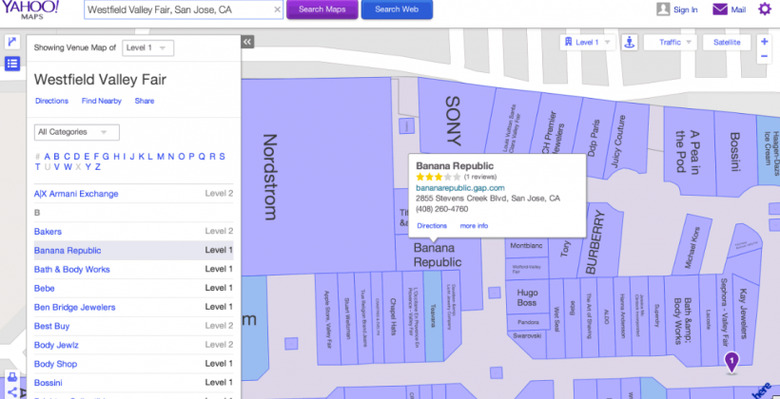 Yahoo! Maps has added indoor venue mapping, raising its challenge to Google Maps by including internal navigation for more than 75,000 buildings worldwide. The new feature, provided by Nokia's HERE platform, takes mapping indoors in places like shopping centers, even across multiple levels.
It's not just a simple floor plan, either, with HERE providing details of store locations, restaurants, and cafes. There are peripheral services, too, like ATMs and restrooms.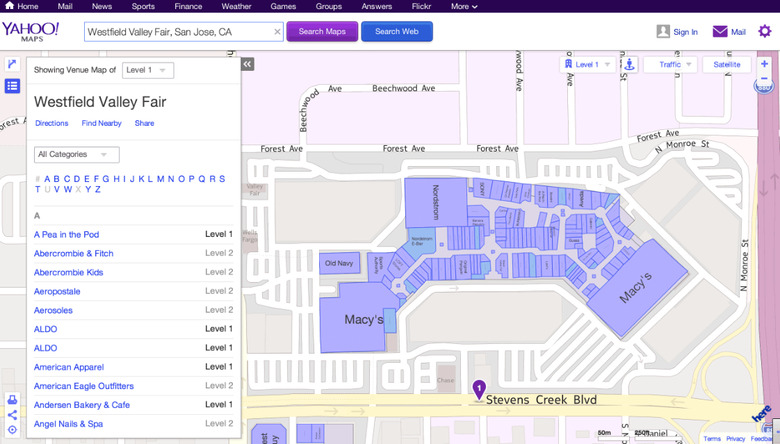 Internal maps have been available on Google Maps for some time now, offering the same floor-level details as Yahoo! Maps now gets. Nokia's own HERE Maps has also had the feature since 2012, and in fact called out Google last year on the quality of its data.
With its phone business headed off to Microsoft, the HERE division is left as one of the key strands of Nokia's business moving forward. Last year, we hitched a ride on one of the 68-megapixel camera cars that the HERE team is using to challenge Google Street View, factoring in things like optical character recognition on street signs and notices to clean up its mapping data.
In fact, Microsoft's Steve Ballmer supposedly wanted to buy both Nokia's phone business and the HERE division too. However, after a shouting match with the Microsoft board, he apparently scaled down his ambitions to just cellphones and smartphones.