Nokia HERE 3D v2: We ride the 68MP rig putting Google Maps on notice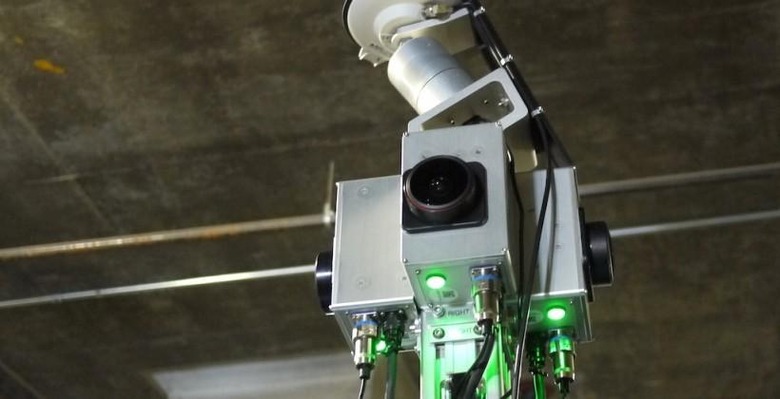 Nokia may have come late to the game with Streetview-style 3D photography in its HERE Maps service, but the company is aiming to overtake Google with its second generation of mapping cars. Built using newly developed camera, LIDAR, and processing technology from 3D specialist Earthmine, which Nokia acquired last November, the updated system promises higher-resolution panoramic imagery than Google, as well as more accurate 3D buildings and sign recognition. SlashGear went out on the road in one of the prototype cars with Earthmine founder John Ristevski, to find out why Nokia's 68-megapixel mobile mapping system should be giving the Google Maps team sleepless nights.
Nokia has been running mapping cars in North America and Europe for some time now, building up a database of select cities where users of HERE maps on the desktop and in the company's apps for Windows Phone can switch into 3D views complete with street-level photography. That first-gen system used Earthmine's first-gen mobile mapping system, an array of four cameras with super-wide-angle lenses that were mounted on the top of cars and sent to roam the streets.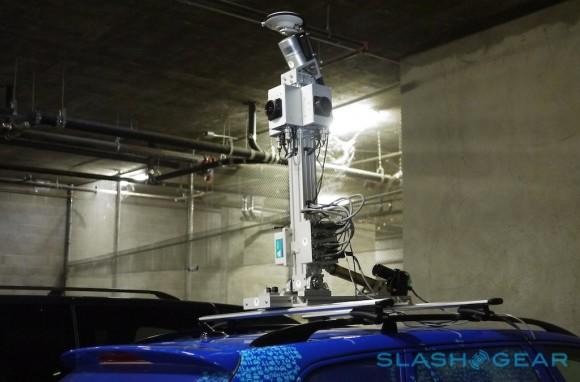 The second-generation version of the system is an update in practically every aspect. Nokia's cameras have more than doubled their resolution, with each of the four now capturing at 16.8-megapixels for a total panorama of almost 68-megapixels of data. By using the Earthmine fish-eye lenses, those four cameras can effectively record everything from the street level up to the sky, and a full 360-degrees surrounding the car. A complete image is captured every six meters the car moves.
Paired with that is a highly-accurate LIDAR laser scanner – the same technology as used on Google's self-driving cars to map out the road – which spins on top of the camera rig and builds up a digital picture of the surrounding environment. It's not short of range, either, able to see around 200m in a roughly 40-degree arc around the front of the car, and in fact capturing around 700,000 3D data points at a time.
The data includes the facades of buildings, street signs, road markings, and more, and can be used to populate Nokia's maps with 3D vector graphics of the topography of the landscape.
Both systems – and a high-accuracy GPS sensor, housed in an off-white box on the lower part of the extending camera rig – feed data into a large logging box sat in the front passenger footwell. That has controls to power-up the array, as well as to raise or lower the rig (which, when extended, reminds us a little of Johnny 5 from Short Circuit), and records all the data to a hard-drive in a removable caddy. A single drive can store around three days of data – at around 140GB a day – and when full the drivers can simply pull them out and mail them back to Earthmine's processing facility for crunching.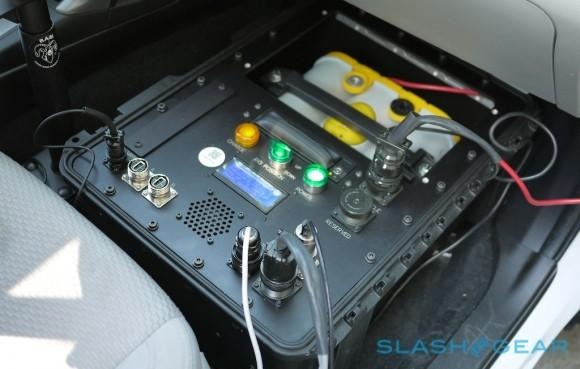 Everything is controlled, meanwhile, by a custom app written by Nokia and the former Earthmine team running on a Microsoft Surface tablet mounted to the dashboard. That, dubbed HERE True Control, not only manages the 3D camera system but guides the driver around their route, and gives real-time feedback to Nokia's servers as to how much of the recording is complete, where the car is, and other data thanks to a tethered Lumia 920.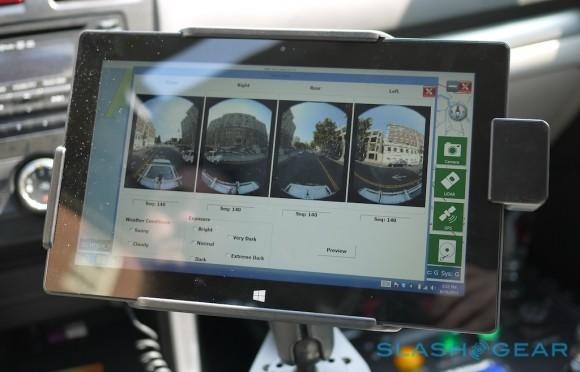 HERE True Control looks much like HERE Maps. After a scanning job is loaded, it guides the driver to the start point, and then shows them which roads to take: careful road analysis figures out the best route to minimize repetition without skimping on actual data. Meanwhile, there's a preview page showing the latest shot from each of the four cameras, so that any obvious issues – such as water or objects on the lens – can be spotted before they ruin the data set. Manual controls over exposure are also included, so that low-light images are still usable, but Nokia has designed it all to be mostly hands-off, allowing the driver to concentrate on the road.
Nokia HERE 3D Mapping Car Gen.2:
What makes Nokia's system particularly clever – and differentiates it from Google's – is how the data can be manipulated and better educate the map. The 3D photography is the most obvious use, along with graphics of buildings, but since the LIDAR is also recording street signs, business names, and other written information, Earthmine can pull out those details too using text-recognition.
That means map data like speed limits and Points-of-Interest (POI) can be improved, without requiring independent verification by a human passenger. Meanwhile, as the cars are also recording the angle that they're driving at, as well as their physical position, Nokia can give navigation instructions for the most fuel-efficient route, or the fastest route, factoring in how much gas would be needed to go up and down hills.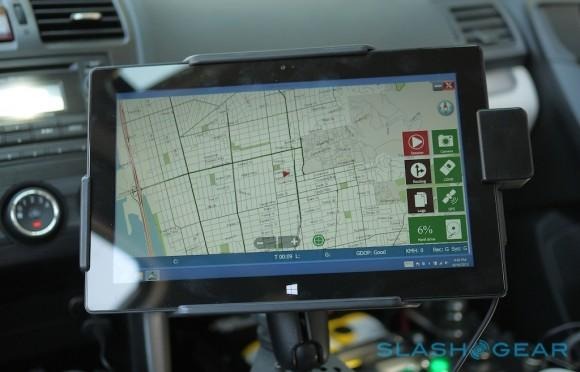 Nokia's ambitions with the second-gen system go much further than before. Whereas the original HERE 3D mapping was limited to Europe and North America, this second-gen fleet will be bigger and cover more locations: in fact, the goal is 27 countries this year, in Africa, South America, Asia, North America, and Europe, effectively tripling the amount of 3D street-level data from before. After road-level mapping there'll be other forms of rig, such as smaller systems that could be individually worn for scanning areas cars couldn't go.
That's no small investment, given each of the camera rigs – custom-built in California – cost roughly as much as the cars they're mounted on. Nonetheless, Ristevski is confident that not only is the system worth it, its advantages over Google's Streetview and Nokia's scaling plans will soon allow HERE Maps to overtake Google Maps. "We're behind them now," he told us, "but we can catch up very quickly."
Check out part two of our Nokia HERE interview, looking at how smartphone-level data is shaping Smart Cities, autonomous driving, and more.