Nokia is calling out Google Maps over indoor mapping, claiming that its HERE Venue Maps cover more areas and with more accuracy than any rival can muster. The software – which is available on Nokia Windows Phones and in Bing – integrates floor plans for inside stadiums, theme parks, golf clubs, and shopping malls with regular mapping data, so that the directions needn't stop when you get inside. However, it also physically visits the venues, something Nokia says differentiates it from Google Maps.
"When the HERE team visits a venue they make sure the shapes and dimensions of the buildings and their facilities are correct so that what you see in our Venue Maps reflects what you see in reality" Nokia said of its app. "If the building has multiple floors, we also include those."
On top of the raw floorplans, there's information on things like ATMs and restrooms, gate numbers for airports, and escalators for navigating between levels. If there are stores, meanwhile, they're also flagged up.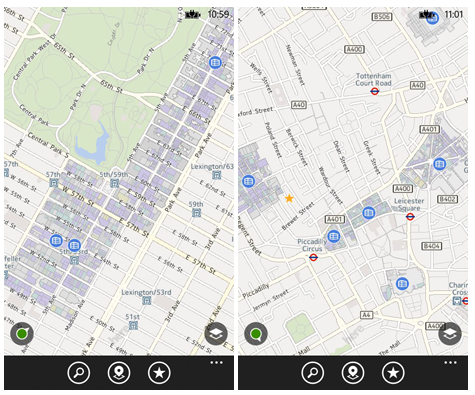 In total, Nokia says, around 49,000 buildings have been mapped in 45 different countries. In some cases, the name "Venue Maps" is arguably misleading, as the buildings could actually be clustered together in a shopping district, rather than in a traditional mall layout.
Each of the venues uses color coding and different icons to flag up the facilities on offer, and there's a directory of stores and facilities that can be pulled up for more quickly hunting down a particular goal. Nokia says it's adding around 1,000 new venues every quarter.
More detailed mapping and location-based services is big business right now. Google acquired social-powered maps and navigation app Waze this month, promising to put the crowdsourced traffic data into Google Maps. However, Waze also uses the power of the group to highlight deals, lower gas prices, and more.
It's not the only way of adding value to mapping data. Google's Street View project sends roving cameras into different environments – often rarely seen by the public at large – such as to the top of the Burj Khalifa most recently, or the Galapagos Islands last month. Meanwhile, Apple Maps will gain walking directions in iOS 7 among other things.