Windows 10 Fall Creators Update: 8 things to know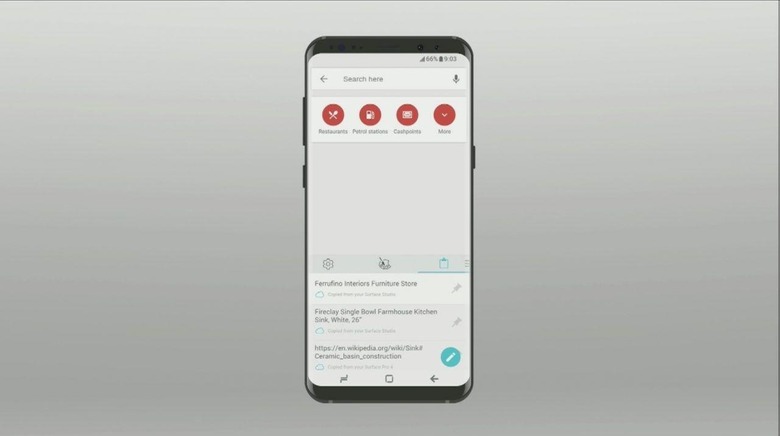 Microsoft has revealed the Windows 10 Fall Creators Update, its latest big upgrade with better desktop and mobile integration, VR, and more. Announced at BUILD 2017 today, it's the follow-on to the Windows 10 Creators Update, that began rolling out last month to what Microsoft says is now a cohort of more than 500m devices. Curious? Sure you are, and we've got you covered.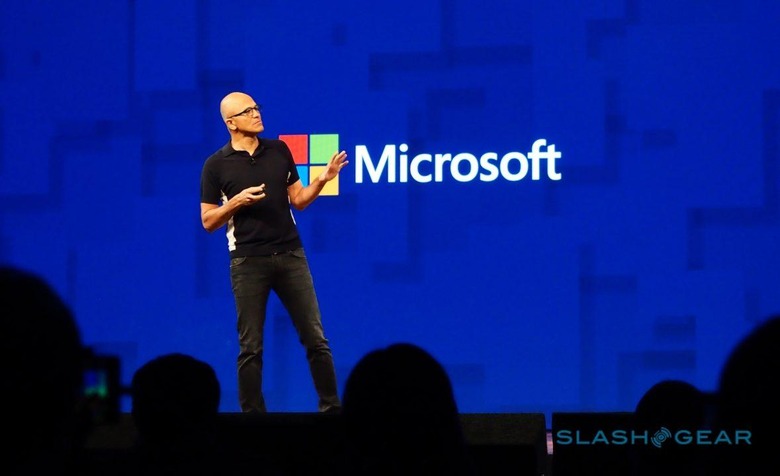 The "Creators" part isn't just lip-service
Like the previous update before it, Microsoft is pitching the Fall Creators Update as bringing users new ways to express themselves and the content they generate. The flagship experience for that will be a brand new app called Windows Story Remix – a Universal Windows Application released through the Windows Store – that can automatically generate "stories" from your photos, videos, and more.
While Microsoft already offers a movie-editing app, this new software will make the process a lot more automatic. It'll intelligently add a theme with a soundtrack and cinematic transitions, for instance. Remix 3D objects can be added in to both photos and videos, and if you've got a device that supports Windows Ink, you'll be able to annotate memories too before you share them. Ink text can be pinned to individual people or objects, and then follow them as they move through the frame.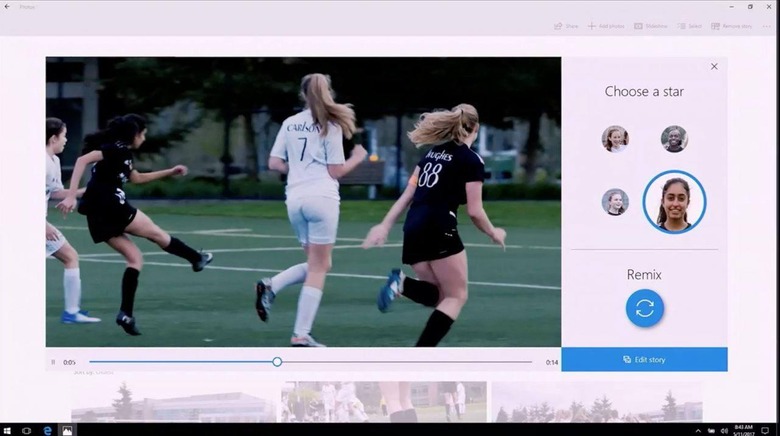 The idea is that it's as hands-off as possible. Story Remix is able to automatically recognize the best moments in clips – such as when people are smiling or laughing – and then trim them to just those sections. It can identify which people are in the video, and then allow you to pick a "hero": then, it'll remix the video to make them the focus. Similarly, you can make more granular edits if you prefer, and have the music and everything else automatically adjust to suit.
Microsoft Fluent Design System will make UIs smarter
Once upon a time, we did everything computer-based on, well, a computer. Now that's no longer the case, and so Microsoft has been readying its Fluent Design System, a way to easily create cross-device experiences that look right on a variety of screen shapes and sizes. It's intended to help apps work correctly across everything from phones, through tablets, to laptops and desktop PCs with big displays.
However, the Fluent Design System is about more than just screens. Indeed, it's also intended to embrace devices that might have no screen at all, such as wearables or Cortana-powered smart speakers. Microsoft says the Fluent Design System will be able to cope with apps that interact through touch, ink, voice, gaze, and gesture, in addition to the traditional keyboard and mouse.
It's made up of five components: Light, Depth, Motion, Material, and Scale. For Light, for instance, "it'll be an intelligent way for developers to draw attention to the right thing at the right time," Microsoft's Joe Belfiore suggests, with light highlights picking out the core elements of the UI at any one time. With Scale, "it's time to move beyond mere rectangles confined to a frame," Belfiore continues.
Picking up on old projects will be easier
If you're anything like me, you have browser windows full of tabs open in the background – and eating up memory – because you need them for another project you're working on. Microsoft's Timeline feature promises to make that a whole lot more streamlined, with the ability to go back – using a simple, calendar timeline – to see what you were working on in the past. Then, you can automatically reload the entire experience of that moment, including apps, files, and websites.
Timeline will support search, so you'll be able to go hunting for your previous projects using keywords. It'll also be available cross-device: if you move from one PC to another (or, indeed, to a smartphone), Cortana will offer to open up the old project, even if you've never used those files on that computer. The relevant files will automatically be pulled down from OneDrive; if there's an app required to open them, developers will be able to register their cross-platform apps with Timeline and Cortana, and have that automatically installed too.
It'll help Windows 10 better coexist with your smartphone
It's fair to say Windows on Phones hasn't exactly been setting the world alight. Look around, and you're far more likely to see an iPhone or an Android device in use. Microsoft already has plenty of apps and services to cater to those platforms, and the Windows 10 Fall Creators Update will crank up the integration courtesy of the Microsoft Graph.
That's the umbrella term for the interconnected people, conversations, projects, and overall content that is stored in the cloud, and the Windows 10 Fall Creators Update plans to make much better use of it, no matter the device you're currently using. For a start, there's what Microsoft is referring to as "Pick Up Where You Left Off", powered by the Cortana virtual assistant. If you close your PC, the document you were working on will load on your phone or tablet for you to carry on editing.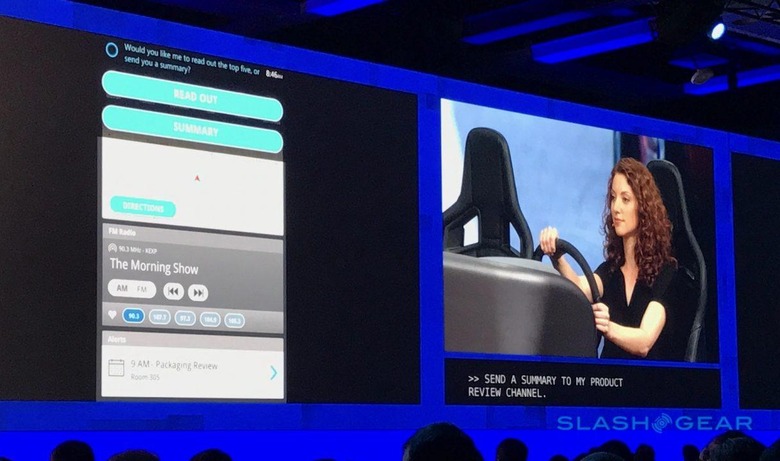 Meanwhile, Cortana will also be able to ask whether you want to continue using the app, document, or website you were last using, as you transition across devices and platforms. It promises to harmonize the experience of interacting with Microsoft's products no matter whether you're doing that on a Windows 10 PC or tablet, an Android phone, or an iPhone or iPad.
The clipboard is getting turbocharged
Apple's Continuity allows the clipboard to bridge iOS and macOS devices. Now, Microsoft is boosting its clipboard to cover all the major platforms. In principle, you should be able to copy anything on Windows 10, iOS, or Android, and then paste it onto another device. Microsoft says it'll support photos, text, animated GIFs, map links, and more.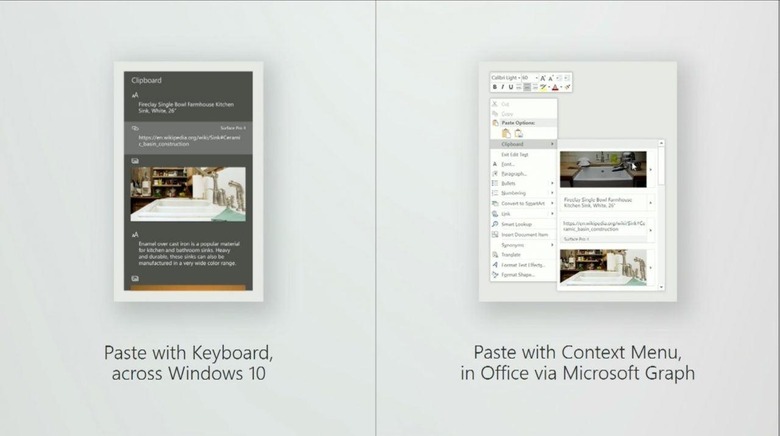 With apps that explicitly support the cloud-powered clipboard, there'll be direct integration on iOS and Android. Swiftkey, for instance, is updating its keyboard: you'll be able to tap a button and slide in a list of copied content from other devices. On the Windows 10 desktop, developers won't need to do anything, as the Windows 10 Fall Creators Update will automatically support the new clipboard.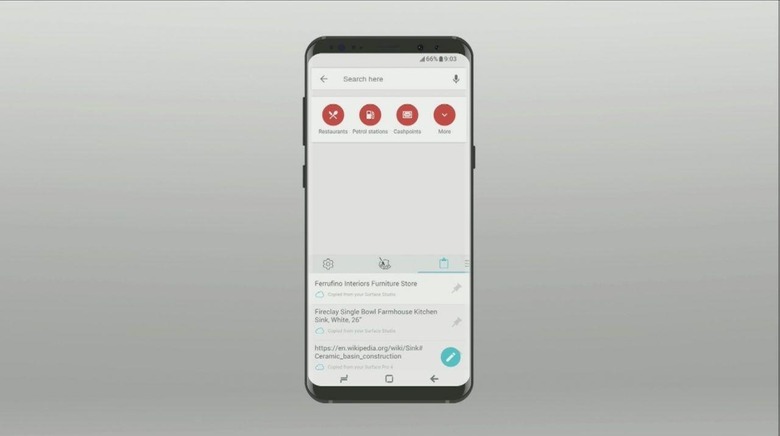 OneDrive will blur the local/cloud line
Cloud storage may be vast, but local storage isn't. Microsoft's new OneDrive Files On-Demand feature aims to reduce the amount of downloading you need to do before you can work, by effectively opening documents and content while they're still stored remotely. Much like Dropbox's Infinity Drive feature, downloading a copy becomes an option only if you explicitly need offline access. Otherwise, files show up in File Explorer and can be manipulated in the same ways, regardless of if they're saved locally or in OneDrive.
Mixed Reality will get a boost
Microsoft is pushing virtual reality, augmented reality, and mixed reality hard, and the Windows 10 Fall Creators Update will see a number of features in that wheelbase made standard across the platform. Biggest improvement is the support for the Windows Mixed Reality motion controllers. They're handheld controllers for navigating virtual 3D space, with no requirement for markers or sensor lighthouses on the walls around you. Instead, it's the cameras and sensors in the Windows Mixed Reality headsets that will do all the work tracking them.
When is the Windows 10 Fall Creators Update Released?
I know, you want all this goodness on your PC right now. Unfortunately, for the moment you'll have to wait. All Microsoft is saying is that the Fall Creators Update will come later this year, presumably sometime from September 2017 onward.