Acer Windows Mixed Reality headsets release date met for developers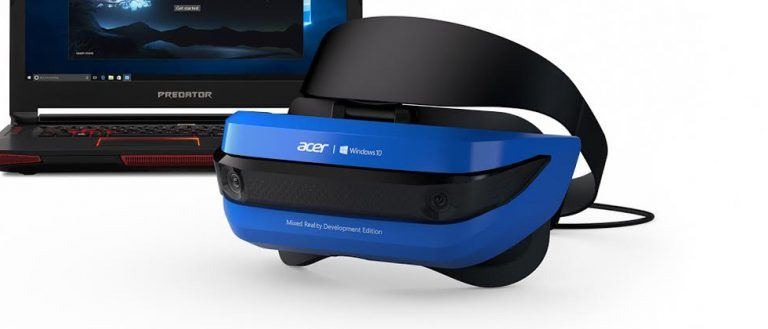 This week the folks at Microsoft have announced that they're sending out Windows Mixed Reality headsets to developers. This release will prepare developers for the most forward-thinking platform to be found within Windows 10. To do this, Microsoft has partnered with device makers like Acer, ASUS, Dell, HP, Lenovo, and 3Glasses to create Mixed Reality headsets.
These headsets – as they'll be delivered this Spring – will be the first to have "built-in inside-out tracking". This means that all the room tracking and motion tracking is done inside the headset. No external sensors are required to use one of these headsets.
Acer is the first company that'll be delivering a developer kit Windows Mixed Reality headset. This headset includes several specifications that make this a forward-looking piece of equipment for the Mixed Reality universe, including:
• Two high-res LCD panels at 1440 x 1440 pixels each
• 90 Hz (native) refresh rate
• 3.5mm port for audio out and mic in
• 1x cord includes HDMI 2.0 display and USB 3.0 data
This headset is built to be simple. It'll be simple for developers to use to make the first games for Mixed Reality, and it'll eventually be simple for gamers to take advantage of this ecosystem.
Above you'll see a video presented by Microsoft on what's to come in the world of Windows Mixed Reality. This video was originally released by the Microsoft HoloLens crew back in December, but remains relevant today.
Microsoft has not yet mentioned the pricing for this first of many Windows Mixed Reality headsets for developers, but it is clear that shipping has already begun.
Those gaming developers interested in getting in on the ground floor for developing with the Acer developer edition headset "in coming months" can do so through ID@Xbox. All non-gaming developers can have a peek over at Windows Dev Center.