Here's how Cortana will follow you from home, to car, to work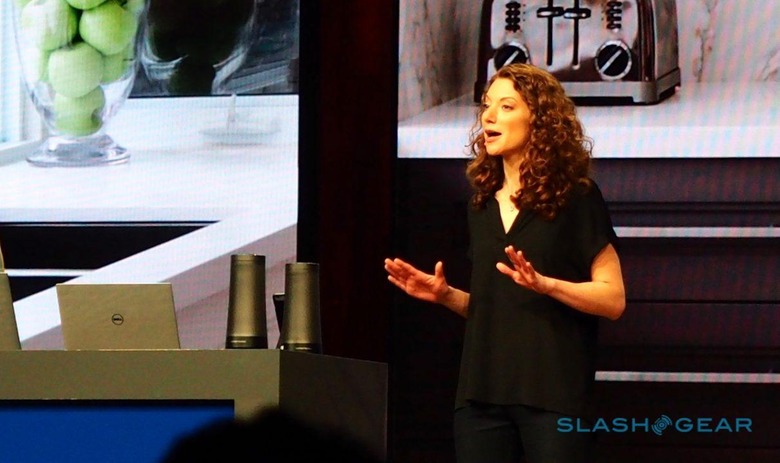 Microsoft's vision for Cortana goes beyond sitting in a smart speaker on your kitchen counter, with the company showing off some of the ways its assistant could follow you at home and on the road. Bringing Cortana's latest enclosure, the Harmon Kardon Invoke speaker, on-stage at the BUILD 2017 opening keynote today, Microsoft showed how the agent can expand into the car. It's part of a big expansion in what developers will be able to do with Cortana themselves.
That's courtesy of the Cortana Skills Kit, which is now open to the public. With that, developers will be able to tap into the agent's voice and text skills, pushing out new abilities to Windows 10, Android, and iOS, as well as standalone devices. If they've already created an Amazon Alexa skill, they'll be able to import that and use it as the basis for a Cortana counterpart, too.
The goal is to take Cortana from the mobile devices she original debuted on, to every device people interact with. On stage, Microsoft demonstrated just how those different instances could work together. First, the Invoke smart speaker on the countertop gave a run-down of the day's agenda, including reminding the user of tasks they've been assigned: in this case, putting together a list of potential designers.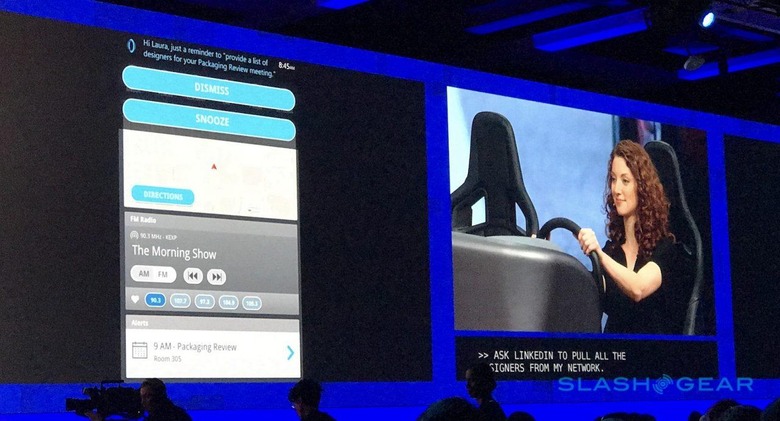 Rather than complete that task there, though, it's possible to ask Cortana to remind you of it when you're in the car. Microsoft had a dashboard mock-up on stage too, and from there Cortana appeared at the top of the touchscreen in the center stack. Since the agent is context-aware – in that it knows whether you're interacting from behind the wheel, through a screen-less connected speaker, or at your laptop – it chooses the form of communication appropriately.
For the dashboard, that means simple text boxes at the top of the infotainment screen, along with big, finger-friendly selection boxes. However, Cortana also responds to advanced instructions by voice. In the demo, for instance, asking the agent to compile a list of all designers connected on LinkedIn was enough to complete the task. If the task is too complex, or requires interactions not supported by the current conversation method, Cortana can offer to remind you when you're in a more suitable location.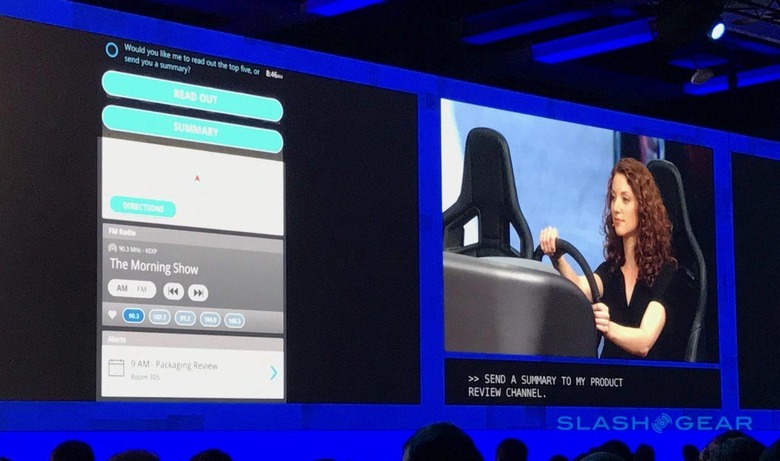 Throw in traffic monitoring, suggestions as to when you should leave for your next appointment, and the ability for Cortana to flag up congestion and offer alternative routes, and it's clear that Microsoft has visions for the assistant to be more than just a pared-back auto interface like CarPlay or Android Auto. Of course, that's just what Google has in mind for the Google Assistant, and Apple does with Siri; not to mention Samsung's Bixby, Amazon's Alexa, and others. Still, Microsoft's integration with the business software so many companies are using could well give it an edge.
It'll need partners to do that, though. Though Harmon Kardon is the first, HP has also been confirmed today as offering Cortana-powered devices too. Intel will be making a reference design for others looking to join the party. As for the dashboard, Microsoft is already working with Nissan and BMW.