WiFi-only Motorola XOOM pricing confirmed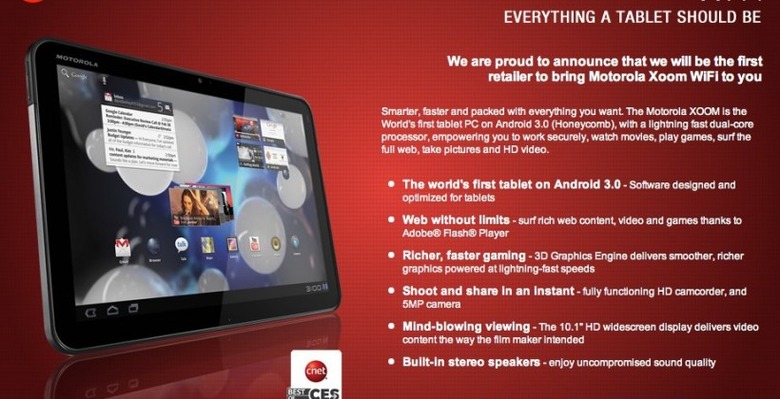 Pricing for the Motorola XOOM WiFi has been confirmed, for the UK at least, though the availability of the non-3G variant is still unclear. Retailer PC World has confirmed that it has the exclusive on the WiFi-only XOOM – rival Carphone Warehouse has clinched the deal on the XOOM 3G, set to arrive in April – and has priced it at £449.99 ($734).
That makes it £200 more expensive than PC World's Advent Vega, another 10-inch Tegra 2 tablet, albeit one that doesn't yet have Android 3.0 Honeycomb. Still, the Vega lacks the high resolution cameras of the XOOM, and the Motorola has a higher quality display with better viewing angles.
The XOOM WiFi is basically the same as the XOOM 3G we reviewed last week, though without the cellular modem of course, and we've already said how much we approve of Honeycomb. No word on availability for the WiFi-only model at this stage, and the pre-order link on PC World's page isn't currently working.
[via Android Community]