Why NVIDIA's Project SHIELD struck hardest at CES 2013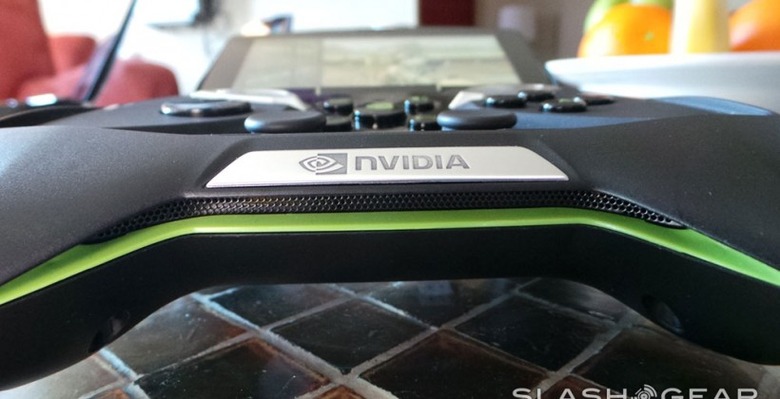 This past week at CES 2013, the SlashGear team was privy to a handful of fantastic or otherwise generally interesting next-generation technology, but for yours truly, there was nothing as significant for its designer as NVIDIA's Project SHIELD. I want to be clear in saying that there may have been more market-ready, real-world devices and services presented to us that have hard release dates and/or real track records for success in earlier models, but when you take Project SHIELD and speak about how important even just the idea is for the NVIDIA brand and ecosystem, nothing else had as important a set of implications.
When we were introduced to Project SHIELD at NVIDIA's press conference during CES, the company's CEO Jen-Hsun Huang prefaced the situation with assurances on the future: "Next-generation gamers play literally on whatever they can, whenever they can. Just like we enjoy movies on multiple screens, just like we listen to music on multiple devices." Though the delivery couldn't have been as powerful as the initial reveal of the iPod, a revolutionary device for the music industry (referenced in the conference earlier as such), NVIDIA intended and intends to push Project SHIELD as a revolutionary device for the gaming industry.
We had a chat with Nick Stam, Technical Marketing Director for NVIDIA (as you'll see above), in which we were told that not only is Project SHIELD a real project, but it'll be coming to the market in the second quarter of 2013 as an NVIDIA-branded piece of equipment. Though the idea of creating a bridge between large hardware (PC and console) and small hardware (mobile) gaming may be more significant than the actual SHIELD device, the device is being prepared for a real release.
"What you're seeing here is a Beta version that we're showing at CES – and there may be some modifications to the physical design elements, some of the software elements, but our plan is to ship this Project SHIELD under an official marketing name in Q2. That's our plan: in Q2 2013 in retail. So in retail and e-tail, with an NVIDIA name." – Stam
NVIDIA has appeared in the news essentially the same amount of times for its mobile processor business as it has for its high-powered computing components over the past year. As we see them tie the two together with SHIELD as well as NVIDIA GRID for cloud-based gaming companies and NVIDIA GeForce Experience for high-powered gaming optimization, the circle can be made complete. With the continuation of NVIDIA's rather successful GeForce GPU lineup and the new Tegra 4 mobile processor (also just revealed this past week) as well, NVIDIA has created a new ecosystem for themselves.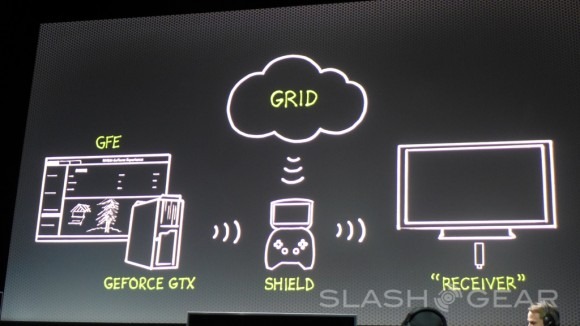 You'll need GeForce GPU power to stream games from your PC to your Project SHIELD device, and though any number of games will work on the device from the Google Play market for Android, NVIDIA's Tegra Zone will surely be the place where you'll find the best of the best, optimized for the Tegra 4 processor you've got under the hood, made perfect for the physical controls you've got in front of you.
It's difficult to say how much of an impact this device will have in and of itself as far as sales go – certainly not until we see the price, at least. The confidence with which NVIDIA presents this device as a knot that ties together its two major product lines – PC and mobile – that's what will have the biggest effect on their future. No other company made such a unique product ecosystem presentation at CES 2013.