NVIDIA Tegra 4 revealed with 72 GPU cores and 4G LTE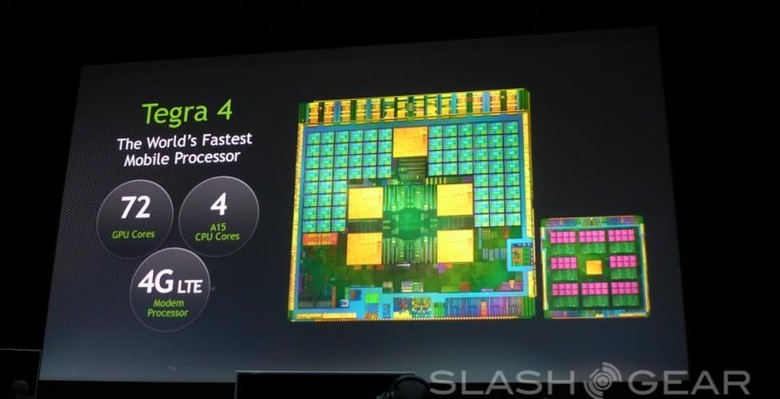 This week at CES 2013 the CEO of NVIDIA, Jen-Hsung Huang, revealed the next industry-leading processor by NVIDIA's clock, that being the Tegra 4. This processor works with 72 GPU cores, 4 A15 CPU cores, and the ability to work with 4G LTE. The first test this processor was put to live on stage was between itself in an unnamed tablet and the Google Nexus 10 – loading webpages on the Tegra 4 (imagine that) finished much, much quicker than the Nexus 10.
This processor loaded 25 unique, high traffic sites in 27 seconds while the Nexus 10 loaded the same in 50 seconds. That simple test means one thing, said Huang, is that if you're loading a webpage with the NVIDIA Tegra 4, you'll get it "in one second", while when you're working with the current most powerful tablet on the planet (the Nexus 10, so they say), you'll get it "in two seconds."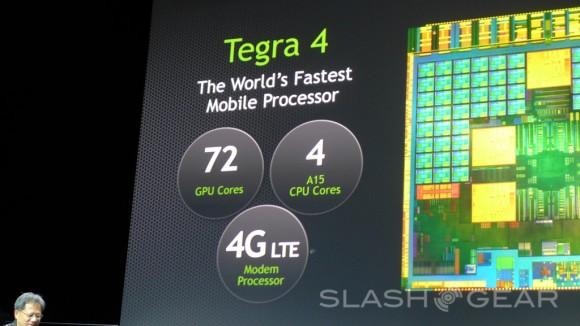 In a comparison chart onstage, Huang showed the Tegra 4 as fastest, the iPad 4 as right behind it (though slightly slower, of course), the Nexus 10 coming in next, Droid DNA after that, and the Kindle Fire HD down at the bottom of the pack. Though we'll be investigating these claims in the very near future, it's fairly plain at the moment that NVIDIA's architecture here is the most powerful solution for mobile devices on the planet.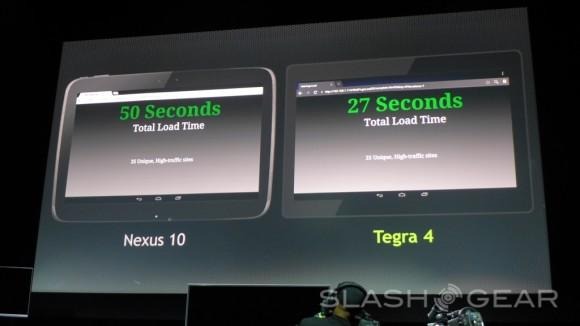 Stay tuned as we continue to transmit all the details straight from CES 2013 through our massive CES portal all week long!