There's a really, really big box sitting near the Flint Center. It's only a bit over a week before Apple's next event here, and a massive white structure is being worked on which will likely be unveiled in full on the 9th of September, 2014. Inside this box may very well be an environment in which the iPhone 6 can show off its next-generation abilities.
As of the past week (or so), Apple has been preparing the Flint Center for their iPhone 6 event. The above image is modified from a Google Maps / Google Earth rendering captured at some point in the recent past. Doesn't matter when, as we've added the white boxes covering the event location Apple has constructed based on images shared by The Loop, one of which is shown below.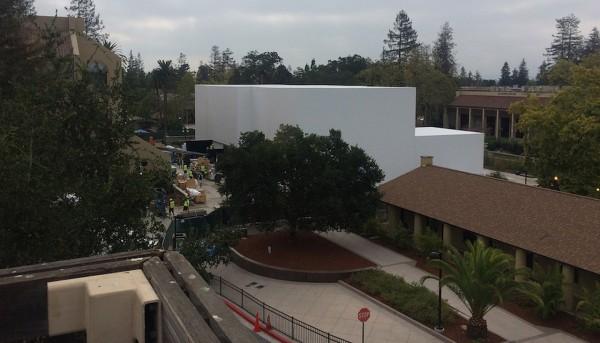 Possibilities are as follows – and remember, this isn't an end-all be-all exhaustive list. By all means, let us know what you think it could be too!
1. A Home Automation / iBeacon Demo Center
Those present at the event could be shown a mocked-up home complete with all-Apple products. This would include iBeacon technology that'd work with iOS 8, the iWatch, and iPhone 6. All things automated.
2. A mocked-up Apple Store
Showing exactly what people will be seeing when Apple's full new product line is launched, there'll be no time between Apple's reveal and Apple's public image of having products on the market. Even if they're not out in the wild quite so quick.
3. CarPlay Demo Center
The iWatch and iPhone 6 will almost certainly extend Apple's connections to CarPlay in one way or another. But is it enough to create a whole extra center for demos after the reveal event?
Or could this be where Apple is holding the event itself? Does it make sense for Apple to have everyone attend this event outside of their normal centers for media just so they can construct a new center remotely? Why the secrecy?
Stay tuned – SlashGear will be bringing you the whole show LIVE on the 9th. Stay tuned in SlashGear's Apple hub for more!