Viliv S5 MID reviewed: swift, sleek and definitely tempting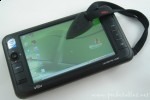 We're unashamed of our Viliv S5 lusts here at SlashGear, and Pocketables' review of the 4.8-inch MID has done little to change our feelings.  Though we've already seen the S5 unboxed, demonstrated, dissected, hacked, repurposed as a PND and more, a full going-over is always welcome.  What the Viliv MID delivers are accurate battery estimates, decent 720p playback, reasonable performance and speedy internet surfing.
Video demo of browsing on the S5 after the cut
The Intel Atom Z520 processor may only run at 1.33GHz, just as in the VAIO P, but Viliv have sensibly stuck with Windows XP rather than choosing Vista, and the CPU does a much better job that way.  Internet performance is also swift, thanks to the "fastweb" browser pre-loaded; this uses a proxy-service to speed up page loading (as you can see in the video below).
Of course, this is the Viliv S5 Premium, and while that title might lead you to believe that all the options boxes are ticked, what you don't get is integrated 3G.  In its WiFi/Bluetooth-only form, it's got a preorder tag of $599 and is set to begin shipping at the start of May; there's no telling if Viliv will release a version with US- or Euro-friendly HSPA any time soon.