Viliv S5 MID US presales start April 27th: $599 but no 3G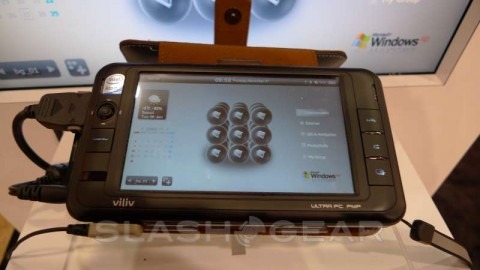 The Viliv S5 MID will arrive in the US from May 8th, with limited pre-orders being taken by importer Dynamism from April 27th.  Priced from $599 for the Viliv S5 Premium, only 200 of the 4.8-inch touchscreen MID will be available in the retailer's pre-order event, which will see it bundled with $135-worth of accessories.
The Viliv S5 Premium uses the Intel Atom Z520 1.33GHz processor, with a 60GB hard-drive, 1GB of RAM and integrated WiFi b/g, Bluetooth 2.0+EDR and GPS.  It does not, however, have integrated 3G.  According to Dynamism, the S5 will wake from sleep to a functional Windows XP desktop in just five seconds, with a total runtime of 6hrs video playback or 200 hours standby from the 22.9Wh battery.
Those first 200 buyers will also get a spare battery, car kit – as seen in this StreetDeck PND demo – and leather pouch for the MID.  It's unclear how many units in total, after that 200, are expected; Viliv sold 1,000 S5's in just 15 minutes when it launched in Korea.