Viliv S5 MID sells out in 15 mins; first reviews glowing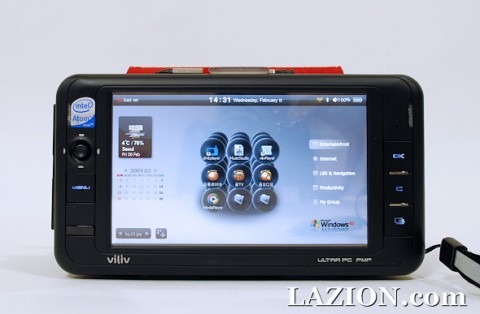 We'll have to wait until the end of March before we can get our hands on the Viliv S5 MID, but the touchscreen device went up for limited sale in Korea today and competition for a unit was high.  Viliv offered just 1,000 of the MIDs, with a 4.8-inch 800 x 480 WVGA display, which apparently sold out in 15 minutes.  Lazion have a (Korean language) review up of the S5, and first impressions seem pretty good: 4hrs 35 minutes runtime playing a looping 1.6Mbps DivX video, together with an 18,280 score in CrystalMark 2004R3.
Similarly impressive is the standby battery use, which as we've seen in MIDs like the ClarionMiND can be a real deal-breaker.  The Viliv S5 used almost no power to remain in standby, yet could still return to a Windows XP desktop in five seconds.  Build quality also gets the thumbs-up too, as do the accessories.
There's also what looks to be an interesting approach to giving the S5 3G connectivity without needing to put the MID through certification: a cut-out slot that looks just the right size for a 3G USB modem stick.  That would also let you switch it out to use it with your laptop or another device.  UMPC Portal have sifted through all the Viliv S5 information out there, so if you want to know about the MID's potential in advance of its broader March availability, check them out.