Verizon's Moto X Android Lollipop release Benchmarked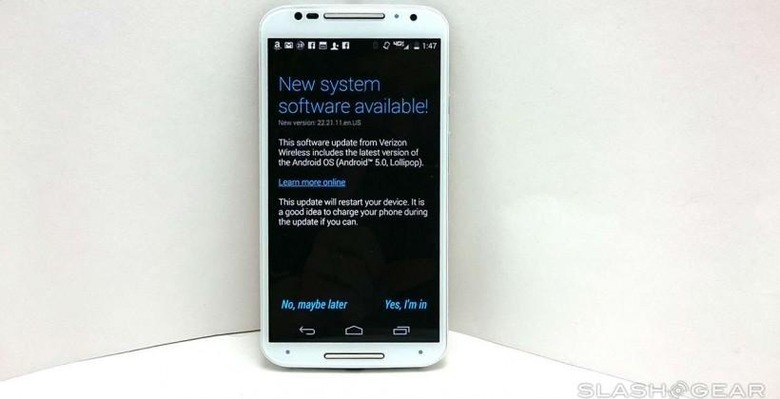 This morning the 4G LTE Verizon version of the Motorola Moto X from 2014 has an update rolling out across the United States. This update is for the system software, bringing this unit's OS up to Android 5.0 Lollipop. Users have seen this update appearing as early as noon here in the midwest – if you don't have it yet, you will very, very soon. Whatever you do, though, don't expect this download to be loaded quickly – some downloads are taking upwards of an hour.
The download size for this update is 678.6 MB large. That's not one whole heck of a lot larger than the average OS update, but this one appears to be coming a lot slower than usual. It might just be that everyone and their mother is trying to download this particular bit of software at the same time.
ALSO SEE: Our Verizon Moto X (2014) tour of Casa Bonita.
One of the first places you're going to be noticing a difference when you DO get the download loaded is the speed at which you roll through your device. This update brings you up to the new Android Runtime, ART, bringing you a boost in performance. Have a peek at our NVIDIA SHIELD Tablet Android Lollipop Review for a look at what that'll mean for your day-to-day.
What you'll see below are several benchmarks conducted before the update was loaded – with Android 4.4 KitKat.
Next we'll be conducting these same benchmarks on the same device after the Android 5.0 Lollipop update has loaded. Stick around as we conduct these tests – appearing sooner than later!
UPDATE: There you have it – Quadrant score went down considerably, while both Antutu and Geekbench scores went up. A very, very different result from what we saw with the NVIDIA SHIELD Tablet's change-over to Lollipop, that's for sure.
Below you'll also see several other Lollipop updates as they've appeared over the past couple of weeks. What's you'll find most astounding about the lot is that, with the Nexus 6 appearing in stores and on shelves so (relatively) slow, there may well be more Lollipop devices in the hands of customers now that AREN'T Nexus-based than are. Consider that!