Verizon Nexus 7 nearly here: coming to do tablet battle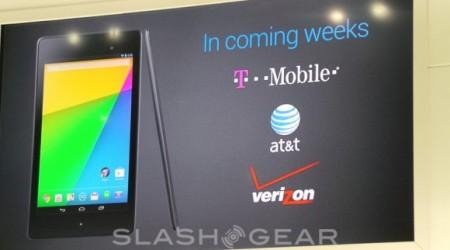 This week a set of photos shows the Verizon 4G LTE certified version of the ASUS-made Nexus 7 from Google appearing in the flesh. This is after months of the device being in limbo after having been suggested to work with every kind of 4G LTE in the country at launch. Verizon, it would seem, has just now gotten to the point where they'll be selling the device on their own. Google, it would seem, will not be selling the device directly.
In a move nearly as strange as the time the Verizon Galaxy Nexus was released with Verizon software onboard, the Verizon Nexus 7 (2014 edition, it should be made clear), is being released with Verizon branding – on the box, at least. Photos appearing here come from Droid Life where they've gotten their hands on a box as well as a couple accessories. At the moment we're not entirely clear on if the software inside the tablet will be the same as the version you can buy direct from Google.
Meanwhile Verizon is still selling a relatively wide variety of tablets from a number of manufacturers. The Nokia Lumia 2520 will cost you $499.99 with a 2-year contract and comes with a 10.1-inch display, while the Samsung Galaxy Tab 2 (10.1) rings in at $249.99 with a 2-year contract, also coming with a 10.1-inch display (that's last year's model, mind you, so it's not as powerful as the Nexus 7, but still, it's a strong value front to back). Another rather strong value comes in the Samsung Galaxy Tab 2 with 7-inch display: not nearly as powerful as the Nexus 7, with a display that's not nearly as sharp, but coming with a $99.99 pricetag with a 2-year contract.
The Samsung Galaxy Note 10.1 is the most powerful contender for the Nexus 7 inside the Android family with a $399.99 pricetag with 2-year contract and 10.1-inch display as well as Samsung's own S Pen technology. Verizon also offers their own-branded Verizon Ellipsis 7 with a low-end display and power similar to that of the Galaxy Tab 2, but offers it for free with a 2-year contract. In other words – if you only care about the very basics, look into the Ellipsis.
Then there's the iPad collection – Verizon works with the iPad Air, iPad mini with Retina Display, iPad mini without Retina Display, and the iPad 2 3G. These devices range from $329.99 USD all the way up to $529.99 and, if you weren't already aware, are rated quite highly.
We've reviewed several of these devices in their non-4G LTE modes, as you'll be able to see below. First up you'll want to check our review of the original Google Nexus 7 (2014) to compare, then head down the rabbit hole!