Verizon Galaxy Nexus Review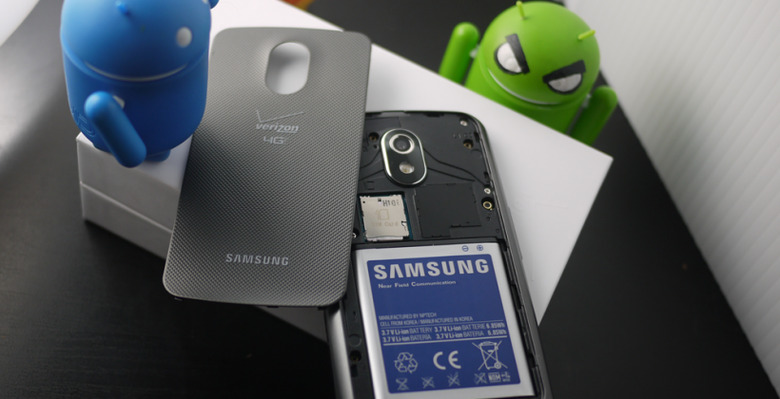 Here in the LTE version of the newest Google hero phone, the Verizon Galaxy Nexus (also known as the Samsung Galaxy Nexus or Galaxy Nexus 4G LTE) has not only the unique claim to running Google's newest mobile operating system Android 4.0 Ice Cream Sandwich first, it's also connected to the fastest network in the states, and best of all: you can go to your corner Verizon store and purchase one, unlike the international edition. All that said, you've really got the same device only ever so slightly modified for this particular carrier: Google's vanilla hero phone remains nearly as pure as its first release internationally. What you're going to get here is another perspective on the Galaxy Nexus in general, how ICS handles our day to day, and what it means to own the LTE version of this device here in the USA.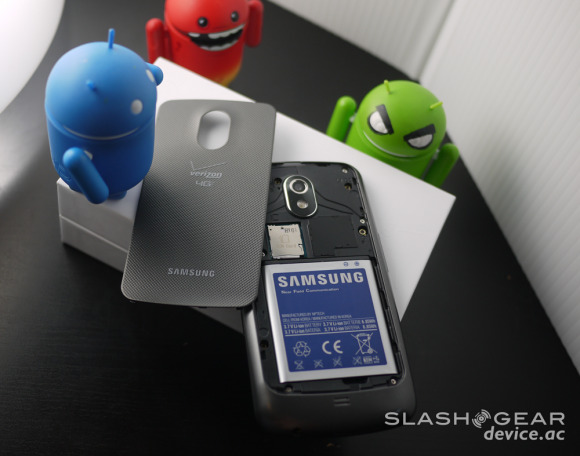 Hardware
In the Galaxy Nexus we've got Samsung's newest effort, and depending on who you're talking to, their greatest effort in a handset yet. You'll find benchmark tests winning out on Galaxy S II devices over the Nexus here, but no device on the market anywhere has such a brilliant display. Comparatively, you've got essentially the same device here in the Verizon version as you do in the international edition, it's just a tiny bit thicker — the difference is so small you'd have to hold them both to see the difference, basically. The materials are the same, the display is the same, the camera bits are all the same. There's also an increase in battery size, which depending on who you ask, you'll be needing down the road. Check the battery section of this review for more info in that regard.
"While LTE is amazing, just make sure to have three batteries, one in your Galaxy Nexus, one in the external charger and the third one with you in your wallet." – Vincent Nguyen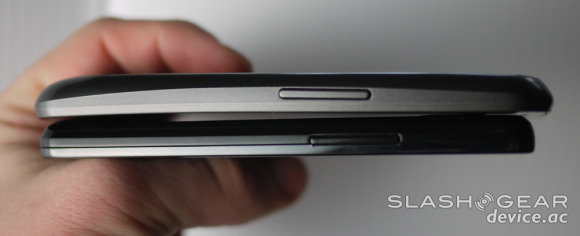 Compared to the Galaxy S II, the obvious improvements can be seen instantly: there's a bit more curve in the design for those of you who found the Galaxy S II to be a bit flat, the display is one step up in resolution over the Galaxy S II (original and AT&T versions, that is,) and there's a notification LED on the front face! The software differences are essentially like night and day inside the Android world, but not all THAT different when considering the rest of the non-Android software choices out there. The Verizon Galaxy Nexus is also notably heavier than the Galaxy S II (again, original and AT&T versions we're talking about here,) but much lighter than the rest of the LTE-laden devices on Verizon.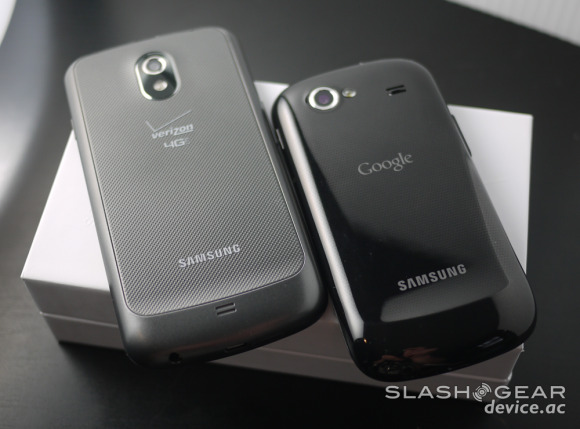 There is no comparison to any other device on Verizon's LTE network in the hardware department except to the Motorola DROID RAZR, a device that's recently fallen on some hard favor because of the rabid Android hoards out there driven nearly mad by waiting for the Galaxy Nexus to be released while the RAZR sat on the shelves laughing. Now there's two versions of the RAZR on the shelves (original and "white"), and the Galaxy Nexus is the bottom-heavy warrior who only has that one hardware-similar device out there, and if you ask me: the RAZR has suddenly found itself beaten. While I did at one time call the DROID RAZR the ideal smartphone for our mobile environment, it would seem that purely on a hardware level, the Galaxy Nexus simply feels better to handle. There are other elements that could be mentioned such as the vast superiority of Ice Cream Sandwich over the RAZR's current Gingerbread-based Motorola user interface, but those should be a given.
The Galaxy Nexus here on Verizon is the version of the device you'll be able to get the fastest connection speeds on in the most places here in the United States. The reason this version of the device is going to be more significant than past Nexus release devices is that should a person want to use a version of this handset here in the USA that's not Verizon, they'll have to order internationally and pay a hefty sum. Verizon has Android developers in their grasp right at this very moment – because of its exclusivity and Samsung's hardware, there's certainly a lot of cash about to be exchanged in the coming weeks between Android lovers and the big V.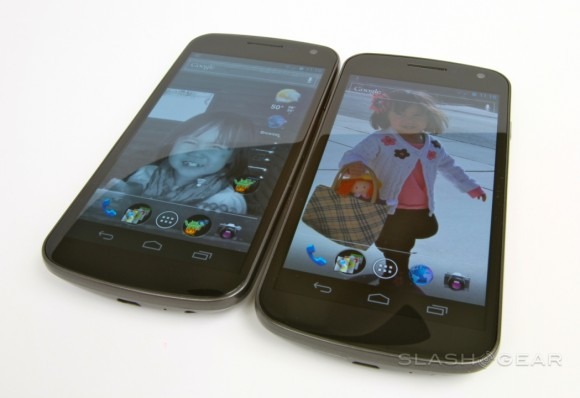 This device has a size that will make you strain your adult male thumb just a tiny bit if you're going to want to reach the whole space of the display with only on hand, and the vast majority of your phone's functions can be activated relatively easily with that one hand by itself. The volume button (up and down) sits in the upper left-hand side of the device while the power button sits opposite and above three metal circles which will allow you to connect to the Galaxy Nexus drop-in dock. Note here that you've also got plenty of options for accessories you can pick up, including but not limited to an extended battery, screen protectors, and a battery charging unit — check this collection out here:
The outer rim of this device is a hard plastic not unlike what you'll find in most Galaxy S II units in stores today, with a battery cover that's an interesting piece of flexible textured plastic. You've got one microphone at the top right of your battery cover (a tiny hole), and another at the bottom of the device on the right. The bottom of the device also houses the microUSB port and headphone jack, while the back bottom is the location of the main external speaker for speakerphone, games, videos, music and etcetera. The battery cover you'll find has SAMSUNG near the bottom and Verizon 4G LTE near the bottom, right below the capsule-looking camera setup which includes a higher quality than average 5-megapixel camera and a single LED flash below it.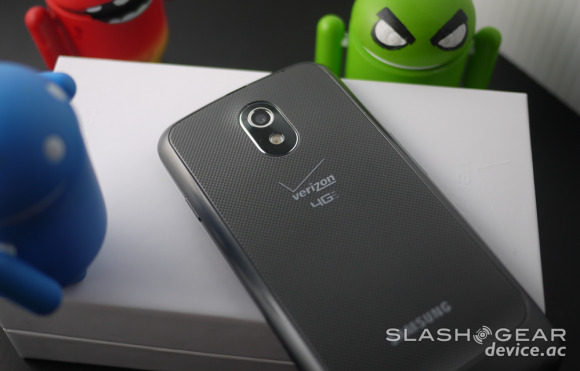 The entire front of the device, save for the earphone grille, is a single sheet of fortified glass. Like I mentioned before and will mention again, the display is the most magnificent interface you'll encounter on smartphone today, and the LED notification light is like a secret firework, or one that fires off much later than the main set as if to accent their loveliness. This device is not perfect for one-handed use, but for those of you willing to pull out both sets of fingers, you'll find that this is amongst the most comfortable devices to use on the market as well.
Software
While there are several hardware elements that make this device a full package, it's not without Android 4.0 Ice Cream Sandwich that this equation becomes complete. We've got a full review of Ice Cream Sandwich from when Vince had a look at the international edition of the Galaxy Nexus, if you'd like to take a look, or follow along here for a slightly more basic vision of the same set of applications and settings, down to the processor and up to the font.
"Android 4.0 Ice Cream Sandwich is a platform that continues to deliver interesting tidbits each time you use it. A lot of the appeal is in the animations, such as when you tap the new on-screen home/menu/back buttons or swipe between panes, and which help to make the OS feel more consistent and thorough." – Chris Davies
In this Verizon version of the Galaxy Nexus, you've got TWO different applications in place that aren't in place on any other version. These apps are Verizon apps and, contrary to those who would cry witch at the situation, they're both pretty helpful and I'd even go so far as to say necessary for a Verizon-based device. Don't forget to check your data or you'll be ringing the bill bell.
Hands-on with Verizon apps
Then there's applications that you'll find changed relatively significantly such as Gmail and the basic Email app, both of them showing off such Ice Cream Sandwich gems as the vertical three dots that signify the button that'll lead you to your settings, or at least a list of shortcuts that includes your settings for the specific app you're in. Have a peek at the Email app and the Gmail app here, and make sure your speakers aren't too loud.
Hands-on Email and Gmail ICS apps
Then there's the phone app which again will let you in on the cool nature of the blue/cyan lines that make Ice Cream Sandwich exciting and, again, aesthetically smooth. The actual functionality inside the Phone app hasn't changed all that much compared to the Gingerbread version of the Phone app, but integration with the lovely update to your People (Contacts) app. All of this of course connects with your Gmail contacts and your Google+ contacts and your Facebook contacts and whatever other lists you want in the world. All of it gets cut down to this simple interface in your Phone:
Hands-on ICS Phone app
For the rest of the Ice Cream Sandwich interface, you've got a couple of choices: you can look at our full review of Android 4.0 Ice Cream Sandwich as it exists on the international version of the Galaxy Nexus. Again the only difference between that version and the one you've got here on the Verizon version is the hardware working with 4G LTE and the addition of those two Verizon apps. You can also take at our big Verizon Galaxy Nexus hands-on review supplement which just so happens to be right here:
As for connection speeds over LTE, you'll find them to be fairly adequate, but depending on what side of the argument you're on, you might be seeing slower speeds than you're getting on other relatively new LTE-capable smart devices. For now what I can offer you is the speeds I've gotten here in the heart of the Twin Cities in Minnesota: Minneapolis and Saint Paul, these speeds looking pretty darn good. I've not had the connection problems others have been speaking about since the release of this device.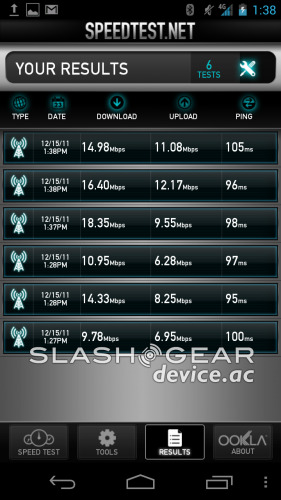 Benchmarks and Gaming
This device is meant to be a place for developers to run wild with the testing of apps in the most pure version of Ice Cream Sandwich. This tied with the Texas Instruments OMAP4 dual-core processor, one that's found quite a bit of popularity here at the tail end of 2011, you'll find yourself in a really smooth environment, flipping through screens and starting up applications without an extended wait in any regard. Tied to a display as massive in its pixels as this, though, you'll find the benchmarks to be less intense than similar devices: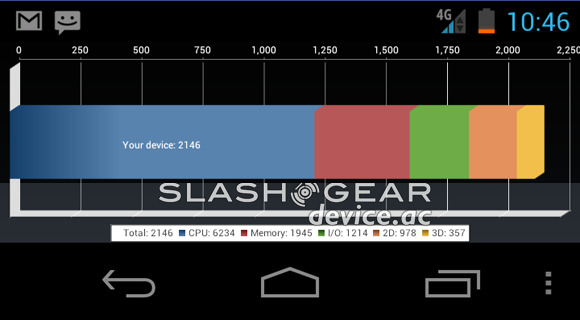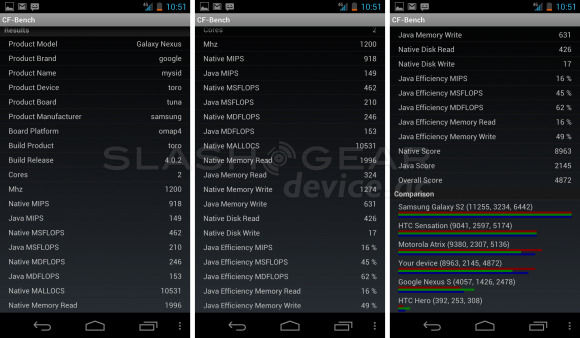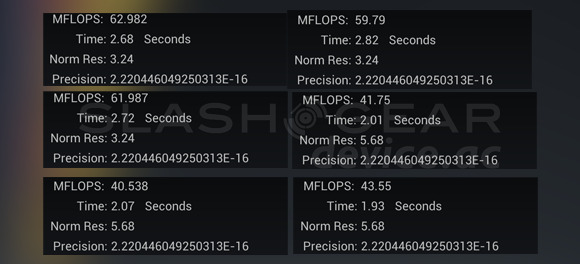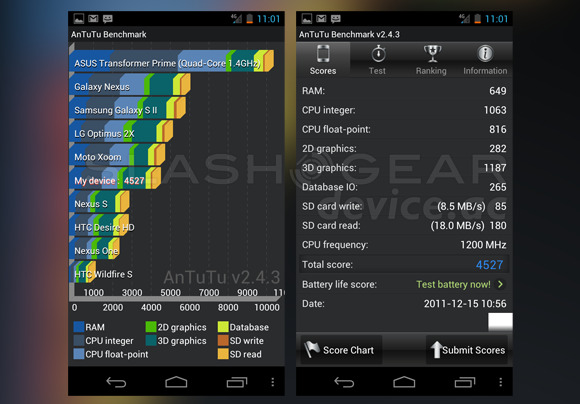 When your display is Super AMOLED HD with 720 x 1280 pixel resolution over 4.65 inches of screen, things like this are bound to happen. What you should be looking at in addition to the numbers above is a couple of games running on the device. First have a look at the jetski racing game Riptide GP:
Then have a glance at the third person shooter ShadowGun and see how nice it is to have that additional screen real-estate so your thumbs have somewhere to go:
Look rather nice, or seem terrible to you? Compare this to the iPad 2 with its dual-core Apple A5 processor running Apple's newest mobile operating system iOS 5 as well as the ASUS Transformer Prime tablet running Android 3.0 Honeycomb, it also running the world's most powerful mobile processor in the Tegra 3 quad-core superchip. You'll certainly see some interesting results as well as a bunch of eye-candy for your efforts.
Camera
The camera has been promoted primarily as an extension of the abilities of Ice Cream Sandwich, and certainly that is where most of its power lies, but note also that this camera hardware isn't half bad either. Have a look first here at a few photos of various objects to get a general idea of what you'll be able to shoot. Note also that your software/hardware combination here allows you to take photos one after another almost instantaneously: see this speed in the hands-on video below.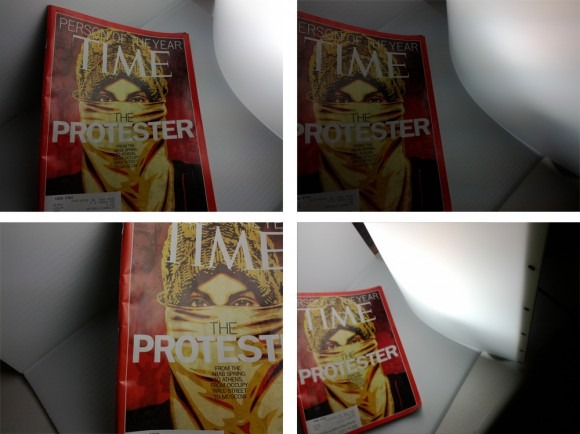 Indoors, well lit, as quick as the shutter will go (larger version in gallery below)
This can lead to blurry photos if you're not in a position where you're actually holding the device still and tapping the shutter to capture something ELSE that is moving, something other than the device itself. There's also a panorama mode for photos in this build, this aside from photo mode and video mode — in other words, Google is promoting the idea that yes, it's good enough to need its own category in this case. Head to the gallery at the end of this post to see some examples of panorama photos big enough to see their inconsistencies.
"The final results can be great, but it's not a home run. With sufficient light, images look natural and exposure is handled well, though colors are more muted than other recent Samsung Android phones we've used. Indoors, the Galaxy Nexus generally held up well in terms of avoiding too much noise, though occasionally the reduced shutter-lag technology actually proved something of a hindrance rather than a boon, with slight blurring showing up in the final shots." – Vincent Nguyen
Hands-on ICS Camera app
Above you'll see the camera application in action and below you'll see some fabulous examples of photos and a video showing everything.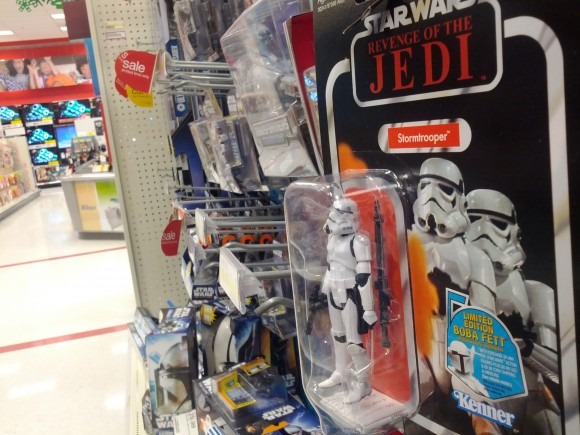 Indoors, well lit, near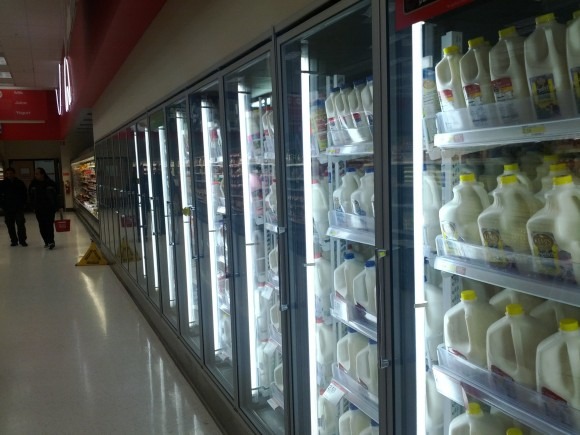 Indoors, well lit, far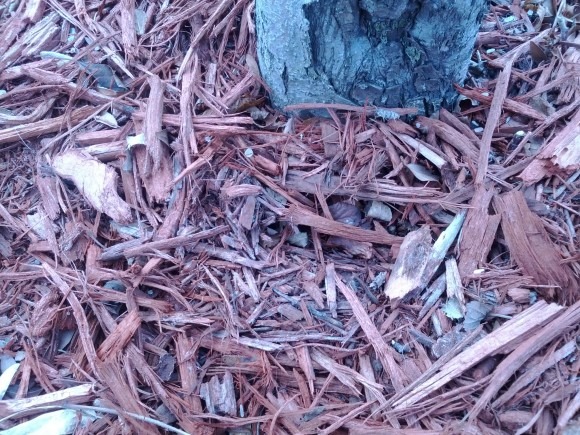 Outdoors, daytime, near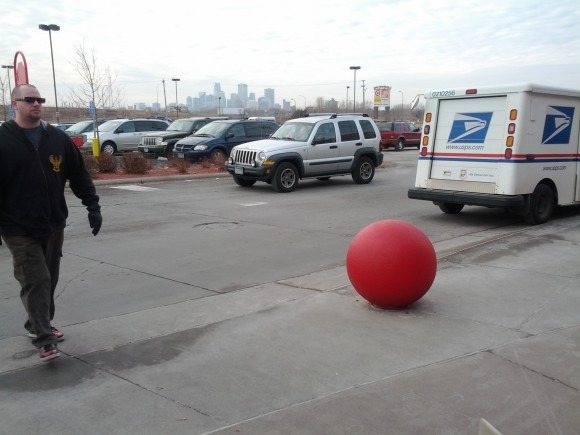 Outdoors, daytime, far (overcast)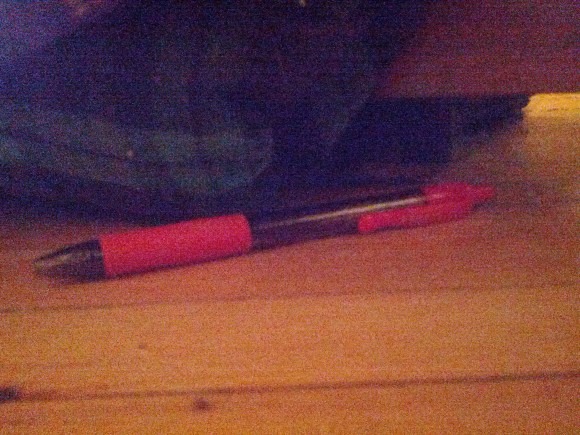 High exposure, low light
Then there's the video, which paired with the most advanced facial recognition software Google has at the moment, allows you to create some strange things right out of the box. What you're about to look at is a video both shot and edited on the Galaxy Nexus itself, using the basic video camera and Movie Studio, an app that also comes with the smartphone right out of the box. The first part of the video shows the quality of the camera with a plain 1080p pan, then there are a few effects shots as they appear immediately after shooting, then some odd effects added in post in Movie Studio for the last few seconds or so. Titles also added in Movie Studio:
Demo video shot, edited, and processed with Verizon Galaxy Nexus
Battery
There's definitely been some mixed reports on the battery life here, even amongst the staff here at SlashGear, so heed this: like all devices, it depends on what your "real world" use schedule is like. If you're a person who when not playing high-needs video games is using their LTE connectivity to download hundreds of songs all day, you won't get more than 6 or so hours out of your device. If on the other hand you have a knack for saving batteries though turning your display brightness down and your data connection off when you're not using your device, you'll have a fine full 10 hours of time on your hands. Get really creative and get more than that!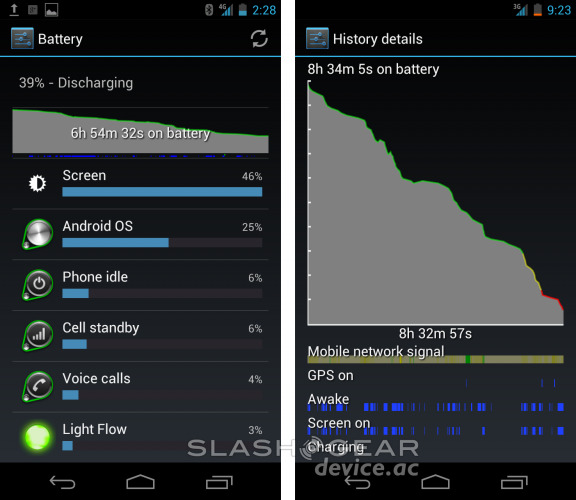 I should mention here that right out of the gate there have been some problems reported with battery time by early purchasers of the Galaxy Nexus, likely owing to a software glitch of some type or another. Your humble narrator saw no such glitch, but it was (and possibly still is) there. What seemed to be happening with these users was that their device remained "on" even when their display was turned off, this resulting in, believe it or not, low battery life. The problem will probably not exist by the time you pick up your device.
Wrap-Up
With thunderstorms of anticipation surrounding this device and a stack of specifications that didn't seem to be all that much of a jump from the current top tier of smartphone devices in the market already, I was skeptical that this Nexus would impress my day to day mobile life the way the Nexus S did. I've also got the greatest smartphone I've ever used sitting here, that being the Galaxy S II, also made by Samsung, so how on earth could a device with a lower-clocked processor and what appeared at first to be a facia that's slightly too big for my hand have any chance of being the new best?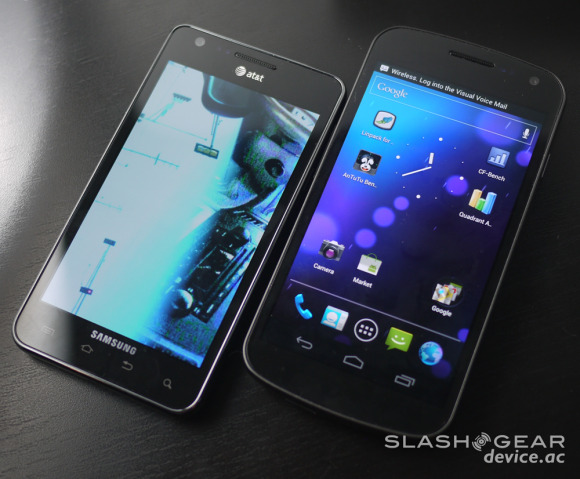 The culmination of the display, the comfort in using the device with two hands (especially in gaming situations), and the undeniably smooth and high-powered software experience have convinced me. This is the new hero for Google and Samsung, and not just because it's running Ice Cream Sandwich. It's worth the cash you're going to pay for it hardware-wise, it'll get updates to its software first when it comes time for Google to update, and the whole Android development underground will have their fingers busier on this device than on any other for the coming year or so – or between now and the next Nexus from Google running Jellybean, that is.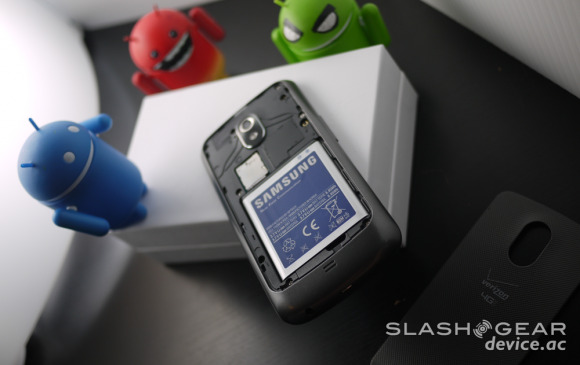 On the other hand, if you're the sort of person that wants to be absolutely sure that all the applications you've already got working on Android are able to work here right out of the box, buyer beware. While the biggest of the big and the most basic apps are working already, there are quite a few apps that won't be compatible with this device until some months into the future. Now that the Galaxy Nexus is released here in the USA, development for most of these apps will be quicker than its been already, but the fact remains: I can't play Grand Theft Auto III yet.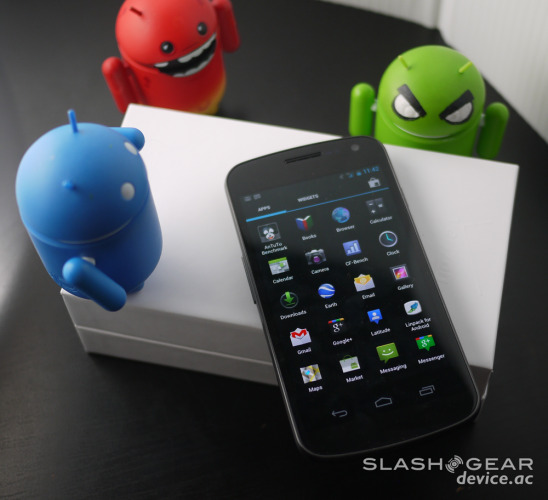 Other than that, you'll find this to be the best Android smartphone on the market today. The power of the software is backed up by the loveliness of the hardware and this is as close as you're going to get to a single Android device with a community following the same way iPhone commands the hoards of iOS users and developers. You probably wont see any diamond-encrusted cases or custom hand-cut wood battery covers, but the guts will be sufficiently messed with to fulfill any mobile device lovers desires.