Nexus 7 2013 Review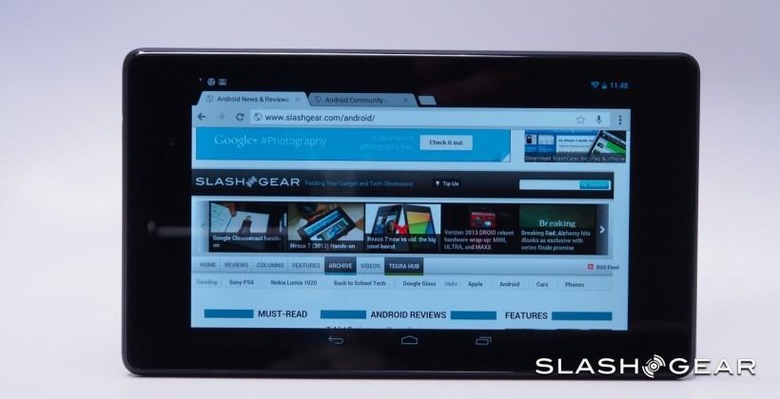 The original Nexus 7 arguably marked a turning point in Android tablets, Google finally doing what critics had long been demanding, and wading into the slate market with an own-brand option. With a screen size that undercut the iPad by several inches – and pre-empted the iPad mini by several months – the Nexus 7 also fought hard on price, with razer-thin margins and ruthless specification trimming on the ASUS-made tablet keeping the starting point at under $200. Time – and tablets – wait for no one, though, and with the iPad mini on the scene it was high time for Google and ASUS to rework the Nexus 7. The second-generation, 2013 version promises to be more powerful, more grown-up, and just as affordable, but has Google done enough? Read on for the full SlashGear review.
Hardware and Design
The original Nexus 7 was cheap, and it largely felt that way. More generous observers described the rubberized back cover as "grippy" and the overall feel as lightweight, but physically it was clearly built to a price and, when the iPad mini debuted some months later, began to look more than a little chunky.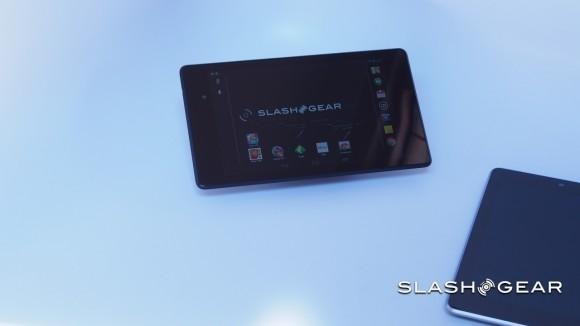 Price of entry to the Nexus 7 2013 club has gone up a little – $229 versus $199 for the cheapest first-gen model – but you're getting 16GB of storage as a minimum rather than 8GB. In fact, comparing like-for-like, the new tablet is actually more affordable than before, since Google launched the 16GB original model at $249. There's a 32GB version for $269, again WiFi-only, and a 32GB WiFi + LTE model that will cost $349 and be sold on AT&T, Verizon, and T-Mobile.
If you're keeping count, that makes the cheapest new Nexus 7 a full hundred dollars less than the cheapest iPad mini. At first glance, it looks like Google has followed Apple's lead and gone for a matte-finish metal casing, too, but in fact the Nexus 7 2013 sticks with plastic for its back panel. The dimpled texture of the original has been dropped, but you still get the easily-held soft touch coating, and while it's not quite as premium in the hand as Apple's option, neither is it embarrassingly behind.
The new Nexus 7 has lost some of its bulk, along with the dimples, and is now 7.9 x 4.5 x 0.34 inches and 10.24 ounces (compared to 7.8 x 4.7 x 0.41 inches and 12 ounces before) making it narrower and lighter – though not thinner – than the iPad mini, and leaving it feeling somewhat stretched-out in its form-factor. It's also easier to hold one-handed, with the slimmer casing more amenable to being gripped with your fingers either side.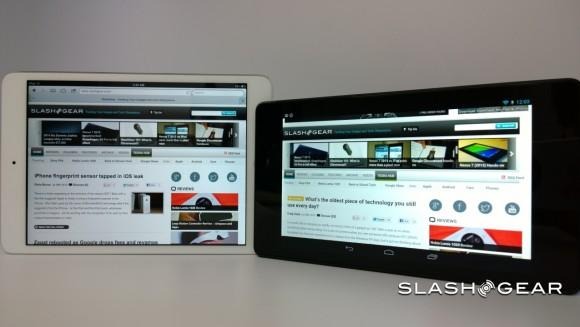 That's down to the smaller screen, of course, Google and ASUS sticking with a 7.02-inch panel versus Apple's 7.9-inch display. The Nexus 7 2013 gets a surfeit of pixels to play with, however: it runs at a Retina-dense 1920 x 1200 resolution for a total pixel density of 323ppi. It's a fantastic panel, using LCD IPS technology for broad viewing angles no matter how you're holding the slate, with rich blacks and clean whites, not to mention bright and accurate colors.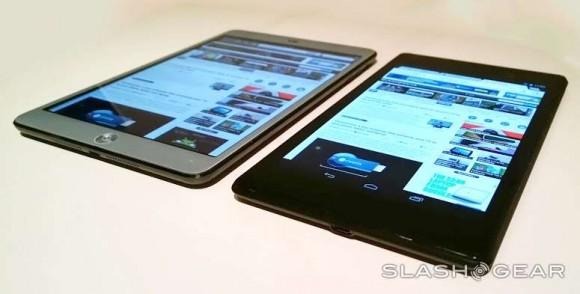 As you might expect, that pays dividends when you're using the Nexus 7 to watch video, and despite the slightly narrower display than the iPad mini, widescreen content fits the Google tablet's screen for a final image that's about the same size. A second speaker has been added for this second-gen model, and the stereo pair is considerably better than the mono cone of before, with a surprising amount of bass despite the limited dimensions. It's helped by pushing them to the extremes of the slate, and Google credits Fraunhofer's Cingo 5.1-surround virtualization system for boosting the audio abilities.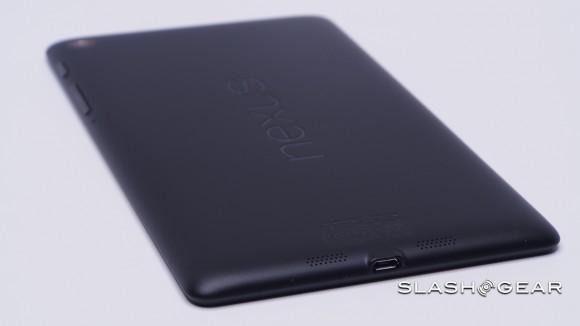 Google has obviously driven ASUS hard to fit a lot into the new Nexus 7. Qualcomm's Snapdragon S4 Pro APQ8064 chipset is its beating heart, running a 1.5GHz quadcore Krait 300 CPU paired with Adreno 320 graphics, and there's double the memory from before, now coming in at 2GB. Connectivity includes WiFi b/g/n (2.4/5GHz) and Bluetooth 4.0, along with NFC, a microUSB port, and the option of LTE (with HSPA+ 42Mbps support), along with the same cluster of sensors – accelerometer, gyroscope, proximity, digital compass, and GPS – we'd expect from a smartphone.
ASUS has also found space for a rear camera this time around, too, slotting in a 5-megapixel shooter along with the 1.2-megapixel front-facing camera. There's also wireless charging, compatible with the same Qi standard as the Nexus 4 smartphone. What you still don't get is a microSD card slot, Google expecting users to rely on the cloud for their storage needs.
Performance
We've seen the Snapdragon S4 Pro used to good effect in Sony's Xperia Z and the LG Nexus 4, though the new Nexus 7's implementation – at 1.5GHz – doesn't quite stretch it to its maximum speed of 1.7GHz. Nevertheless, the second-gen tablet feels swift and smooth in just about every area.
Benchmarks are admittedly an artificial way of gaging performance, but with that caveat it's fair to say the new Nexus 7 does particularly well. In the Quadrant test of overall processor power, 2013's Nexus 7 scored 5475, almost 2,000 points ahead of the Tegra 3 powered original Nexus 7. In Geekbench 2, the tablet scored 2,670, while in Antutu it managed 20,011. In the Sunspider test of browser speed, where a lower time is better, the new Nexus 7 completed in 1,177.1ms.
Raw numbers don't really explain the usability of the Nexus 7, however. It feels zippy and responsive, with apps loading quickly and multitasking avoiding the lag that can affect some lower-powered devices. One of the lingering complaints about the original Nexus 7 was that, over time, it would grow sluggish with continued use, something that was down to how Android handled cleaning its internal storage, but that's been addressed in Android 4.3 which should mean the new Nexus 7 stays perky even as you throw new apps at it.
Android 4.3
You can't escape Jelly Bean, even with a new version of Android making its debut on the 2013 Nexus 7. Android 4.3 is the third outing for the name, in fact, with a host of changes that – like the improved storage management – generally go on behind the scenes rather than in front of the user.
That's not to say Android hasn't matured into a capable tablet platform, especially on smaller slates like the Nexus 7. The UI hasn't looked like an inflated phone OS for some time now, and the growing number of tablet-specific apps for Android means digging through the Play Market no longer leaves you with little more than inflated phone software to choose from.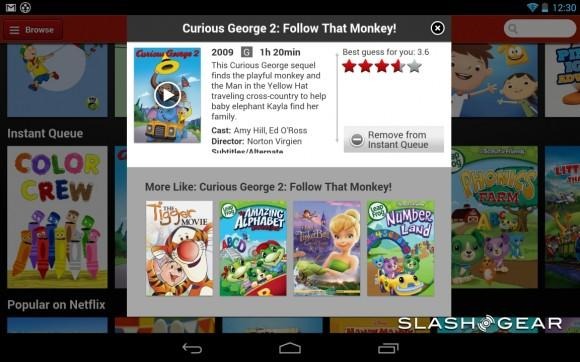 It's the under-the-hood alterations which, although not perhaps instantly noticeable, will arguably make the biggest difference in the longer term. OpenGL ES 3.0 support, for instance, brings accelerated 3D graphics to the new Nexus 7, supporting Google's earlier work on "Project Butter" to keep the interface slick. There's also Bluetooth LE (aka Bluetooth Smart) support, the low-power wireless profile that will become increasingly commonplace as wearables like smartwatches gain traction. It'll perhaps make more sense when Android 4.3 starts reaching phones, however.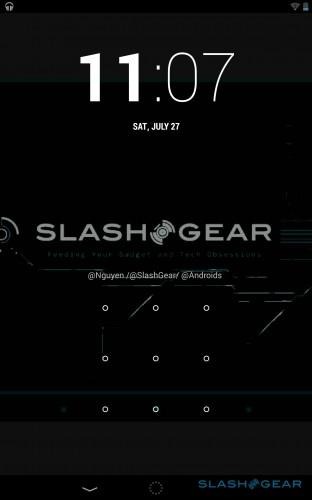 Great for tablets, however – which tend toward the communal – is the newly-added Restricted Profiles feature, which allows for several different accounts to be set up on the Nexus 7, optionally with limits on what, exactly, they can each do. Each profile has its own app and data space, as well as homescreen settings, widgets, and the like, and each can be restricted around accessing certain apps, Google Play downloads, or other digital content.
It's something which mainstream tablets have lacked for some time, and it makes a big difference if you have a family slate that lives on the coffee table and gets used by more than one person. Alternatively, if you're in the habit of passing back your Nexus 7 to the kids in the rear of the car to occupy them, it's useful to know that they're not going to max out your credit card with in-app purchases and other downloads.
Android's on-screen keyboard now has a Swype-style mode, where you can drag your finger between letters rather than pecking at them individually. The other big change is Google Play Games, effectively Android's equivalent of the Apple Game Center, and doing much the same thing in pulling together multiplayer titles, achievements, and leaderboards.
In many ways, Google's alterations to Android are polishing rather than revolutionizing the platform. If anything, what's really still half-baked is the support – for tablets specifically – of third-party developers. As we said, the Android tablet app situation has improved since the early days of Honeycomb, but Apple's iPad still has the lion's share of titles.
Camera
The original Nexus 7 wasn't much of a photography device. In fact, it even lacked a camera app out of the box; the front camera was solely intended for video calls such as in Hangouts. Now, on this second-gen version, Google has relented and added a 5-megapixel camera with autofocus on the back of the tablet.
Our experience with tablet cameras has never been especially good, not helped by the questionable ergonomics of using a 7-inch or bigger device to take photos. The quality the 2013 Nexus 7 can deliver with its new camera is only average, but colors are at least accurate and well-lit scenes are generally free of grain. There's also 1080p HD video recording, which again is serviceable if hardly inspiring.
Android 4.3 brings a new camera app, complete with changes to the interface and more intelligent stitching of Photosphere panoramic shots. It's still not perfect in how it patches together 360-degree images, but it's quicker at it, which cuts down on inter-shot delay. The tweaked interface, meanwhile, hides some more of the settings in sub-menus, making for a UI that's cleaner though not necessarily any faster to use for those making frequent changes.
Battery
Whereas usually each new generation of a product brings with it a larger battery, the Nexus 7 2013 bucks convention and actually trims its power pack down. Inside there's a non-removable 3,950 mAh Li-Ion battery, down from 4,325 mAh in the old version, but Google claims that some clever software optimization has not only matched the previous runtimes but allowed the updated tablet to exceed them.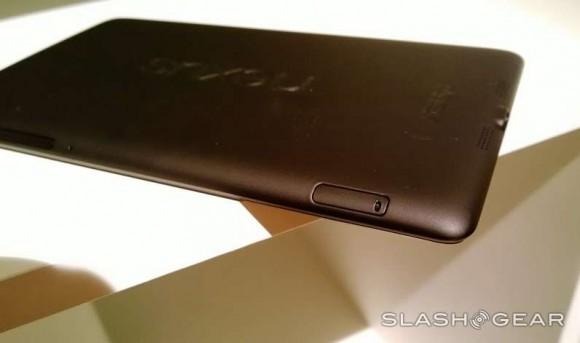 Google quotes up to nine hours of HD video playback or up to ten hours of web-browsing from a full charge. Our own testing suggests these are pretty accurate estimates; with heavy use, including Netflix media streaming over WiFi, push email and social networking turned on, some photography, and browsing, we managed almost nine hours of use before the 2013 Nexus 7 ran out.
Although there's Qi wireless charging support this time around, Google doesn't include the necessary hardware out of the box. Instead, you get a regular microUSB charger as standard, and have to provide a Qi charger yourself; if you've got one for the Nexus 4, then it will also work with the Nexus 7 2013.
Wrap-Up
The original Nexus 7 saw Google take the reins in Android tablets, showing a confused market exactly where it wanted it to go. With the new Nexus 7 2013, the rough edges of the first-generation hardware have been buffed away for the most part: the wireless charging and rear camera address two common complaints, and though it's not quite as premium in the hand as Apple's iPad mini, it remains considerably cheaper.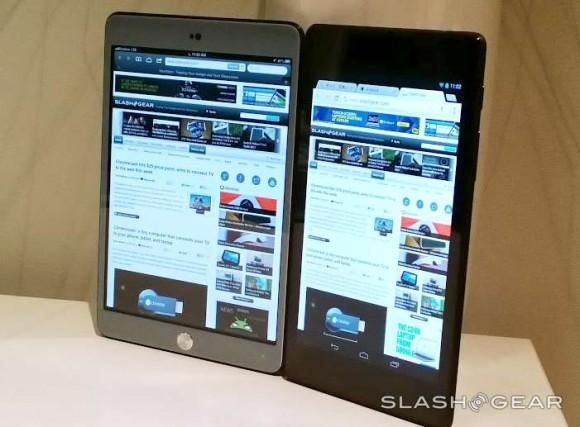 That's before you even get to the high-resolution display, which goes beyond affordable table-stakes as we might have expected from a tablet intended for the mass-market, but kicks the new Nexus 7 to the top of the heap when it comes to Android slates. It also ratchets up the pressure on Apple to deliver an equally impressive screen on the iPad mini, since side-by-side the extra detail and clarity on the Nexus 7 2013 is readily noticeable.
Google's first Nexus 7 was cheap and cheerful. The second-generation version is just as keenly priced but doesn't leave you feeling like you've made obvious compromises in return. That makes it our pick of the Android tablets, and sets an early – and impressive – challenge to the new iPad mini.