Verizon HTC One enters Bluetooth certification process

Though such an appearance of a smartphone in Bluetooth certification listings would be a non-news situation, the code corresponding to the HTC One with Verizon-friendly innards has kicked up the proverbial fan dust this morning. What's happening here is that a device with the code HTC6500LVW has appeared seeking Bluetooth certification for the USA, this code corresponding to the HTC M7 working with Verizon's collection of wireless data radio bands. This effectively means there's another HTC One on the way, the one Verizon fans have been waiting for. UPDATE: The Verizon HTC One is now official.
While the Verizon-friendly HTC One works with the code HTC6500LVW, the DROID DNA works with the code HTC6435LVW. The DROID DNA appeared in Bluetooth certification listings just like this one not too far ahead of its initial Verizon announcement. Now, according to Phone Arena, the HTC One (with the code HTC6500LVW) has appeared in Verizon's inventory system as well, just this morning.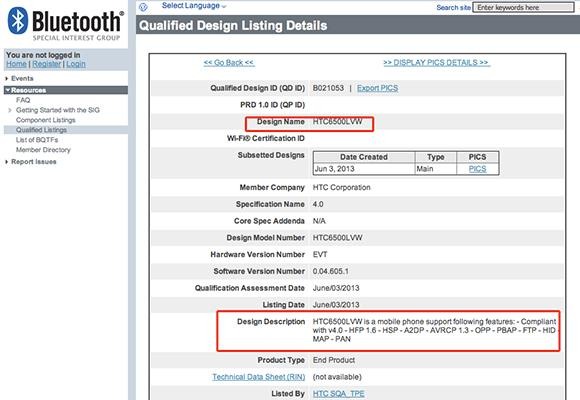 The description of this device in Verizon's system has been reported to be simply HTC M7 -perhaps to hide it from the slightly less fanatical eyes that would see it – as well as HTC6500LVW-DU. The DU generally stands for Demo Unit in carrier stock systems – this meaning the device will, of course, be in stores as well.
Though the time between Verizon's stock systems being updated with a device and the actual launch of said device do not always collide in a matter of weeks, we've got reason to believe that it'll be sooner than later that the HTC One will finally arrive in stores. With the DROID DNA giving way in the news to word of a larger HTC "phablet" device and the HTC One's arrival on Verizon knocking out its own fair share of forum and social networking hubbub, it wouldn't be a surprise to see the HTC One before the month is out.
Have a peek at our original HTC One review and check the HTC One AT&T review as well to see how the carrier adds a bit of app flare to the situation to see how Verizon may handle this release. With the Google Edition of the HTC One well on its way as well, it'll be interesting to see how Verizon will market this device, especially since it's been available through other channels now for several months.
Thanks for the tip, Vlad!
VIA: G for Games
SOURCE: Bluetooth SIG