Verizon 4G LTE to cover two-thirds of US on April 19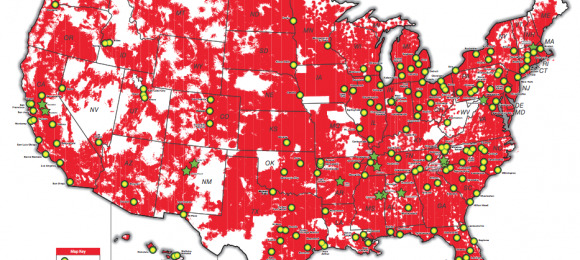 Verizon has announced that it will be adding 27 new markets and expanding in 44 markets on April 19, when it will cover more than two-thirds of the US population. Already in the lead of the LTE race, Verizon continues to expand its 4G LTE network at a breakneck pace and is aiming to reach more than 400 markets by the end of 2012, serving more than 260 million people in the US.
Verizon currently has more than 20 devices that support 4G LTE connectivity, including the new Lucid by LG, the Samsung Galaxy Tab 7.7, the Motorola Droid 4, and the Spectrum by LG. Verizon also recently introduced a new 4G LTE hotspot, the Jetpack.
The long list of new markets that will be getting Verizon's 4G LTE network on April 19 include Auburn and Tuscaloosa, Alabama; Pine Bluff, Siloam Springs and Van Buren, Arkansas; Visalia/Porterville, California; Fort Walton Beach and Ocala, Florida; Brunswick, LaGrange, and Macon/Warner Robins, Georgia; Peoria, Illinois; Kokomo/Logansport and Marion, Indiana; Dodge City, Garden City, Great Bend, and Hays, Kansas; Salisbury, Maryland; Cattaraugus/Allegany, NY; Sandusky, Ohio; Ardmore and Ponca City, Oklahoma; Salem/Albany/Coravallis, Oregon; Pierre, South Dakota; and Big Springs and Tyler, Texas.
The existing markets that Verizion will continue to expand its 4G LTE netowkr include Phoenix and Tucson, Arizona; Bakersfield, Fresno, Modesto, Sacramento, Salinas/Monterey, San Diego, San Francisco, San Luis Obispo and Stockton, California; Colorado Springs and Fort Collins/Loveland, Colorado; Sarasota/Bradenton, Florida; Boise/Nampa, Idaho; Carbondale/Marion and Rockford, Illinois; Fort Wayne and Indianapolis, Indiana; Des Moines, Iowa; Boston and Worcester, Massachusettes; Detroit, Michigan; St. Louis, Missouri; Las Vegas and Reno, Nevada; Manchester/Nashua, N.H.; Albuquerque and Santa Fe, New Mexico; Buffalo/Niagara Falls and New York, New York; Akron, Cleveland and Columbus, Ohio; Oklahoma City and Tusla, Oklahoma; Portland, Oregon; Providence/Pawtucket, Rhode Island; Nashville, Tennessee, El Paso, Texas; Provo/Orem and Salt Lake City/Ogden, Utah; and Olympia/Centralia and Spokane, Washington.
[via MarketWatch]