Lucid By LG Review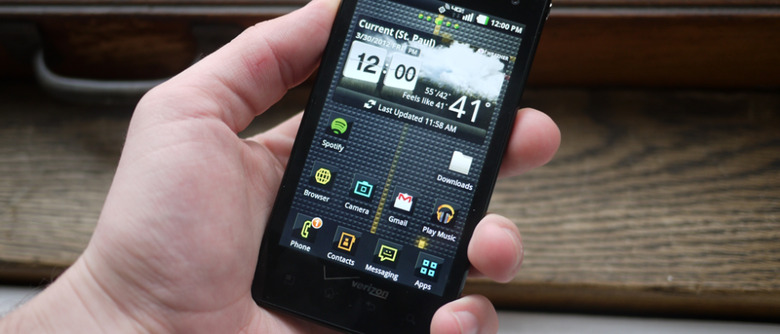 We're taking a look at a smartphone being released by Verizon this week as the newest addition to their 4G LTE lineup: the inexpensive yet surprisingly powerful Lucid by LG. This device features a dual-core Qualcomm processor, a lovely IPS LCD display, and LG's newest user interface which brings out LG's choice bits of potential from Android 2.3 Gingerbread. Is this device set up to be the winning high-end tip of the mid range of LTE devices for the biggest mobile carrier in the USA?
Hardware
This device is clearly meant to reflect the everyday user's need to hold the device in one hand and tap with one thumb, as the size is not gigantic as the LG's upcoming phablet nor is it so tiny one cannot see the display. It's got a display that's made for business as well as casual users, and under the hood is enough power to play even the highest class games on the Google Play App Store today. Qualcomm has created a set of chips in this device capable of bringing power as well as ultra-fast connection speed for data on Verizon's LTE network.
Have a peek at the data speeds here, first of all, and note that this device is ramped up to take full advantage of Verizon's ultra-fast data network. We're sitting in Saint Paul MN, one of Verizon's heavy areas for LTE, so expect nearly as good of results if you're in a place like NYC or basically the entirety of California.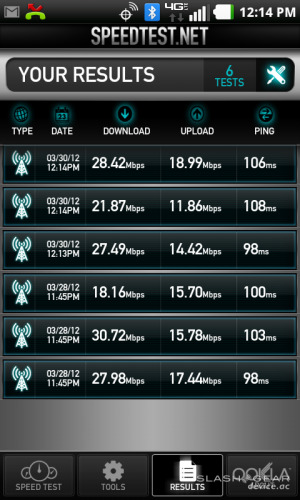 Then for Quadrant Advanced, a relatively basic but reliable test of the inner workings of Android devices, you'll see that this is working surprisingly well for the mid-range device this hardware is being marketed as. Qualcomm has done a fabulous job of getting down to business here in this small LG beast.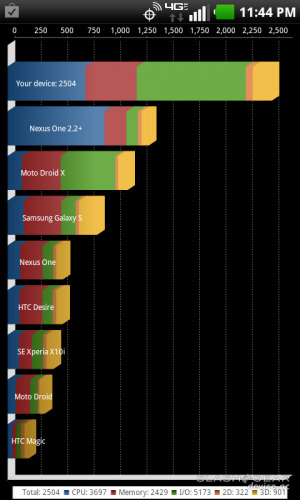 Of course the hardware power is only half of the picture. LG has here brought on another new iteration of their user interface on top of Gingerbread, as well as a smooth set of connections to cloud services and a video editing app as well. Have a peek at the hardware and a bit of software here:
Software
This device features another new look at LG's vision for a perfect Android user experience, complete with an enhanced app drawer and several different pre-set themes for you lovers of switching between looks. Have a peek at this hands-on with the new software and be amazed that LG is putting so much work into a device that will likely fall under the shadow of their more high-spec'd devices:
Camera and Battery
This device has behaved amazingly with LG's collection of everyday (as well as enhanced) pushes for energy saving. We've got it clocked at an amazing day and 10 hours with admittedly low use – but still! LTE appears to be starting its pull back on the energy sucking here, more than likely thanks to Qualcomm once again (since its their chips that are doing the work here with the data.) See a chart of battery use in the video above.
Then there's the camera. We've got just a 5 megapixel camera here, and it's not the most fantastic piece of hardware in the world. That said, the 1080p video is fairly decent. have a peek at some examples below: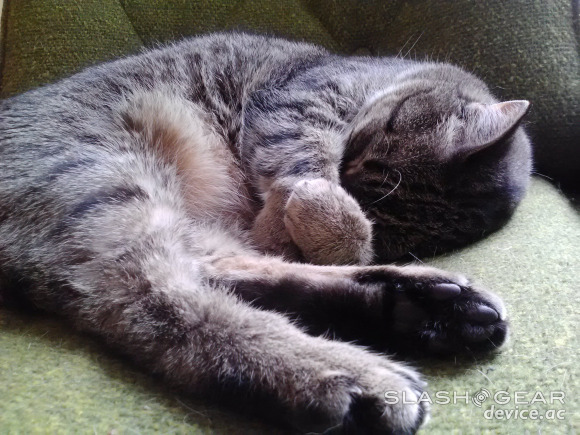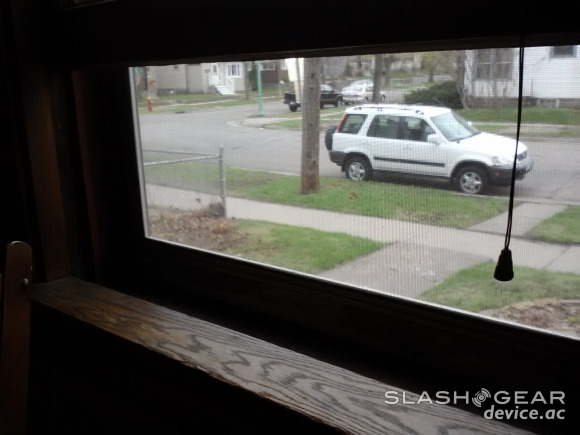 Wrap-Up
LG has done a decent job here releasing a top-of-mid-range device for the masses, not quite overtaking what they've already got released on Verizon with the LG Spectrum, but certainly a fine phone for those with hands that aren't goliath in size. This device is available at Verizon starting this week and you can pick one up online in Verizon's online shop for $79.99 after online discount and 2-year contract. Grab it!