Spectrum by LG Review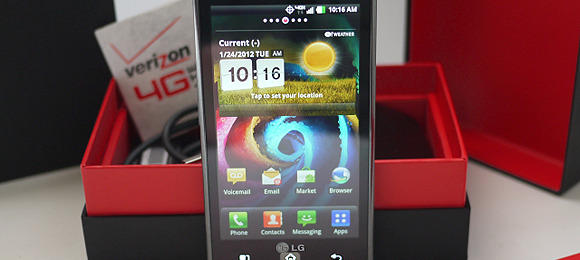 Welcome to Verizon's most high-definition LTE device on the market right now, the Spectrum by LG, complete with a massive True HD IPS display at 4.5-inches and 720 x 1280 pixels. It's certainly not a short device, made to fit in the palm of your adult-sized hand and weigh in at next to nothing (142g) as it shows off its fabulously bright front and powerfully backed-up interior with its dual-core 1.5GHz Snapdragon processor from Qualcomm. Is this the nicest LTE device on the market today?
Hardware
While LG does still have one of my favorite devices ever in the G2X released last year, this device feels a bit large for the average citizen. Certainly consider whether you need all the extra space in this gigantic four and half inch display before you go purchasing it, especially since your thumb wont be able to reach the other end of your screen without assistance of your other hand. When playing games and watching video though, this display is top of class. The camera also has us dazzled and is certainly up there in the top 10 cameras thus produced on a smartphone.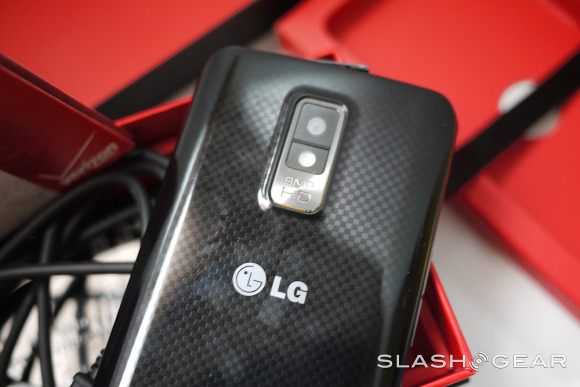 The onboard speaker system is fairly excellent, though still pointing out the back of the device as too many smartphones and tablets these days are, still working perfectly well if you've got it up against a wall from whens it can reflect. Plug in some headphones and you'll have a great time all around. This device has a slightly odd look to it with the three button selection below the display, but therein proves its readiness for Ice Cream Sandwich – that's not a menu button, it's a multitasking button.
[vms f3cefc129b6bc55a748a]
Software
LG has chosen to continue to use their slightly unintuitive user interface over Android 2.3 Gingerbread here, showing how little it trusts in the original build of Android especially in the apps drawer with row after row of titles for app collections. While it all may appear clunky in comparison to the basic build of Android, it does all move super slick, and even offers a selection of themes at the bottom of the home screen with which you can make profiles for yourself. These aren't the sort of themes like you get with an HTC device with color changes and backgrounds and all that – instead you can set up which apps you need where for Work, then make another for Home, and etcetera. Functionality here is what's being pushed, made for people with a need for different environments for their smartphone indeed.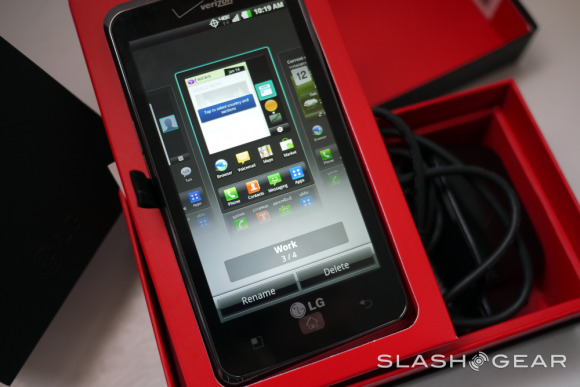 Camera
I can't say enough about how nice the camera in this device is. Though the interface isn't my favorite in the world (I'm much preferring the stock Ice Cream Sandwich interface at the moment), this skinned version of the Gingerbread shooter certainly gets the job done right. LG has reminded us why it's 8 megapixels, not a speedy 5 megapixels, that does it best on Android. Have a peek at some photo and video examples here and in the gallery below to get a good idea of what we're dealing with.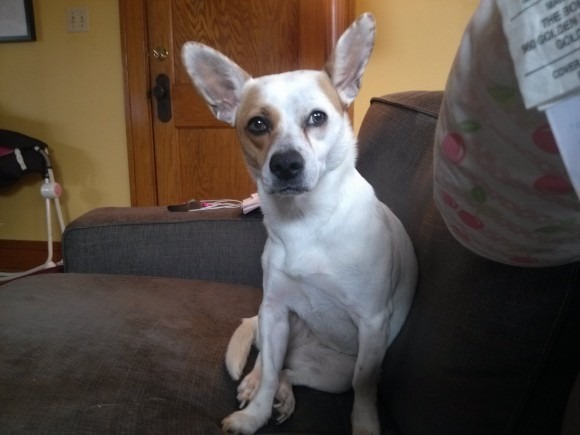 [vms 01322968557227b8f6ef]
Phone and Battery
The phone quality is perfectly legitimate, like most smartphones these days running on Verizon's network coming in and sending out clear voice anywhere I roam inside the Twin Cities here in Minnesota. The battery is surprisingly powerful, lasting at LEAST one day with medium to heavy usage and two days (as you can see here) with light usage. Play some streaming video with your built-in Netflix app and you'll see considerably degrading excellence at something like 6 hours total.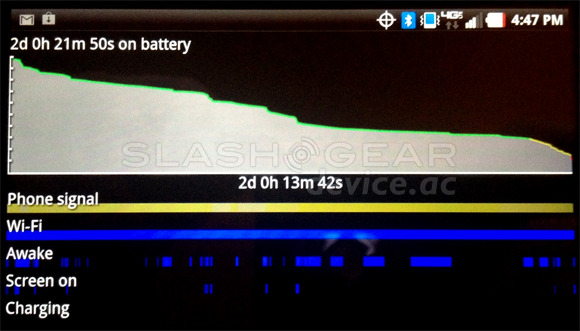 Wrap-up
This is certainly one of the top five LG smartphones ever to be released, and definitely beats out the LG Revolution released last year with LTE as the best LG device on Verizon right this minute. It's relatively sleek, light, and has a fabulous camera, all this aside from the fact that if you live in an LTE area, it's very, very fast data-wise. The decision you must make now is whether you want to sacrifice Ice Cream Sandwich as found on the Galaxy Nexus in exchange for the nicer camera on this device – if that's not a great tradeoff for you, stick with the former.