Twitter, Facebook and MySpace team tells Google "Don't Be Evil"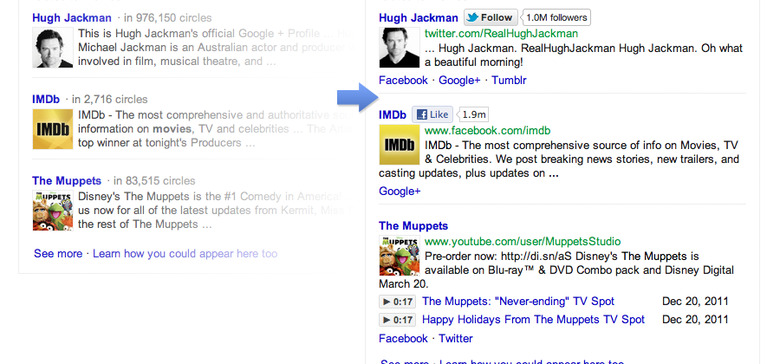 Engineers at Facebook, Twitter and MySpace have joined the protests against Google's search integration of Google+ results, crafting a browser add-on called "Don't Be Evil" that adds a far broader range of social into search. The tool, distributed at a site called Focus on the User, argues that rather than just pull Google+ profiles and topics into the search engine, Google would better serve actual users by integrating far more social networks: Twitter, Facebook, Tumblr, Flickr and more. Rather than see exactly what Google wants you to see through its forced Google+ promotion, you can be shown what the company's pure algorithm believes is relevant.
Currently, Don't Be Evil is a bookmarklet that works on a per-visit basis to Google. Users click the bookmarklet and, rather than being shown Google's specially crafted results, see a purer set of results that have not been refined according to the search company's own social promotion.
That promotion has already got Google into hot water with regulators, with the FTC looking closely at "Search plus Your World" to see if it pushes the company into antitrust territory. Nonetheless, Google is ramping up its Google+ promotion; last week it announced it had passed 90,000,000 users of the social network, and that number is set to increase with more pressure to use Google+ put on new Gmail sign-ups.
The Don't Be Evil add-on – its name a reference to Google's unofficial motto – works in Chrome, Firefox and Safari and has been released under an open-source license. Already there's a Chrome extension using the tech, with more likely in the pipeline.