Google Search plus Your World pulls Google+ into results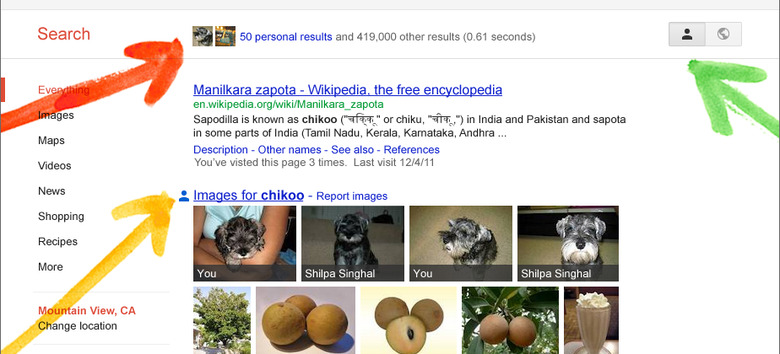 Google has launched Search plus Your World, an awkward title for what amounts to social context in the search engine. Thanks to integration with Google+, the updated search box now pulls in photos and posts from a user's own account and those of the people they've circled, as well as making suggestions of other people they might be interested in following. The result is more tailored search results, Google says, that use the expertise and opinions of your friends to get you better answers.
Google's changes mean that Google+ content from your circles will begin to show up among the regular search results, but also uses your interests and frequently-mentioned topics to filter automatically. So, if you search for American Eagle because you work for the airline, you won't necessarily see results for the clothing company mixed in.
Google+ profiles have been added to the auto-complete, and searches for names of people in your circles summon up a mini-profile at the top of the results. It's also possible to quickly follow someone directly from the results page, just as it has been possible for some authors in Google News.
SSL encryption is used to secure any personalized pages created during Search plus Your World browsing, and results themselves are marked to show whether they're public, limited or only visible to you. A new toggle control can turn off Search plus Your World results completely.