Toyota i-ROAD teased for EV city duty
Toyota can't seem top stop designing long, thin city cars, and its latest – the Toyota i-ROAD – has been teased ahead of a debut at the Geneva Motor Show. Billed as "an ultra-compact zero-emissions city car" the i-ROAD is otherwise shrouded in secrecy, though the top-down view suggests something along the lines of the Toyota Smart INSECT shown off in Japan last October.
The Smart INSECT had an eye-catching gullwing design – complete with proximity sensors so that the doors would open for you automatically as you walked up – and a hook up to a smartphone for traffic reports and other information. Toyota also envisaged it linking with your automated home, so that you could remotely control locks, appliances, and other hardware while on the move.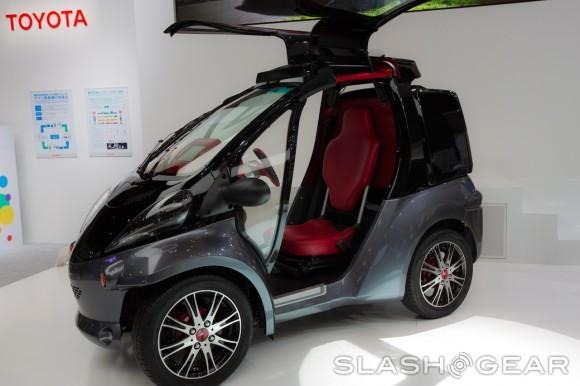 It's not clear if the i-ROAD follows the same single-seater approach of the Smart INSECT (and, indeed, the Toyota COMS announced alongside it) or puts two people in tandem. That would certainly make more sense for city use, though it would have an inevitable impact on battery life.
It's not the first time we've seen this narrow style of vehicle attempt to address the frustration of city driving. Renault has been offering its unusual Twizy EV for some time now, though it comes with some compromises: no doors or windows as standard is probably the most obvious.
However, narrow doesn't have to mean dull. Persu – previously VentureOne - has been talking about its tilting three-wheeler for years now, with a production launch now tipped for 2014. It uses tilt-tech licensed from Carver, which previously offered the Carver One before declaring bankruptcy in 2009.
We'll know more about the Toyota i-ROAD in early March, when the company shows it off properly in Geneva.